PHOTO: Here's a half Colts, half Broncos Peyton Manning jersey
Should a Peyton Manning fan wear a Broncos jersey or a Colts jersey to Sunday night's game? How about both.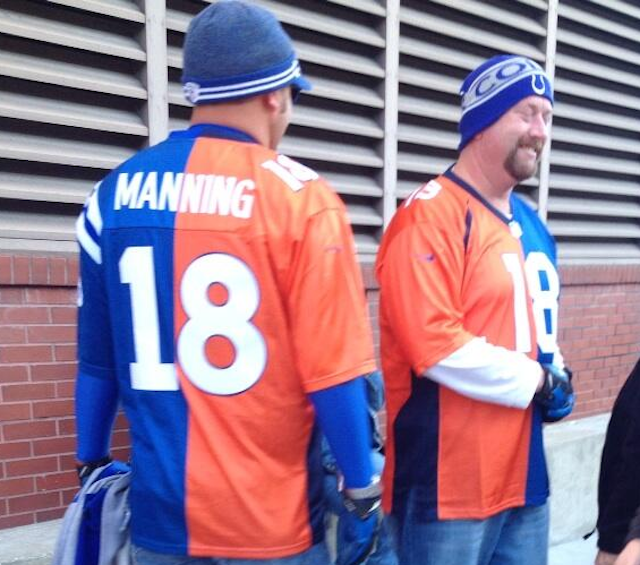 There's still plenty of Colts fans in Indianapolis that are also Peyton Manning fans and those fans are in a weird situation. Should they root for Peyton or should they root for the Colts on Sunday night?
Apparently some fans have decided on option three: root for both. These enterprising fans were spotted outside of Lucas Oil Stadium. Sure, they look like Colts fans, but don't be deceived, they're obviously Broncos fans because the Broncos side of the jersey is on the right side and Peyton throws with his right hand. Or that logic makes no sense at all. 
Anyway, the guys at the top weren't the only ones who decided to wear the mix 'n' match Peyton Manning jersey. The guy pictured below did too, although judging by the background in the photo, it's not clear if he's at Lucas Oil Stadium or a trailer park somewhere. 
I don't think this will be my first half-in-half Manning jersey sighting...he said he was torn. pic.twitter.com/LfyYIuz2FU

— Amy Haneline (@AmyBHaneline) October 20, 2013
(Wink of the CBS Eye to @DBrown1710 on Twitter for the top picture)
Show Comments
Hide Comments
Our Latest Stories
No days off? Belichick one of two coaches to miss group photo

The 39-year-old quarterback doesn't plan on retiring anytime soon

Lamp's performance continues the momentum he's created for himself throughout his senior s...
Not everyone was on board with the Raiders' move

'I want to make it as terrible and horrible for Mark Davis as possible,' says one former Raiders...

This what the Raiders' new stadium might look like