PHOTO: Joe Namath is happy to be drafted by the Jets in 1965
Joe Namath was all smiles after the Jets took him in the first round of the AFL draft.
• 1 min read
New CBSSports.com acquisition, Jon Solomon, had an interesting story Tuesday on the lack of recent NFL success by former Alabama quarterbacks.
That, of course, hasn't been the case in the past when Bart Starr and Kenny Stabler emerged from the Crimson Tide program en route to standout careers. And of course, the man drafted in the first round of the AFL draft by the Jets who went on to a pretty decent career, as well.
THIS guy, Joe Namath, via Getty Images.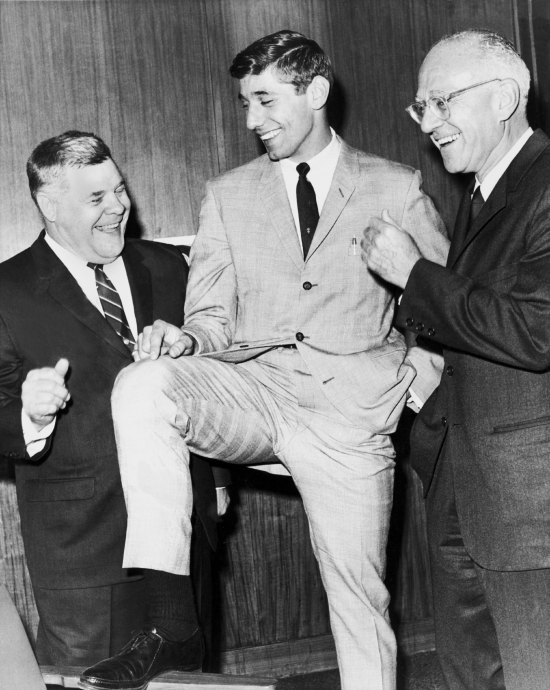 A couple of things:
1) Man, you have to love how photogs use to pose their subjects in an attempt for them to look casual and/or carefree. Yes, Namath must have said, I'll just put my leg on this table over here as I talk with two older men while we all smile as if a camera lens isn't pointed our way. Looks natural as hell, am I right?
2) The man on the left is coach Weeb Ewbank, who would help lead the Jets to Super Bowl III, and team owner Sonny Werblin -- who rescued the team formerly known as the New York Titans and made it into an eventual NFL title winner. It's not too much to say that this smiling trio saved the young, struggling franchise. Before the team took Namath, the franchise's all-time record was 29-39-2. In Namath's fourth season, New York was a Super Bowl winner.
3) No fur coat on Namath makes me a sad panda.
Either way, it doesn't appear that anybody will break the Alabama-QB-not-taken-in-first-round streak this season. And CLEARLY, nobody will match Namath's gosh-darn charisma as can be inhaled from the photo above. 
And here's a bonus photo of Namath inking his rookie deal. 
Jets 1965 1st-rd pick Joe Namath studies humongous $427,000 3-yr contract w/Coach Weeb Ewbank. #ProFootballHOF pic.twitter.com/7UKdLwY0aE

— Greg Aiello (@gregaiello) May 7, 2014
The Cowboys will be without several quality contributors for all or part of the 2017 seaso...

Cousins is set to play a second straight season on the franchise tag, but it didn't have to...

Freeman saw a man choking on his sandwich while at the airport, and leapt into action
The Steelers' top receiver tried to convince the star running back to come to training cam...

Martin seems likely to become the highest-paid guard in the NFL

Bridgewater is still recovering from the traumatic knee injury he suffered last year