PHOTO: Metrodome is tiny compared to Vikings new stadium
The new Vikings stadium will be 1.75 million square feet when it's finished, almost double the size of the 900,000 square foot Metrodome.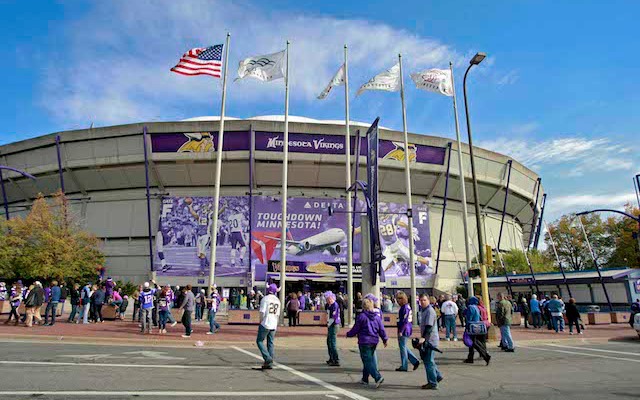 More NFL offseason: Mock Drafts | Prospect Rankings | Pro days | Top free agents
The Metrodome is officially just a memory. The stadium was blown up in February with 84 charges of dynamite and now, two months after that explosion, construction crews have removed the remaining debris.
The demolition of the Metrodome was finished one month ahead of schedule, which means construction crews can now focus on one thing: Building the Vikings new stadium. The team's new home, which is scheduled to open in July 2016, is being built on the Metrodome site. However, the new stadium will take up slightly more space than the Metrodome did.
As you can see in the illustration below, the Vikings new home is going to be slightly bigger than their old home was.

The new stadium will have 8,000 club seats, compared to just 243 in the Metrodome. More importantly, the new stadium will have 979 bathrooms. The Metrodome only had 435. 
Since the new stadium won't open until the 2016 season, the Vikings will spend the next two years playing at TCF Bank Stadium, the home of the Minnesota Golden Gophers. 
Show Comments
Hide Comments
Kennedy, inducted into the Hall of Fame in 2012, died at his Orlando home according to rep...

Overtime in the NFL is going from 15 minutes to 10 minutes in an effort to reduce injuries

Group celebrations, using the ball as a prop, going to the ground and snow angels are all legal...
Drafted to give the Jets a deep threat, Smith leaves New York with 10 career receptions

The Browns owner says there's a different vibe in the building, despite just four wins in two...

The former first-round pick hasn't had a market for his services since being waived by the...