PHOTO: New Orleans Saints casket actually exists
If you're a Saints fan trying to figure out what you want to be buried in, this casket might be the answer.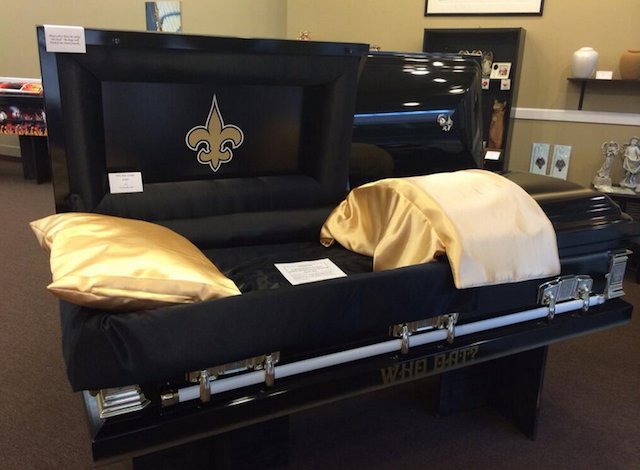 If you're a New Orleans Saints fan who likes to plan for the future, then a company in New Orleans has something perfect for you: a Saints casket. Supporting your team while you're alive is something that every one does, but you can be different and support your team while you're dead. 
The Caskets are being sold by a company called 'Til We Meet Again, but they might not be available much longer. According to the New Orleans Times-Picayune, the company doesn't have a license to sell NFL gear, so the team has sent them a cease-and-desist letter. 
The Saints say they sent the company a 'privileged communication,' not a 'cease-and-desist' letter. Either way, the Saints want the company to stop using the team's federally trademarked fleur de lis logo. New Orleans also doesn't want the company to use the black and gold color scheme on the casket. 
Show Comments
Hide Comments
'I don't think there's anybody more worthy than Marshawn to wear that number,' Woodson sai...

He's targeting a return in early June

Lockette retired from the game after suffering an injury that nearly ended his life
Mangini said he'd take Kaepernick over RG3 '10 times out of 10'

Cook spoke with CBS Sports about following in a future Hall of Famer's footsteps

The former running back blasted his old coach