PHOTO: Ravens K Justin Tucker receives gift basket from Dr. Pepper
The fine people at Dr. Pepper sent some of their famous soda to Justin Tucker for hitting six field goals against the Lions.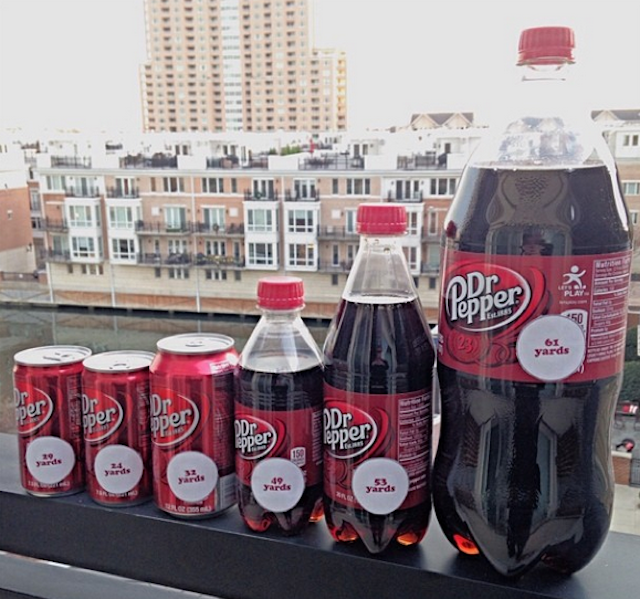 There's only one thing more exciting than making six field goals in an NFL game: Making six field goals and getting free Dr. Pepper for it. And now, thanks to his performance against theLions, Ravens kicker <player idref=er has some extra Dr. Pepper in his apartment his week.
As you can see above, Dr. Pepper sent Tucker a gift basket of Dr. Pepper in recognition of each of the field goals Tucker hit against Detroit. Because the PR people at Dr. Pepper are clever, Tucker was sent a different size container for each field goal he hit. Tucker hit field goals from 24, 29, 32, 49, 53 and 61 yards in the game. 
Tucker was on fire against the Lions, so maybe he should turn his free gift into these: 
Flaming Dr. Pepper pic.twitter.com/5XRQ1aEhqg

— the perfect cocktail (@perfectdrinks) October 18, 2013
Anyway, free Dr. Pepper is nice, but that might not be all Tucker gets. He should be seeing something in the mail soon from Chicago Bears safety Anthony Walters. 
Does anyone know where Justin Tucker lives? I'm sending him a gift.

— Anthony Walters (@Anthony_Walters) December 17, 2013
(Wink of the CBS Eye to For The Win)
Show Comments
Hide Comments
The top three-technique prospect in the draft could see his name not called at all

The former Florida football player was expected to be a second-round pick in the NFL Draft

This much is certain: The Browns desperately need a quarterback
The man who signed Romo is happy to see him move on from playing the game

Roger Goodell typically announces all the first-round picks, but he'll make an exception this...

NFL teams find out their schedule on the same day you do