PHOTO: Redskins' Brian Orakpo, Colt McCoy with Matthew McConaughey
Matthew McConaughey is a Redskins fan who loves the University of Texas, so it makes sense that he took a picture on Friday with two former Longhorns who are now in Washington.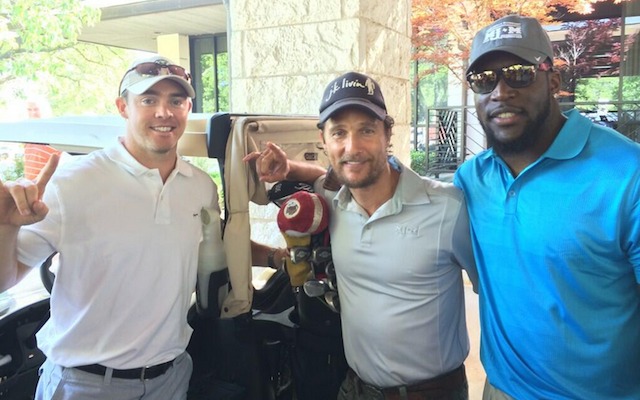 When Matthew McConaughey isn't busy winning Academy Awards, he occasionally holds golf tournaments, like the one he held on Friday in Texas to support MackJackMcConaughey.org.
McConaughey is a huge fan of the University of Texas, so as you can imagine, he managed to make time during the tournament to take pictures with anyone and everyone who attended the school -- a list that includes both Colt McCoy and Brian Orakpo, who are both pictured above with McConaughey. 
The picture was probably as exciting for McConaughey as it was for Orakpo and McCoy, mainly because the actor grew up as a Redskins fan and is still a big one.  
McConaughey didn't limit himself to only taking pictures with Redskins players who went to Texas, he also took a picture with former NFL wide receivers Quan Cosby and Jordan Shipley, who of course, are also both former Longhorns. Basically, if you're not a former Longhorn, stay away from McConaughey.  
Just keep livin'. @McConaughey @QCosby17 pic.twitter.com/oTPIDzuNxS

— Jordan Shipley (@Jordan_Shipley) April 25, 2014
If you ever make it to a McConaughey charity golf tournament, just know that he takes his events seriously: Sheryl Crow opened up the event on Thursday with a 90-minute concert. 
Show Comments
Hide Comments
Cleveland apparently really wants to get Mitchell Trubisky

Joe Banner says the Browns had Manziel off their board at the time he was fired

Late breaking news has caused several players to slide down the Top 100 just before the 2017...
Bridgewater's recovery from a catastrophic knee injury continues to cloud his NFL future

Drama is always a certainty when it comes to the unpredictability of the draft

Anderson will be keeping track of the linebackers who get picked before him on draft night