PHOTO: Russell Wilson, Colin Kaepernick grace cover of SI
NFC West rival QBs are profiled on a newstand near you. Do newstands still exist? Outside of airports that is?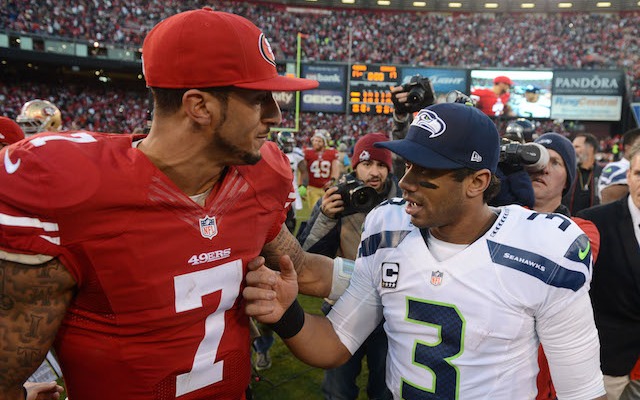 Sports Illustrated is set to release its annual NFL preview issue this week and like most of their NFL preview issues, people will be seeing a regional cover, meaning not everyone everywhere, will be seeing the same thing. 
Some people will see a cover that features Nick Foles and Tony Romo. Other people will see a cover that features Jay Cutler and Matthew Stafford. There's also a cover with Matt Ryan and Drew Brees on it. 
However, even though there are four covers, there's only one cover anyone's talking about and that's the cover with Russell Wilson and Colin Kaepernick. 
SI editors are like, "Maybe we should make them wear a cup next year." pic.twitter.com/tWYAsBwjTG

— John Breech (@johnbreech) August 27, 2014
One fan of the photo, Falcons QB Matt Ryan, dropped this takeaway during a photo shoot of his own on Tuesday night's Hard Knocks: "Not after I saw the pictures of Colin Kaepernick. Are you kidding me?" Matt Ryan said. "Holy sh*t he was HUGE!"
Maybe that's why Wilson looks so glum. 
Show Comments
Hide Comments
Don't blame Norman -- he's 10 inches shorter than the Knicks' Kyle O'Quinn

The Cowboys owner offers an interesting take on what's bringing future fans to the game

The Seahawks cornerback told a student last year that he'd pay for a scholarship if she raised...
Romo is set to call games for CBS Sports this fall, but the Cowboys are keeping the door o...

Can Roberto Aguayo, the Bucs' maligned second-round pick, beat out Nick Folk?

John Mara says Colin Kaepernick's protest led to a ton of letters from emotional fans