PHOTO: Saints paint Seahawks logo on their practice field
Saints coach Sean Payton is a master strategist. Last week, he switched the team's Gatorade flavor before they beat the Eagles. This week, he had something painted on the Saints practice field.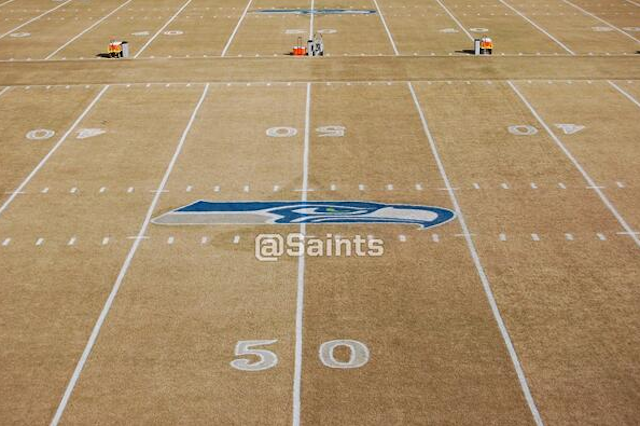 Before New Orleans played Philadelphia last week, Saints coach Sean Payton decided to switch a few things up in the team's routine. The Saints switched Gatorade flavors and the team even got new sweatsuits. 
Powered on by a more tasty Gatorade flavor and the new sweatsuits, New Orleans won its first road playoff game in team history with a 26-24 win over the Eagles. 
This week, Payton has a new tactic as the Saints prepare to play in Seattle: He had the team groundskeepers add the Seahawks logo to the Saints practice field. Payton said the logos were added because he's 'trying to create the exact environment' his team will face in Seattle.
If Payton's trying to do that, he may also want to have jets taking off next to the practice field -- to simulate the noise. Payton may also want to consider having his team practice in a car wash at some point, because apparently, there's a 100 percent chance of rain in Seattle on Saturday. 
Show Comments
Hide Comments
Four defensive backs are picked in the final five spots of the first round in Rob Rang's final...

The last version of Will Brinson's 2017 NFL Mock Draft sees the Chiefs land their new franchise...

Character has become such a concern for draft prospects that scouts spend a majority of their...
Also, expect Haason Reddick to go higher than expected and Reuben Foster to be taken on Th...

Plus the Cowboys and Steelers find new cornerbacks late in the first round in Dane Brugler's...

The league appears fully prepared if the Browns decide to pull off a few unexpected trades