PHOTO: St. Louis fans are not interested in the Rams
The Rams definitely weren't the hottest ticket in St. Louis on Monday.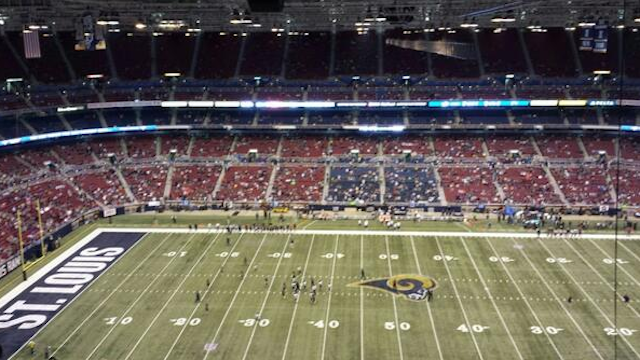 Tickets to see the Rams play haven't exactly been hard to get this season. As early as Week 5, you could snag a Rams ticket for under $10. As a matter of fact, if you wanted to see the Rams play the Seahawks on Monday, you could've done it for cheap because tickets were going for as little as $5. 
Apparently $5 wasn't cheap enough to get fans in the stadium though because this is what the Edward Jones Dome looked like at 8:25 ET, just 10 minutes before kickoff.  
Of course, St. Louis sports fans have other things to worry about, like the World Series. The St. Louis Cardinals are hosting the Boston Red Sox in Game 5 and that game had already started by the time the Rams and Seahawks had kicked off. 
Ready for some Monday Night Football. All 20,000 of us. #Rams #Seahawks #emptydome #bringafriend pic.twitter.com/qUAjqPN09T

— Dave Skretta (@APdaveskretta) October 29, 2013
(Wink of the CBS Eye to GinaFiorito on Twitter)
Williams is currently a free agent

Eight members of the Cowboys' defensive front-seven have been suspended since 2015

After being scammed, Portis contemplated murder until his friend dissuaded him
Two months after a woman earned a football scholarship, the AFFL says 'everything is on the...

The quarterback nearly retired this offseason but opted to return for his 15th NFL season

One of 2016's breakout rookie stars says he and Romo have a strong relationship