PHOTO: Tim Tebow billboard pops up in Jacksonville
A billboard in Jacksonville promises Jaguars owner Shad Khan that fans will fill up the stadium if Khan will do one thing: sign Tim Tebow.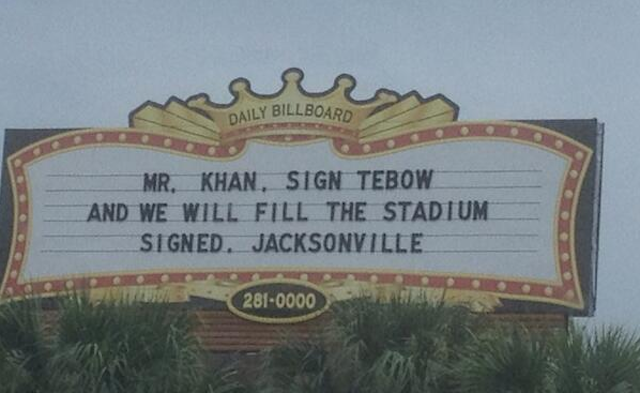 If you live in Florida and you're looking for a way to make some money, you may want to get into billboards because the Florida billboard industry seems to be thriving. Less than two weeks ago, billboards popped up in Tampa Bay asking the Buccaneers to fire coach Greg Schiano. 
This week we have new billboards. Tim Tebow billboards. 
Jaguar Tebow fans don't want anyone fired though, they want someone hired: specifically Tim Tebow. As you can see in the photo above, fans are now buying billboards and making crazy promises to Jaguars owner Shad Khan and that promise is that fans will fill EverBank Field if Khan will sign Tebow. And it wouldn't even much effort right now, I mean, the Jaguars do have an open roster spot.
This isn't the first time this season that 'Sign Tebow' propaganda has besieged Jacksonville. During a Week 4 home game, a banner was flown over EverBank Field encouraging the team to sign Tebow.  
This also isn't the first time that fans have bought Tebow billboards either. Broncos fans bought Tebow billboards in September 2011 asking coach John Fox to start then-backup quarterback Tim Tebow. The Tebow billboards were obviously good luck in Denver, the Broncos have been to the playoffs every season since that happened. 
If you're wondering who paid for the Tebow billboard in Jacksonville, my guess is the fan driving the car below.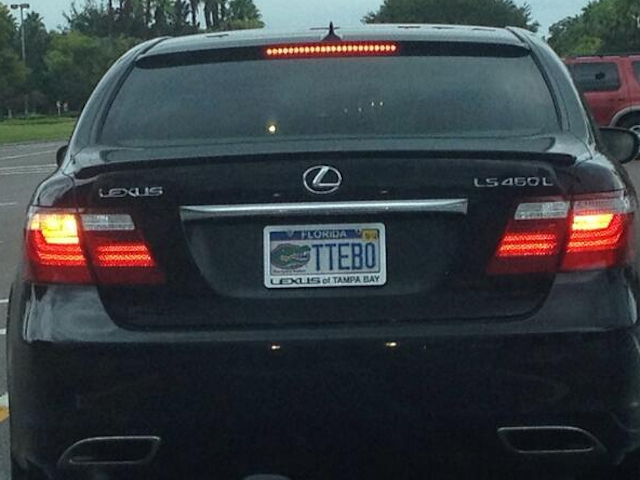 (Wink of the CBS Eye to Marc Weiszer on Twitter)
---
Follow John Breech on Google+
Show Comments
Hide Comments
One of the league's best wideouts had just four catches for 28 yards against Green Bay

The Browns selected Kizer in the second round of the 2017 NFL Draft

Talk about a great Christmas present
'I don't think there's anybody more worthy than Marshawn to wear that number,' Woodson sai...

He's targeting a return in early June

Lockette retired from the game after suffering an injury that nearly ended his life