PHOTOS: Aaron Rodgers celebrates with Wisconsin after Sweet 16 win
The Wisconsin Badgers celebrated a Sweet 16 win over Baylor by taking as many pictures as possible with Packers quarterback Aaron Rodgers.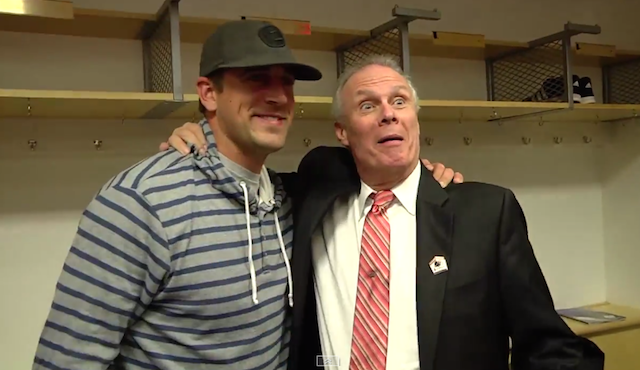 What's the best way to celebrate a Sweet 16 win?
If you're the Wisconsin Badgers, the answer is: let Aaron Rodgers in your locker room so everyone can take pictures with him. That's exactly what happened after the Badgers 69-52 win over Baylor.
Rodgers went into the locker room and coach Bo Ryan's face seemed to sum up how everyone on the team felt, 'HOLY SMOKES AARON RODGERS IS IN OUR LOCKER ROOM. LETS TAKE PICTURES.'
The Packers quarterback was in no hurry to go anywhere, as you can see below, he took pictures with pretty much anyone who wanted one. However, it's not clear if he gave the Badgers a patented Aaron Rodgers discount double-check. 
Aaron Rodgers cam to the lockerroom after the win too! #Badgers #OnWisconsin pic.twitter.com/Jk4bndaG8q

— Furious Styles (@JTaylored11) March 28, 2014
Met @AaronRodgers12 at our game tonight #badgers #packers pic.twitter.com/Lnn9CrxxOc

— Katherine Vosters (@kvosters24) March 28, 2014
Rodgers also stopped to make a Wisconsin 'W' with his hands, just in case anyone wasn't sure who he was rooting for.
So is the new 'W' a thing now? @aaronrodgers12 thinks it's time for a change too... pic.twitter.com/mTn2Q93tTL

— The Victory Lap (@VictoryLapBlog) March 28, 2014
Rodgers couldn't stay in the Badgers locker room forever though, he eventually had to leave, "We all made him uncomfortable staring at him," guard Josh Gasser told USA Today. 
Oh and Rodgers might have gone to Cal, but he's in Wisconsin now, so there's no harm in cheering for the home team. Also, since he did go to Cal, Rodgers probably wasn't too sad to see Cal's rival Stanford go down on Thursday.
Anyway, back to Wisconsin though, here's a video of the Badgers celebrating. 
Show Comments
Hide Comments
Our Latest Stories
The Browns might be getting a new look in the near future

One particular Vegas-area business is planning to take advantage of the NFL club's impending...

With the draft a month away, teams desperate for QB help are already peeking ahead to 2018
Not every rule proposal was approved at the league's annual meeting

The former Bears quarterback let Kristin Cavallari take a revealing vacation photo

Titans coach Mike Mularkey is encouraged by Marcus Mariota's recovery from last year's broken...