PHOTOS: John Harbaugh's Cradle of Coaches statue dedication
Ravens coach John Harbaugh had his Miami (Ohio) bronze statue unveiled Saturday. He seemed to enjoy the moment.
• 1 min read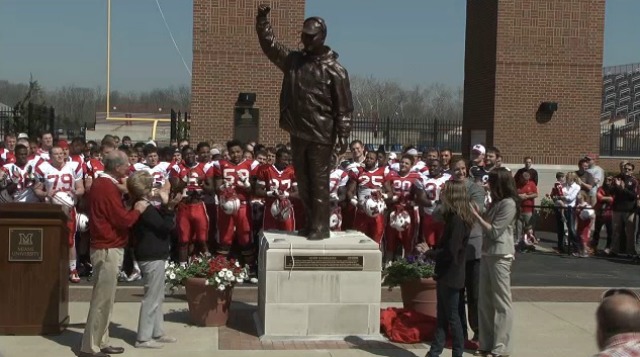 In 2010 while researching a book, I attended the first Miami (Ohio) statue dedication to those who have been immortalized in the Cradle of Coaches club. That first year, we watched as former Redhawks greats like Paul Dietzel, Carmen Cozza and Weeb Ewbank were honored by the school in which so many all-time great college and NFL coaches got their start.
What struck me that October day was how honored those men and their families were to be there. I talked to Dietzel and Cozza -- who had so much success as head coaches at LSU and Yale, respectively -- and they were thrilled to have been remembered more than 50 years after they played at Miami. As was Lucy Ewbank, who was then 104 years old and the widow of Weeb -- who was the winning coach of Super Bowl III and who won two NFL titles with the Baltimore Colts.
These people looked at the bronze statues in the courtyard next to Yager Stadium, and they smiled.
On Saturday, Ravens coach John Harbaugh did the same as his own statue was unveiled in Oxford, Ohio, to stand among the school's greats like Ara Parseghian, Bo Schembechler and Paul Brown.
"This Cradle is the greatest honor in coaching," said Harbaugh, a former Miami defensive back, via the Baltimore Sun. "You just think, man, these are the men that played and went to school at Miami University and we're playing and walking that same path that they walked. It's an incredible, incredible thing."
Said Miami athletic director David Sayler: "John actually said no the first two times I asked him to do the statue. That's the kind of man that he is. He just [said], 'Well, I don't know if I deserve it.' [I said], 'Of course you do, look at that ring on your finger.' To get him here and to have him do this and be honored this way, it's just awesome for me. It's beyond my wildest dreams as far as how the weekend has gone."
Here are a couple of photos of the statue and how it was installed (via muredhawks.com).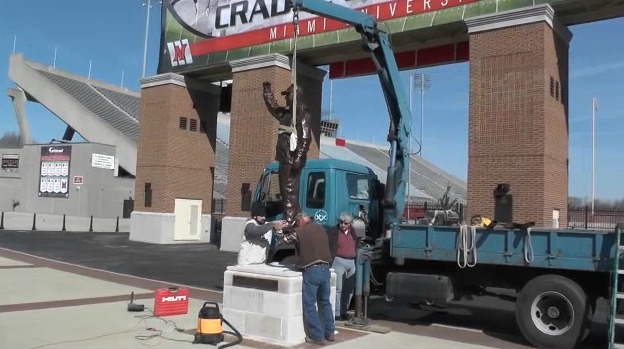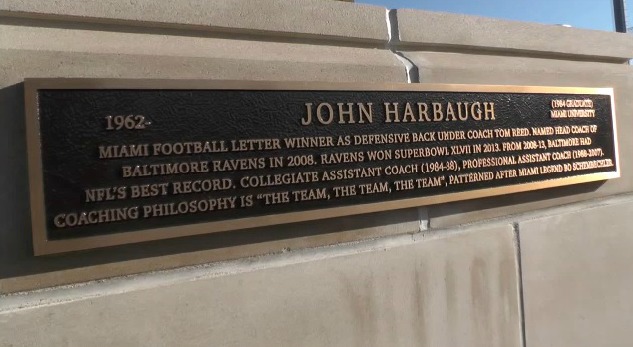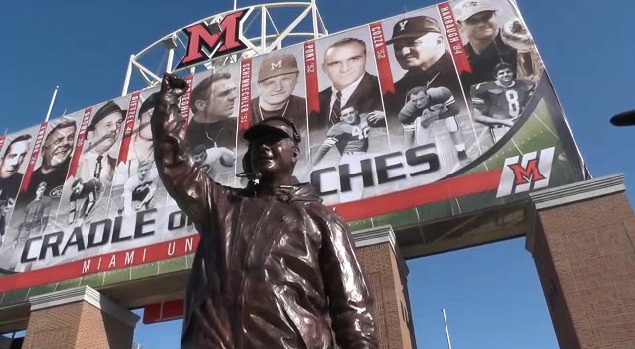 Show Comments
Hide Comments
Our Latest Stories
Not everyone was on board with the Raiders' move

'I want to make it as terrible and horrible for Mark Davis as possible,' says one former Raiders...

This what the Raiders' new stadium might look like
Not everyone was happy about the move to Sin City

The Raiders are leaving for Vegas and the team's owner doesn't want any ill will if possib...

Giants receiver Brandon Marshall was the only player invited to speak at the NFL owner's m...