Players were yelling 'Papa John's' in Eagles-Broncos game
Papa John's got some free advertising on Sunday when players in the Eagles-Broncos game were shouting the name of the company while Peyton Manning made pre-snap audibles.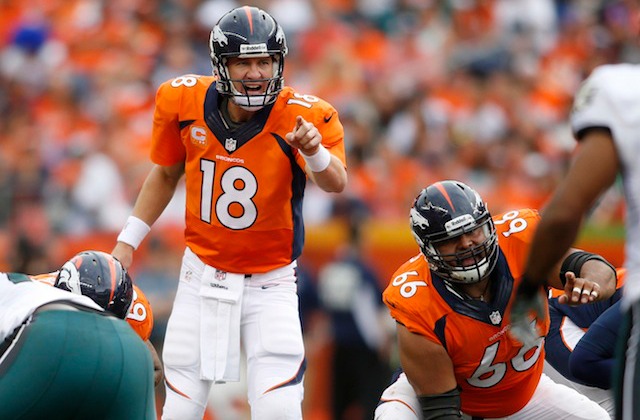 When Peyton Manning's not busy throwing for 327 yards and four touchdowns against NFL teams like the Eagles, he does other things, like advertising for Papa John's. 
On Sunday against Philadelphia, both those world's collided. During the first quarter against the Eagles, a player on the field was shouting Papa John's while Manning was screaming his audibles. 
The only problem is, it's not clear if the person shouting 'Papa John's' was an Eagles defender making fun of Manning or if it was Broncos center Manny Ramirez trying to earn some free pizza from Peyton for shouting 'Papa John's' during a line call. You can listen to the Papa John's call here. 
Eagles linebacker Connor Barwin was asked about pizza-gate on Monday and he wasn't sure if it was a Broncos player or an Eagles player either, "Well I know -- I think I might have heard Papa John's once," Barwin told WIP-FM, via CBS Philly. "But I don't know who said it, I mean that's kind of funny."
Barwin's theory seems to be that it was someone on his team trying to distract Manning. 
"When any quarterback goes and talks at the line or any center, they start yelling 'Mike's 59' or '98's the 4th down' where they try to figure out the protection we, on defense, we start, like I'll say -- if they start yelling '98's down, meaning I'm the fourth rusher, I'll start yelling '59's down' because it just confuses them," Barwin said. "We can say, we tell the referee that we're changing who our fourth is upon what they say. So that kind of stuff happens all the time when quarterbacks are making calls and defenses are trying to make calls back."
In the future, if the Eagles defense is going to yell funny things at opposing quarterbacks, they should probably plan to do it during games they don't eventually lose 52-20. 
Show Comments
Hide Comments
Peterman played at both Tennessee and Pittsburgh

Spencer Hall grades every sixth-round pick of the 2017 NFL Draft

Follow all of the latest news and rumors as the 2017 NFL Draft wraps up in Philly
Spencer Hall grades every fifth-round pick of the 2017 NFL Draft

The Colts have a new secret weapon in their front office

Could this result in the end of Eric Decker's time with the Jets?