Playoff Musings: Luck shows his talent overcoming mistakes
Quarterbacks who takes chances throw interceptions. It's how they overcome them that mattes. Andrew Luck showed in his second playoff game he can do just that.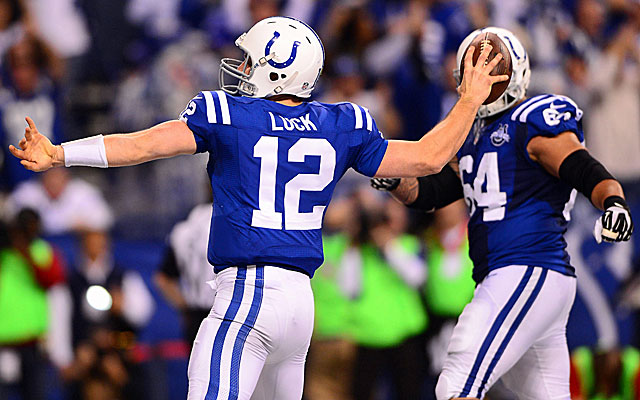 One of the best things that an NFL quarterback ever told me was that any passer in the league could play it safe and throw 18 touchdown passes and four or five interceptions.
"That's not playing quarterback," he said. "That's playing not to lose. We could all do that."
Great quarterbacks throw picks. The key is how well they recover from them.
Indianapolis Colts quarterback Andrew Luck recovered in grand style Saturday in an AFC wild-card victory over the Kansas City Chiefs , rallying the Colts from 38-10 to beat the Chiefs 45-44 and advance to the divisional round next week.
Luck threw three interceptions, but he finished with 443 yards, four touchdown passes and a game for his legacy.
Luck has not played that well this season, in large part because of the people around him and the style the Colts have used. They've tried to be a more a run-first team, but that went out the window against the Chiefs when they fell way behind.
That's when it became Luck's game. He did everything at the line of scrimmage and dictated tempo to a Chiefs' defense that had no answer.
That's what great quarterbacks do. They show up when nothing else is working. Luck's second half was one of the most impressive playoff performances we've seen, and it included two interceptions.
That's telling.
He wasn't afraid to get past his mistakes. Brett Favre threw more touchdown passes than any other passer in the league. But he also threw more interceptions than any other passer.
Playing it safe won't win you a title. The Colts had no choice against the Chiefs.
Moving forward, they might want to remember that. 
They have a quarterback with the psyche to overcome his mistakes. And one who is willing to take chances.
• For a guy two years into the NFL, Luck climbs the pocket as well as any passer in the league. That's not something that you teach. That's instinctive. 
• Like the Colts, the New Orleans Saints won behind their quarterback play in the second half. Drew Brees threw two picks in the first half in the Saints' 26-24 victory over the Philadelphia Eagles , but came back to throw for 156 yards and a touchdown in the second half. That's what great quarterbacks do. And I know Seattle blew out the Saints earlier this year, but the Saints can win this rematch. They are good enough and they have Brees. Don't read too much into the first game.
• Colts receiver T.Y. Hilton showed that speed is the most important thing for a receiver. There were many who wondered if Hilton could be a No. 1 receiver when Reggie Wayne went down. He sure looked like it against the Chiefs, catching 13 passes for 224 yards and two touchdowns. He averaged 17.4 per catch and caught the game-winner in the fourth quarter. Hilton is small at 5-8, 190 pounds, but that speed makes up for a lack of size.
• Yes, the Chiefs lost running back Jamaal Charles early in the game. And then lost Brandon Flowers and Knile Davis a little later. But when you are up 38-10, don't dare use the injuries as an excuse. That's a choke job.
• Don't blame Alex Smith , either. He was really good, throwing for 378 yards and four touchdowns. Some will blame him for the intentional grounding late, but it's a sack if he doesn't get rid of it. 
• With all the injuries in the first game, including head injuries, it was only a matter of time before the chant for no 18-game season started. Does anybody really think the injuries happened because it's late in the season? That's just absurd. A guy can get a concussion in Week 1. Length of the season had no impact on those injuries. Didn't the Chiefs rest everybody last week anyway?
• With all we hear about concussion protections and lawsuits, we still had Saints corner Keenan Lewis begging to go back into the game after hitting his head. It was a smart move by the Saints doctors to keep him out.
• Nick Foles did some good things in the second half, but it took him a while to get going in the first half. Playoff jitters? He settled down and did a nice job -- especially when Lewis went out.
• Saints back Mark Ingram looked like a different runner against the Eagles. He ran hard and tough. If they get that at Seattle, watch out. 
• I love reports that a new coach is blowing out the entire staff. Do we expect anything else? Guys want their own coaches in there, not somebody who might be loyal to players already on the roster. It makes too much sense. So expect more of it when the new coaches are hired.
• I am a big believer in the hiring of Bill O'Brien in Houston. I think he has the right skillset for the job, and he's come through a lot of adversity at Penn State. He can handle a turnaround in the NFL. The best thing about O'Brien: He wasn't afraid to get in the face of Tom Brady in New England. That's telling.
• The Tennessee Titans obviously told Mike Munchak to make changes to his staff, and he balked. So they fired him. Loyalty is one thing, but keeping your job is another.  
• The Detroit Lions and Ken Whisenhunt make too much sense. He would be perfect for Matt Stafford. Whisenhunt, the San Diego Chargers ' offensive coordinator, is a heck of an offensive coach and he has the type of personality the Lions need. If the Lions are smart, he's their guy.  I also like Todd Bowles if they go defense. 
• New York Giants offensive coordinator Kevin Gilbride retired Friday and a lot of Giants fans were happy. But they shouldn't be. Gilbride was a heck of a coordinator in his career. He might be known for the Buddy Ryan punch, but he's been much more than that. He had a failed stint as a head coach, and never got another chance, but Gilbride as an offensive coordinator was much better than most would say he was.
• The All-Pro teams were announced Friday and no right tackles made the team. Why can't they force everyone to pick a right and left tackle? It makes no sense. I am one of the 50 voters, and I picked a right tackle. It was Minnesota Vikings right tackle Phil Loadholt .
Show Comments
Hide Comments
Marshall and Richardson's feud dates back to the beginning of last year

Kennedy, inducted into the Hall of Fame in 2012, died at his Orlando home according to rep...

Overtime in the NFL is going from 15 minutes to 10 minutes in an effort to reduce injuries
Group celebrations, using the ball as a prop, going to the ground and snow angels are all legal...

Drafted to give the Jets a deep threat, Smith leaves New York with 10 career receptions

The Browns owner says there's a different vibe in the building, despite just four wins in two...