Plenty of defensive line, linebacker talent outside first round
These guys won't be drafted on Day 1, but Jeremiah Attaochu, Devon Kennard and others are players you should hope your favorite team picks up.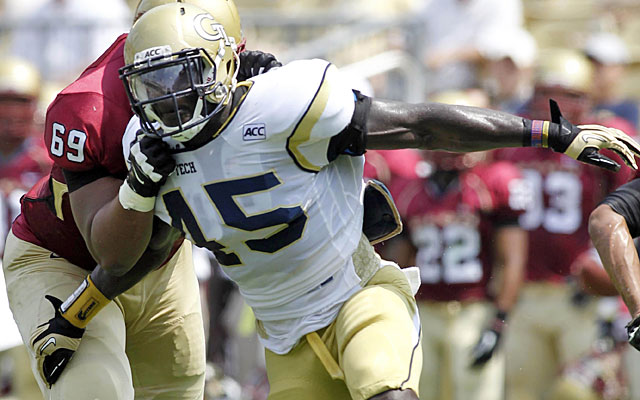 More NFL offseason: Mock Drafts | Prospect Rankings | Pro days | Top free agents
Tired of reading about the same 32 draft picks?
The 30-plus guys headed for the first round in the 2014 NFL Draft get all the attention. But there will be as many busts as there are stars in the first round. While plowing through my film study of the top players, I've have come across a number of "non" first-rounders that I would love on my team -- guys with physical-trait issues, underrated production and for one reason or another aren't talked about very much. Ten defensive players really caught my eye. They'll be drafted from the second round or after, and some will go undrafted. But they are football players you should hope your team grabs somewhere on draft weekend.
1. Jeremiah Attaochu, OLB, Georgia Tech: Here's a 21-year-old kid born in Nigeria who is still a work in progress as a 3-4 outside linebacker. He has played as an end. I thought he was just average at the Senior Bowl but after watching his 2013 game tapes my opinion changed. Attaochu had 72½ plays behind the line of scrimmage between sacks (31½) and tackles for loss (41). He ran an unofficial 4.5 in the 40 at his pro day and had a 37½-inch vertical. There's no doubt he needs to develop a counter move to his edge rush but he has the tools to be a fine pass rusher. He had more sacks in college than Khalil Mack or Anthony Barr.
2. Devon Kennard, OLB, Southern California: While I was studying Notre Dame offensive lineman Zach Martin against USC I couldn't help but notice Kennard at outside linebacker/standup defensive end. Kennard more than held his own against the Irish tackle and has the football instincts to play in the NFL. He has strike to neutralize a run blocker, he can dip his shoulder and get under a tackle in his pass rush and he explodes off a block to close on the run and the QB. He is rarely on the ground because of good balance and technique. He employed an impressive tug-and-pull technique on Martin and had very little trouble with tight end Troy Niklas. He does not get involved in mini-battles with the blocker in front of him but rather plays with his head up looking for the ball. I see him as an ideal 3-4 strong-side outside linebacker. After watching the Notre Dame, UCLA and Stanford games, the son of former NFL offensive lineman Derek Kennard will make a team and play well.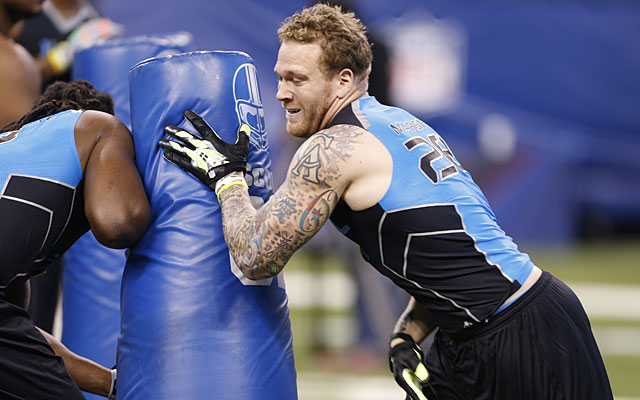 3. Cassius Marsh, DE, UCLA: Marsh is impossible not to see when you turn on the UCLA tapes. He plays like his hair is on fire, has a nonstop motor and achieves with effort reminiscent of Jared Allen. He may never be a starter but will make a team as a special-teams guy and eventually find his way onto the field. Watch the USC game, when he had six tackles and two sacks and was fighting through blocks all day. The guy may look ugly at times but he can play.
4. Taylor Hart, DE, Oregon: I first jotted down a few notes on Hart last draft season while I was watching Dion Jordan, the 2013 No. 3 overall pick. Hart is 6-foot-6, 284 pounds and he can run for a big man. He can shock a blocker with a good strike and he regularly passes many of his own teammates in pursuit of a ball carrier. He's probably a rotational player as a 4-3 or 3-4 defensive end but when you watch the Stanford game, you get a glimpse at the possibility he could be more than that down the road. Hart does the dirty work and in some ways reminds me of Brett Keisel.
5. Preston Brown, ILB, Louisville: When I got done interviewing Brown, I immediately turned on his game tapes. He was impressive as a person and a leader. He recorded 290 tackles and played on every third down over the past two seasons, though some believe he's a two-down player. Check out the Miami game if you have any doubt. Brown is a 250-pound Mike linebacker who is a thumper against the run. When he told me he squatted 500 pounds 18 times in high school, I could see why he brings it in the run game.
6. Chris Borland, ILB, Wisconsin: Some say the sawed-off linebacker (5-11, 248 pounds) reminds them of Zach Thomas. He reminds me of London Fletcher. He sees things so fast that blockers never get a great piece of him. I watched him defend a double-reverse and he was never fooled and directed the whole defense where the ball was going. Some teams will shy away, but his height is no issue. I watched the Ohio State and BYU games where he totaled 30 tackles and two sacks. Borland forced 10 fumbles in college, which is almost as impressive as the 365 tackles he was in on.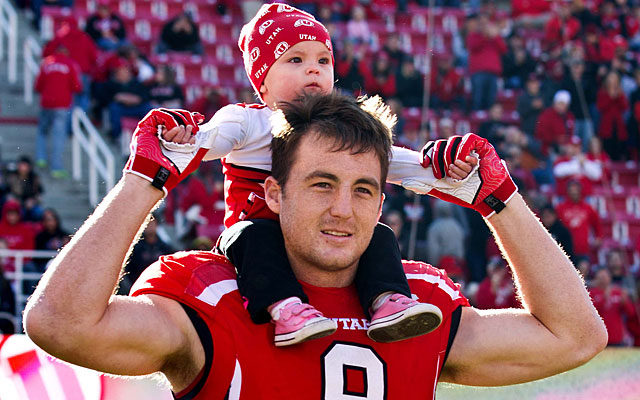 7. Trevor Reilly, OLB, Utah: Reilly is a former walk-on playing for his 1-year old daughter who had kidney cancer. Go watch the Arizona and USC games if you have any doubt about Reilly entering the draft at 26. He had 24 tackles and four sacks in those games. Reilly is 245 pounds at nearly 6-5 and he clocked a 4.6 in the 40 at his pro day. He's another guy who can line up as a strong outside linebacker in a 3-4 defense.
8. Marcus Smith, DE/OLB, Louisville: I had Smith on my radio show two weeks ago and the emails poured in from fans wanting him on their team. The former quarterback turned pass rusher/outside linebacker described how his QB days helped him understand pattern reads by receivers in his drops. Also, he has an edge rushing the QB, knowing how they use their cadence and where they are most likely going when they feel pressure. When watching teammate Preston Brown in the Miami game I couldn't help but notice Smith's two sacks. He is on the radar screen of teams like Tennessee, Tampa Bay, Indianapolis and the Raiders.
9. Jackson Jeffcoat, DE/OLB, Texas: Some believe Jeffcoat could have done more in college. After talking with Greg Robinson, who coached him at Texas last season, I found out how versatile this kid is. NFL teams looking for hybrid defenders will like him. He can play with his hand on the ground, standing up outside or even over a guard as an inside linebacker. Jeffcoat had 58 plays behind the line of scrimmage (40 tackles for a loss and 18 sacks). Jeffcoat ran 4.6 in the 40 at the combine. When you watch the Oregon game, when he played over the guard, you see a guy who plays big and has the range to make plays sideline to sideline.
10. Trent Murphy, DE/OLB, Stanford: Murphy is a Bill Belichick-type of defender in the mold of Mike Vrabel. He can line up anywhere. If you want him down, he can hold the point of attack. If you want a standup rusher, his 25 sacks the past two seasons solve that issue. He has tons of technique and wins with smarts. No scheme will fool him, and at 6-6 and close to 260 pounds he will be a solid pro. I remember when Patrick Kearny came out in the draft and people wondered about him the same way they worry about Murphy.
Later this week I will get into corners and safeties not named Darqueze Dennard, Justin Gilbert, Ha Ha Clinton Dix or Calvin Pryor. There are a number of solid players headed for later rounds who can play in the NFL but you would never know it because of the way the top four are covered.
Show Comments
Hide Comments
Foreman's son died less than two months after he was born

The future Hall of Fame running back is joining the Saints

The Notre Dame coach clarifies his earlier comments about his former quarterback
The Cowboys owner says he's better now than ever

Sometimes it's hard to figure out what the Bills are doing

Peterson would join a formidable backfield that includes Mark Ingram and, of course, Drew...