Police: Darren Sharper's DNA found on accuser's clothing
During court testimony on Wednesday, a police detective in Arizona said that Darren Sharper's DNA was found on one of his alleged sexual assault victims.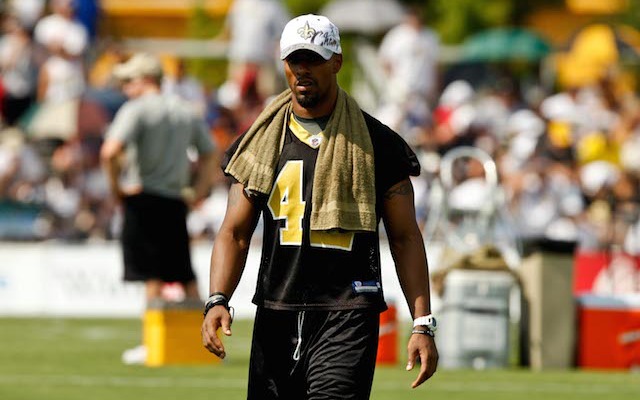 More NFL offseason: Mock Drafts | Prospect Rankings | Pro days | Top free agents
Darren Sharper's DNA was found on one of his alleged rape victims in Arizona, according to testimony given by a Tempe police detective on Wednesday. 
Sharper was indicted on two counts of sexual assault and three counts of administering dangerous drugs in Arizona on March 11 and his bail hearing was held on Wednesday. 
Sharper wasn't in the Arizona courtroom because he's still locked up in Los Angeles, where he's been since Feb. 27. 
The charges in the Arizona case stem from an incident last November in Tempe, where Sharper allegedly drugged three women and then raped two of them. According to USA Today, Sharper went back to an apartment belonging to one of the alleged victims and insisted on making the women drinks. After drinking Sharper's concoction, one of the women passed out and the other one began feeling sick. A third woman woke up half-naked and had no memory of how her clothes came off.
During testimony on Wednesday, police Detective Kevin Mace said that semen matching Sharper's DNA was found on the clothing of one of the victims. Mace also said there was a partial DNA match on the genitals of the same woman. However, there was no sign of Sharper's DNA on the other woman who he allegedly raped, according to USA Today. 
There was no decision on whether or not Sharper would be granted bail because the hearing was continued until Thursday. At that point, Maricopa County Superior Court Judge Warren Granville will have to decide whether or not to grant Sharper bail. 
Sharper was originally arrested on Jan. 17 in Los Angeles and charged with two counts of rape. Sharper was later released on a $200,000 bond. However, less than a month later, that bond was raised to $1 million, an amount that Sharper was still able to pay.
Sharper then found himself in an LA courtroom on Feb. 20 where he entered a plea of not guilty to felony charges of drugging and raping two women. Besides the two rape charges, the former safety was also charged with four counts of furnishing a controlled substance and one count of possession of a controlled substance, for a total of seven charges.
Although Sharper is only currently facing charges in California and Arizona, he's also under investigation for two sexual assaults in Las Vegas, two in New Orleans and one in Florida. New Orleans police issued a warrant for Sharper's arrest on Feb. 27 and at that point, the judge in the Los Angeles case decided to incarcerate Sharper without bail.
Show Comments
Hide Comments
The Cardinals, however, don't sound enthused about his return

According to NFL Network's Michael Silver, the Browns might want to trade up to draft a franchise...

The projected top-20 pick could fall out of the draft with teams having little time to gather...
Bryant will have his progress reviewed again before the coming season

From Jadeveon Clowney to Odell Beckham, here's the option year prognosis for each 2014 first-round...

Gruden's team took Cadillac Williams instead of Rodgers in the 2005 NFL Draft