Police say ex-Cowboy Joseph Randle hit three people with a car
Details from Joseph Randle's latest arrest have emerged.
• 1 min read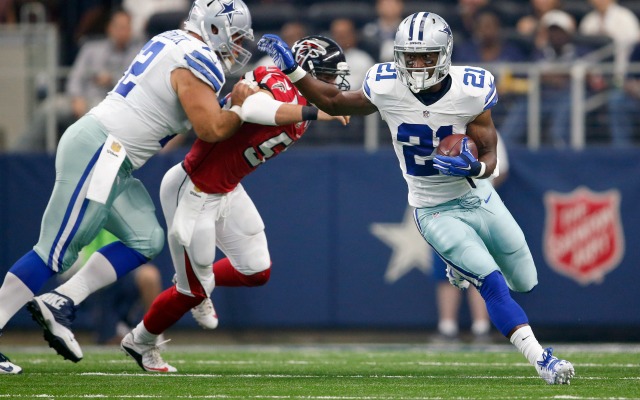 On Sunday, Joseph Randle was arrested for the fifth time in 17 months and the second time in February alone. On Monday, the details from his latest arrest emerged via police in Wichita, Kansas.
According to Wichita police, Randle hit three people with a car, which was reported by The Associated Press.
Police Lt. James Espinoza told The Associated Press that Randle was told to exit a party early on Sunday after an argument. As he backed a car out of the driveway, Randle allegedly hit three people, though none of the individuals -- two men and one female -- were seriously harmed. Randle quickly returned to the location of the party and allegedly busted through the door.
Randle was in possession of marijuana, Espinoza told the AP, which reports that Randle is jailed on $100,000 bond, though he hasn't been charged. According to The Associated Press, investigators will meet with prosecutors on Wednesday.
The Cowboys released Randle in November after a lackluster first half of the season that saw him rush for 315 yards in six games despite his bold statement before the season when he criticized former Dallas running back DeMarco Murray for leaving yards on the field in 2014. Even if Randle finds another team willing to take a chance on him, he'll need to serve a four-game suspension before returning to the field.
But that suspension might be irrelevant. After this latest legal incident, Randle's future in the NFL looks even more bleak.
Show Comments
Hide Comments
Brett Hundley was apparently on the block during Day 2 of the draft

The Bills fired their GM Sunday morning, then cleaned house

Get ready to start hearing a lot about Sam Darnold and Josh Rosen
College players who didn't get drafted are now free to sign with any team in the NFL

Benjamin has had weight issues going back to college

As one exec put it, 'We don't know what the hell they were doing'