Position breakdown: Numbers say TE production explosion only growing
Play-making TEs have become key to all rosters. The numbers reflect the importance in how TEs are used and even how many hold roster spots.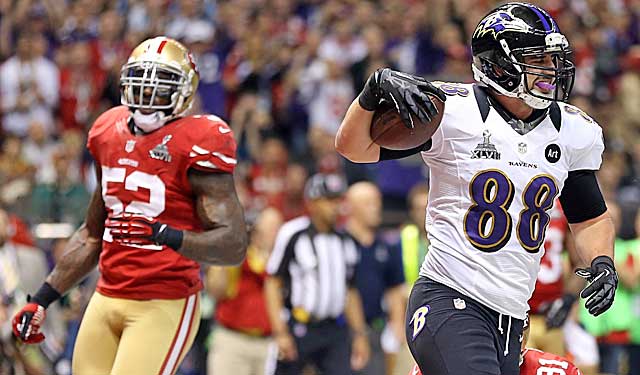 The NFL's appetite for tight ends doesn't seem to be satisfied, even after 15 were drafted last month.
This position has changed more than almost any other. Before the 1980s, the tight end was a glorified offensive tackle who occasionally caught a short pass to keep linebackers honest. The most dominating tight end of the 1960s was Hall of Famer John Mackey (best season was 1967 when he caught 55 passes in 14 games, which projects to 63 over 16). That kind of production would barely put him in the top 10 tight ends in 2012.
Projecting trends is critical, as the move to more-produtive tight ends indicates. Teams are looking years down the road to make sure rosters are stocked with the right players. The 49ers and Ravens, the two teams in the last Super Bowl, clearly understood the tight end trend. Between the two teams the tight ends were targeted 19 times and caught 15 passes for 195 yards in the Super Bowl.
Productivity from the position has been more than steadily over 20 years, and when you examine five-year jumps we can see a number of things that points to what should be done going forward.
Here's a look at tight end production since 1992 with stops at 1997, 2002, 2007 and 2012. Note the number of tight ends (#ofTE) who caught at least one pass, the number of times tight ends were targeted in the passing game, the growth in the receptions, receptions over 25 yards and touchdowns. There's no denying the growing importance of the tight end but this demonstrates the explosive rate of growth. Last year, eight tight ends were targeted more than 100 times, and we are heading towards 12 tight ends in the century club.
Rise of the Tight End
YEAR
#ofTE
TARGETS
RECEPTIONS
+25 yard RECEPTIONS
TOUCHDOWNS
1992
72
1,604
1.107
67
87
1997
94
2,467
1,559
120
136
2002
94
2,684
1,698
95
137
2007
107
3,340
2,147
129
187
2012
108
3,827
2,449
186
202
Consider that if all 32 teams completed passes to three tight ends each, there would be 96 tight ends in the league. It's clear that teams are using at least three tight ends and a number of teams have used four in the passing game.
So in the past 20 years, teams have all added at least one more tight end to the passing game as the growth has gone from 72 to 108 (36 more receiving tight ends). Should teams be thinking it's time to have four tight ends on the final 53 man roster by 2017?
It's easy to say the NFL is now a passing league and passing makes up close to 58 percent of all plays from scrimmage. But drilling down to where the growth in the passing game has come involves tight ends in a significant way.
In 20 years targeting tight ends has grown by 2,223 more targets in a season. That's an average of 69 more pass attempts a season per team. Receptions are naturally up as well with a season increase of 1,342 more tight end grabs per season from 20 years ago.
When you take a look at receptions of more than yards, it is clear the vertical threat from the position is off the charts. It is important to note that the jump in 2012 from 2007 is significant and it definitely points to teams putting players with speed at the position.
As for scoring productivity, tight ends are a major threat with more than 200 touchdowns scored last season. That's nearly seven more tight end receiving touchdowns a week during the NFL season when compared to 1992.
So, what can these numbers and trends tell us about the future? Last year the average NFL team had 3.3 tight ends catch at least one pass. They targeted their tight ends 120 times, tight ends caught 77 passes, had six recepitions of 25-plus yards and six TD receptions. It appears that in 2017 teams will need four tight ends with at least one reception, they will be targeted 135 times and be expected to catch 88 passes with 10 25-plus-yard plays and score eight TDs.
There have been 59 tight ends drafted since 2010 and many will be in the prime of their careers when the next five-year look comes along. Does your favorite team look ready to handle the constant expansion of the tight end position for 2013 let alone 2017?
Show Comments
Hide Comments
Last week, Mark Davis revealed that he had refunded and re-sold about 1,000 tickets

Vick's legacy with the franchise that drafted him remains complicated

Navy SEAL Kyle Milliken, who died during a raid in Somalia, met Brady at Gillette Stadium in...
Cowboys fans will probably disagree with Claiborne's statement

'I want to score a lot of touchdowns. I want to see a lot of celebrations,' Harbaugh said

The 2015 first-round pick has 33 career receptions