Preseason roundup: Tim Tebow's two TDs won't be good enough
As he tries to make the Patriots squad, Tim Tebow played OK in his second-half appearance. Will it be good enough?
• 4 min read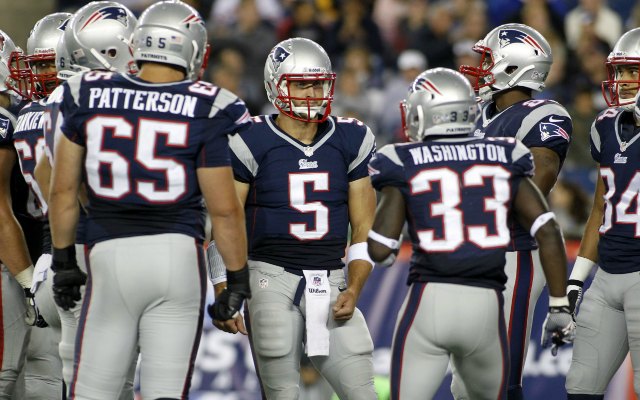 As we've previously pointed out, Thursday was the final day for Tim Tebow to make a good impression with his new team and see if he could somehow land a roster spot with the New England Patriots .
Since he didn't play in the team's third preseason game, it's been a while since we've seen what Tebow can accomplish on the field. But I imagine Tebow had faith, and I imagine owner Robert Kraft was still hoping Tebow played well enough to make the team.
Lest, we bore you with play-by-play, let me just say this: by the time he had thrown two passes, he was 2-for-2 for 16 yards (he makes the team!). Then, the New York Giants , as if they were embarrassed at Tebow's success, sacked him twice to end the series (he gets cut!). Then, on the next series, they sacked him twice more (he gets cut again!).
But there was redemption awaiting. With 12:26 to play, Tebow, after inaccurately throwing the ball out of bounds earlier in the series, tossed a somewhat-accurate throw to Quentin Sims , who broke a tackle and took it in for the 52-yard touchdown. OK, most of the credit for that score should go to Sims, but hey, Tebow had a little something to do with, right?
Overall, Tebow put up one of his usual stat lines, going 5 for 10, 82 yards, one score, and one terrible interception to go with six carries for 30 yards (he's GOT to get cut!).
Until, that is, he unleashed a fade pass with 6 seconds to play that went for a 9-yard touchdown to make it 28-20 (make him the starter!).
So, where does he go from here? Sure, Tebow survived the first cuts when the team had to get the roster down to 75 players this week. But when the Patriots have to cut down to 53 on Saturday, there's no guarantee Tebow still will have a job. On Thursday, he didn't really help his cause. Until the very, very end, of course.
My prediction: Tebow won't be on New England's roster after this weekend.

What about the New York Jets ?

Let's talk about Tebow's former team, the Jets, because that squad has some major quarterback problems.
With Mark Sanchez injured and with Geno Smith , who now could be the starter with Sanchez hurt, sitting out, Matt Simms got the start vs. the Philadelphia Eagles and he pulled off a pretty good impression of Smith.
Oh, not because of anything positive he did, but because he was the reason why the Eagles got onto the scoreboard by scoring a safety. Unlike Smith, who ran out of the back of the end zone accidently while scrambling (as seen in the photo below), Simms was penalized for intentional grounding while in the end zone.
Which meant: 2 points for Philadelphia!




Simms, though, actually played pretty well, going 33 of 44 for 285 yards to establish himself as a legitimate option if the Jets first-stringer, whomever that might be, fails. Meanwhile, Graham Harrell, just signed by New York after his release from the Green Bay Packers , didn't play.
These kinds of photos …
… never get old.

As Brian Banks wrote before his Atlanta Falcons played the Jacksonville Jaguars , here's what he posted on Instagram: "After 5 years in prison, 5 years missing her child, 10years we struggle... Mom look at us NOW! Thank u God. You NEVER left us. Because we never left you. I've already won! No matter what , Mom we did it. We are free. #RISEUP"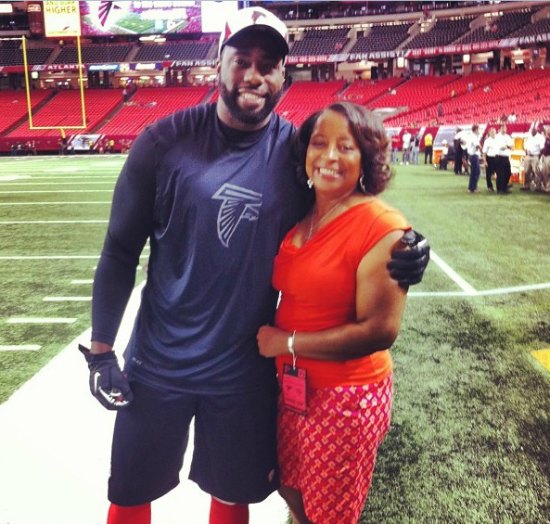 Olsen carted off
There was a scary moment in the Minnesota Vikings - Tennessee Titans game when Minnesota guard Seth Olsen had to be carted off the field after taking a knee to the helmet.
Olsen went at the knees of Tennessee linebacker Scott Solomon to block, and it appeared as if Solomon's knee smacked Olson in the side of his helmet. Olsen stayed on the turf, but he showed movement in his extremities and, as you can see in the picture below, he gave a thumbs-up when he was taken to the locker room.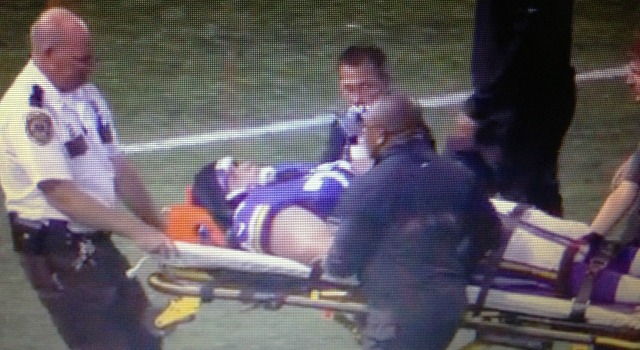 Afterward, reporters saw Olsen walking into the locker room, and the team announced he had suffered a concussion.Which, if you look at the photo above, is actually pretty good news.
In case you're looking ahead …

Jadeveon Clowney made his 2013 debut for the University of South Carolina as the Gamecoks tangled with North Carolina.
Clowney, at this point, is the presumed No. 1 overall pick in the 2014 draft, so if you're a fan of, say, the Oakland Raiders or Jets or Jaguars, it makes sense to keep track of the star defensive end. And perhaps pray that Clowney doesn't ever have to call his insurance company.
On the evening Clowney impressed a few analysts. But he also faced Twitter criticism (Twitter-ism?) for not standing out with a huge game for the stat book. People also wondered about his conditioning and the fact he was on the sideline for part of the game catching multiple breathers.  
Oh, and he did this.


Wow, what a beautiful pass from Jadeveon Clowney to Jadeveon Clowney for the 65-yard TD pass.

— Josh Katzowitz (@joshkatzowitz) August 29, 2013
I'm just kidding, obviously. That was Connor Shaw to Shaq Roland for the long touchdown that occurred just 79 seconds into the game and that sent the Gamecocks on their way.
But if you believe in Twitter analysts, Clowney didn't help himself much Thursday. But then again, none of that criticism probably matters that much anyway. In other words, this:


Seriously, what did Clowney do tonight...besides completely alter the other team's offensive gameplan?

— Tyler Duffy (@tyduffy) August 30, 2013
Follow Josh Katzowitz on Google+
Show Comments
Hide Comments
College players who didn't get drafted are now free to sign with any team in the NFL

As one exec put it, 'We don't know what the hell they were doing'

Beast Mode is headed to Oakland, but made sure to thank the people of Seattle on his way o...
The Broncos only drafted Kelly after first talking to his uncle, Jim Kelly

Whaley was on borrowed time, and now Sean McDermott gets his best shot at building a winne...

The Cowboys owner maintains that Gregory has the organization's full support