Preseason Week 3: Time to do away with preseason altogether?
After the third preseason game, teams turn their focus the regular season, and there remain glaring questions. How will RG3 fare? Is Geno Smith ready to lead the Jets? Do we really even need a preseason?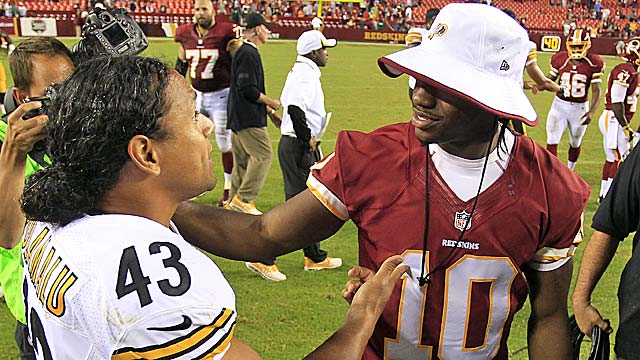 Week 3 of the preseason schedule is the turning point of the summer preparation and teams will shut down operations after these games and get the real 53-man roster ready for the regular season.
A couple of things that came up this preseason that beg a question:
1. Will sitting out be a problem for RG3? No preseason for RG3, but here comes the regular season. If the preseason is so important then how will the Redskins do when the regular season starts? RG3 will take the field with limited preseason practice work and no preseason games? I think he'll do just fine, which only draws attention to the value of preseason games. Colleges don't play preseason games, start camp later than NFL teams and open their season earlier. It's time to discuss getting rid of preseason games altogether.
2. Why work Matt Forte, Ray Rice and DeAngelo Williams in the preseason? Teams don't like to sign running backs to big money deals if they are going to pass their 30th birthday during the contract. Running backs need to be fresh and ready to go. So why would Rice get 30 touches, Williams 22 touches, and Forte 18 touches in the preseason games? Rice signed a five-year deal in 2012 for $35 million with $24 million guaranteed and a $7 million option bonus this past spring. Williams did a three-year, $10 million deal this year and will see $5 million of it this year. Forte signed a four-year deal in 2012 for $30.4 million with $14 million guaranteed. It's not worth the risk to use them in the preseason. Williams is already 30 years old, Forte is 28 and Rice is 26. The risk-reward of preseason work isn't worth it. These guys know how to play and being healthy Week 1 is more important than getting the timing down on a zone-read or toss play they have run a thousand times.
3. Oakland, here are your QB options. Don't reopen the quarterback competition unless you can put anther QB in the competition. The Raiders have some salary-cap space ($6 million or $7 million, depending upon the day). If the Raiders ask the question, "Which team has a backup QB better than our starter or the guys competing for the QB job?" they will have lots of players to choose from. Terrelle Pryor gave the team a slight spark because no one else could, but it doesn't mean he's the right guy for the job. Everyone is for sale if the price is right; I would think Rex Grossman, Ryan Mallett, Kirk Cousins, Mark Sanchez or even Matt Barkley would be an upgrade. Oakland needs to find someone soon or this could be a 2-14 season.
4. Preseason records mean nothing. One year when I was with the Jets, we went 5-0 in the preseason and the owner gave all of the coaches a nice watch from Tiffany's. Imagine that. He was so excited that he rewarded us for preseason games. We went 6-10 in the regular season and he fired the staff.
5. How can a preseason game determine your QB? The New York Jets seem to be placing their starting QB decision right in the lap of the Giants. Geno Smith is the QB of the future but that doesn't mean if he had a good performance against the Giants (he ended up with three interceptions, by the way) that it's a reason to start him Week 1. The plan to get Smith on the field as the starter/leader/winner for the Jets might take more time than a meaningless preseason game. Rushing another quarterback on the field as a rookie as they did with Sanchez in his first year can backfire with this fan base. I was at camp this summer and impressed with Smith, but I doubt he is really ready to lead this team. Once he goes out on that field in a regular-season game, there's no turning back. The right way to handle the quarterbacks is play Sanchez first and replace him with Smith later in the regular season. That's how the Giants handled Eli Manning when he replaced Kurt Warner. After his performance against the Giants, Smith really doesn't deserve to start yet. I wonder what the Jets will do?
6. Rob Ryan and takeaways. I heard a fan and someone from the media the other day claim that Rob Ryan, the new Saints defensive coordinator, is a master of getting the ball back for the offense. Some call coach Ryan "the mad scientist," which fits to some degree. But the truth about forcing turnovers is overblown. Rob Ryan might be aggressive in his defensive play calling but when it comes to creating turnovers over the past three years, his teams have 64 takeaways. In the same period of time the Patriots defense, coordinated by little known Matt Patricia, had a total of 113. The Bears had 110 and the Giants 105. Beyond the above mentioned teams, the Seahawks' 84 takeaways and the Packers' 93 are more examples of what good defenses do.
The point is: Perception is not reality when it comes to Rob Ryan and his attacking defense. Last year, 11 of the 12 playoff teams created more takeaways than the Ryan-led Cowboys. Playoff teams averaged 27 takeaways last year, which were 11 more than Ryan's defense generated. As bad as the Saints defense was last year, they did have 26 takeaways. It will be interesting to see what the Saints do this year. Ryan, with three different teams, has averaged 21 takeaways during the past five years. Keep your eye on what the Saints defense does this year.
Show Comments
Hide Comments
Jones provided Cowboys tickets and travel accommodations to officers and their families

Romo played DJ at a charity event and got Ezekiel Elliott on stage for 'O.P.P.'

Kaepernick has spent much of his offseason helping others and now supporters will return the...
Beast Mode led a bicycle parade through his hometown and apparently didn't even have to pe...

The NFL won't punish Revis, who remains on the market as a free agent

The NFL is playing the long game on L.A., but it's taking a serious hit in the short term