Pro Football Hall of Fame: Predicting the 2015 class
Two-time NFL MVP Kurt Warner will be eligible for the Hall of Fame in 2015. Did he do enough in his uneven 12-year career to make it?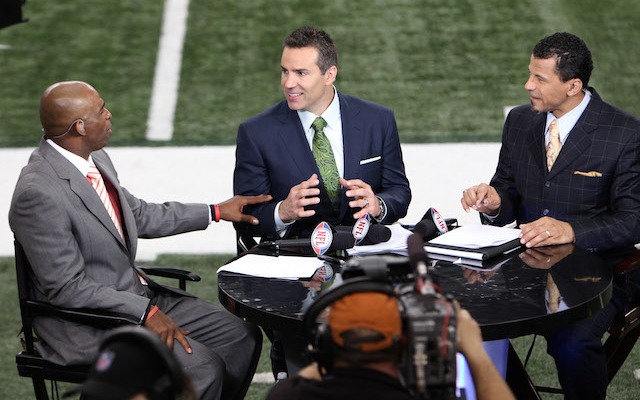 More NFL: Photos |  Videos & GIFs |  Training Camp updates | Manziel watch
The best thing about this year's Hall of Fame induction happening is that it means we can officially put it behind us and start arguing about next year's induction. 
So congratulations to the 2014 Pro Football Hall of Fame class of Andre Reed, Derrick Brooks, Walter Jones, Michael Strahan, Aeneas Williams, Ray Guy and Claude Humphrey, but now it's time to talk about the class of 2015. 
The biggest question heading into 2015 is this: How does the 46-man selection committee feel about former grocery store clerks? 
I like grocery store clerks. I find them very helpful and Kurt Warner's probably hoping the committee feels the same way. The former Rams quarterback and two-time NFL MVP will be eligible for the Hall of Fame for the first time in 2015. 
Another big question heading into 2015 revolves around wide receivers. Will the selection committee add anymore to the Hall after including a receiver in each of the past two years? 
Cris Carter was inducted in 2013, Andre Reed is in this year's class, but those two inductions haven't cleared up the logjam. Tim Brown and Marvin Harrison, who were both finalists for the 2014 class, will be joined by receivers Isaac Bruce and Torry Holt, as players eligible in 2015. 
So which five players will be in Canton, Ohio for the Hall of Fame induction next August? Read on and find out.
Predicted class of 2015 for the Pro Football Hall of Fame
Charles Haley, Defensive End, San Francisco 49ers (1986-91, 98-99), Dallas Cowboys (1992-96)
If getting into the Hall of Fame was based on how many Super Bowl rings you have, Haley would've been a first-ballot Hall of Famer. In his 13-year career, Haley played on five Super Bowl winning teams. Haley was also a five-time Pro Bowler who finished in the top-10 in sacks four times during his career.
Haley's been a finalist for the Hall a total of five times since 2010. The problem for Haley is that there's usually been a more deserving defensive linemen that's been elected instead. Since 2010, John Randle, Chris Doleman, Richard Dent, Warren Sapp and Michael Strahan have all been elected. With all of those guys out of the way, 2015 should finally be Haley's year. 
Tim Brown, Wide Receiver, Los Angeles/Oakland Raiders (1988-2003), Tampa Bay Buccaneers (2004)
It's hard to argue with what Brown did in his career, he has the fifth most receptions (1,094) in NFL history, the sixth most receiving yards (14,934) and is tied with Hall of Famer Steve Largent for the seventh most touchdown catches (100). Brown accomplished all of this despite tearing the MCL and PCL in his left knee in Week 1 of 1989, only his second year in the league. 
Brown, Harrison, Bruce and Holt will create a logjam at receiver that could lead to some long arguments when the selection committee gets together. They have all have similar numbers, but there's one thing the other three had that Brown didn't: A potential Hall of Fame quarterback.
Harrison caught passes from Peyton Manning. Bruce and Holt caught passes from Kurt Warner. Then there's Brown, who put up his numbers despite catching passes from the likes of Jay Schroeder, Jeff Hostetler, Jeff George and Donald Hollas. 
Brown also has four career return touchdowns (three punt, one kickoff). Holt, Harrison have Bruce have zero. 
Junior Seau, Linebacker, San Diego Chargers (1990-2002), Miami Dolphins (2003-05), New England Patriots (2006-09)
Unless you're a kicker or a quarterback, it's almost impossible to play in the NFL for 20 seasons and be highly productive for every single one of those years, but that's pretty much what Seau did. The fifth overall pick in the 1990 NFL Draft had more sacks in his 18th season than he did in his rookie season. 
The 12-time Pro Bowler started 243 games over 20 seasons, the second most of any linebacker in NFL history, behind only Clay Matthews' 248.
Did I mention those 12 Pro Bowl appearances all came in a row? Besides those 12 consecutive Pro Bowls, Seau was named first team All-Pro six times. 
The now-deceased linebacker was a big reason that a team quarterbacked by Stan Humphries was able to make it to the Super Bowl in 1994. Seau was also top-six in both sacks and tackles for a Patriots defense that helped lead New England to a 16-0 season in 2007.
Orlando Pace, Left Tackle, St. Louis Rams (1997-2008), Chicago Bears (2009)
There was a time when having the No. 1 pick in the draft meant there was a good chance you'd end up with a Hall of Famer. In the 22 seasons from 1968 to 1989, eight of the 22 No. 1 overall picks went on to be elected to the Hall of Fame. That's over a one-in-three chance. Then the 1990s happened.
From 1990 to 1996, there were no truly great players taken with the first pick. That changed in 1997 though. 
In a draft that lacked star power, the Rams took Pace with the No. 1 overall pick and arguably laid the biggest foundation for a Rams offense that would go on to be the 'Greatest Show on Turf.'
Pace went on to play 13-years in the NFL and for nine of those seasons, he was the Rams offensive anchor at left tackle. In those nine years, Pace started in 131 out of 144 games the Rams played. 
The seven-time Pro Bowler was arguably one of the three best left tackles of the past 20 years, along with Walter Jones and Jonathan Ogden. Ogden (2013) and Jones (2014) were both recently voted into the Hall of Fame and there's no reason Pace shouldn't join them in 2015.
Kurt Warner, Quarterback, St. Louis Rams (1998-2003), New York Giants (2004), Arizona Cardinals (2005-09)
If you want to talk about weird NFL careers, a good place to start the conversation is with Kurt Warner. It's almost unfathomable to imagine that we're talking about possibly inducting a guy who played for three teams from 2002 to 2006 and went 8-22 as a starter in that time period. 
That 2002-06 span is what makes Warner's two MVP seasons and three Super Bowl appearances so remarkable, but it's also the argument against putting him in the Hall of Fame.
Think about it, we're talking about inducting a guy who only played 12 seasons in the NFL and was legitimately horrible or injured for five of those seasons. That's almost half of his career.
However, it's what Warner did during those seven other seasons that should earn him a spot in the Hall. Warner led two of the amazing turnarounds in NFL history and he did it with historically bad franchises.
First, Warner took the 1999 Rams -- who went 4-12 in 1998 -- and led that team to a Super Bowl win. Then he led the Rams back to the Super Bowl in 2001. 
A season almost as improbable as the Rams 1999 season was the Cardinals 2008 season when Warner led Arizona to Super Bowl XLIII. The Cardinals have made the playoffs exactly three times since moving to Arizona before the 1988 season and two of those appearances were led by Warner. 
And lets not forget how Warner's career started, he was a grocery store clerk before going to arena football, which was followed by a stint in NFL Europe (Amsterdam), before be finally latched on with the Rams and became the ringmaster for the 'Greatest Show on Turf.'
Taking Warner off those Rams' teams or out of Arizona would be like taking Michael out of the Jackson 5 or having a Cyrus family with no Miley. There might be some success, but there won't be a lot. 
When the selection committee makes its final decision next February, Warner will have history working in his favor: Every player who's ever won multiple MVPs has ended up being a first-ballot Hall of Famer. That list includes Joe Montana, Steve Young and Johnny Unitas. 
It would also be nice to see a quarterback inducted, that hasn't happened since Troy Aikman and Warren Moon were enshrined in 2006. 
Just missed: Tony Dungy, Terrell Davis, Will Shields, Isaac Bruce, Torry Holt, Marvin Harrison, Jerome Bettis, Morten Anderson, Eddie DeBartolo, Jr.
Show Comments
Hide Comments
Follow along as we track all the rumors as the 2017 NFL Draft approaches

The Eagles QB is representing his city

A report Thursday afternoon indicates that Myles Garrett will be the first overall pick in...
Mitchell Trubisky will not be the top overall pick after all

John Elway has never been afraid to make bold moves on draft night

The Clemson quarterback believes he should be first off the board