QB David Garrard apparently not retired, wants Rams to call him
Former Jaguars quarterback David Garrard would love it if the Rams would pick up the phone and call him.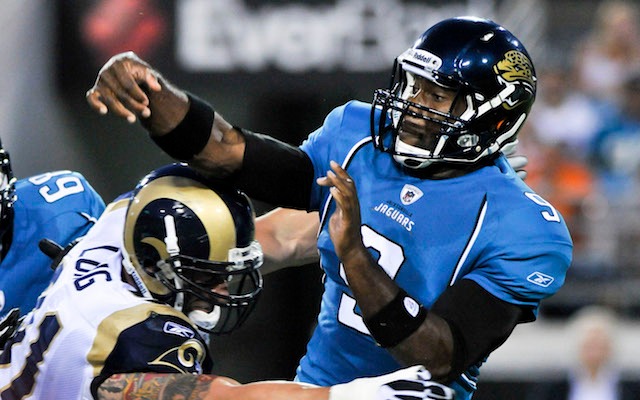 Hey Rams, I'm not sure if you have David Garrard's number, but if you do, he wants you to call him!
The former Jaguars quarterback took to Twitter on Monday to let St. Louis know that he'd be interested in playing for the team, you know, if the Rams decide to add a veteran quarterback.  
Would love a call from the rams!

— David Garrard (@davidgarrard9) August 25, 2014
If the Rams haven't called Garrard yet, there's a reason, they haven't called anyone. At least that's what coach Jeff Fisher said at his press conference on Sunday when he confirmed that Sam Bradford would miss the 2014 season with an ACL injury. 
"I've heard that there's speculation that we've been on the phone and that's not true," Fisher said. "Doesn't mean to say that we won't but we haven't done it at this point."
If Garrard doesn't get called by the Rams, there's two possible explanations:
1. St. Louis doesn't want to sign a quarterback who hasn't thrown a pass since 2010.
2. The Rams are actually happy moving forward with backup Shaun Hill. 
Both seem likely, and Fisher even brought up point two on Sunday. "Shaun (Hill) is our guy," Fisher said. "We brought him here. He's got experience. We've got all the confidence in the world in him."
As for Garrard, the former fourth-round pick made 76 starts (39-37) in Jacksonville over nine seasons. The 36-year-old was let go by the Jaguars after the 2010 season and hasn't played in a game since, but he does go on Twitter once in awhile asking NFL teams to call him.
Show Comments
Hide Comments
Our Latest Stories
Packers cornerback Makinton Darleant is also charged in incident early Sunday morning

Panthers owner Jerry Richardson won't be in attendance as he continues to battle health is...

The Raiders vote is expected as early as Monday, and 'pace of play' is also high up on the...
Translation: The Browns want to upgrade at the quarterback position

Oher missed the final 13 games of the 2016 season

The new Packers tight end says he was inspired by his brother, Seahawks defensive end Michael...