Raiders' best bet for new stadium may be to partner with 49ers
Options for a new stadium for the Raiders look bleak. Maybe they ought to take a cue from Giants-Jets and look to a single Bay Area stadium.
• 6 min read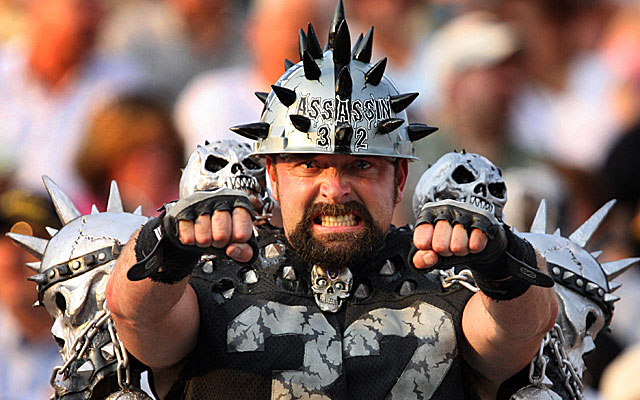 I would love to see the Oakland Raiders secure a new stadium in the Bay Area. Their fans, who have dealt with the various comings and goings of the occasionally transient franchise deserve as much, particularly after suffering through all the losing the last 10 years or so.
And after the release of some recent proposals for stadium projects, there has been at least some buzz that perhaps the team could find a future in a 50,000-seat facility in Oakland.
Unfortunately, after speaking to people well connected in the Bay Area, who know far more about the inner workings of the local economy and political climate, I don't see any way this gets off the ground. Not a Raiders-only stadium. Not a stadium they would share with the Oakland A's. Not a proposal that would add a basketball arena to the complex, either.
No, frankly, I'd be quite stunned if all of this isn't dead on arrival, with no chance of securing the requisite votes of public funding it would take to ever get off the ground.
In many ways, the timing could not be worse for the Raiders right now, given the realities of California's economic crisis (some have likened their woes in America to the peril Greece is facing in the European Union), the opposite to giving free money to wealthy owners and the overall skepticism many insiders have about the current state of the team's ownership.
Not much has really changed. The best (only?) real option for the Raiders in the Bay Area would be to strike a deal to be tenants of the York family and share the sparkling new stadium the 49ers are counting down to opening in Santa Clara. You know, the one that is hosting Super Bowl L. Otherwise, there are no easy answers for the Raiders, given their limitations in continuing to function under untenable conditions at the Oakland Coliseum, or O.co Coliseum, or whatever the hell they are calling it these days. (You can only sustain being 32 in a 32-team league for so long).
Here's what the Raiders are up against:
Oakland isn't giving out free money and has major social problems and education problems and fiscal issues above and beyond professional football economics.
There are lawsuits brewing over the possible move of the A's (with San Jose suing Major League Baseball), and it wasn't that long ago, just 1995, that Oakland entered into a deal with the Raiders upon their return from Los Angeles, an arrangement some locally still feel burned over.
"The money isn't there," as one local insider put it. "The money isn't there in Oakland. It's not there in Alameda County."
There is still roughly $100 million in outstanding bonds stemming from that move, meaning that even if the Raiders wanted to knock down this stadium and build a new one, they would owe $100 million. They'd already be $100 million in debt, or would have to find a way to wrap that sum into the funding of the new stadium. Good luck with that.
If there was any public referendum, any type of vote required to get this off the ground, from everything I'm hearing, it would fail in a landslide.
Former longtime Raiders exec Amy Trask, Al Davis's former top lieutenant, was pretty much charged entirely with solving the stadium conundrum before abruptly leaving the organization this offseason. If she could not find a solution -- or conjure some magical way to alter the political tide running against substantial public funding for a stadium -- then I don't see anyone else doing so.
And owner Mark Davis isn't in any position to pump big money into this himself, as he's been trying to sell chunks of his team for quite some time -- hardly a secret in NFL circles -- but doing so by asking for big sums but offering no real say in running the day-to-day operation of the franchise.
It's felt like a sucker's deal to more than one perspective investor, and that's unlikely to change. Unless Davis, who inherited the team when his father passed and had no real experience at this level prior, is willing to cede major control, people won't be buying in.
Then, let's factor in that the location of these latest stadium proposals are for a site that is about 35 miles from where the 49ers will be playing.
Can a state and region that is in this economic shape support all of the sponsorships and suites and corporate sales that would be required to fill two stadiums? What about the roughly $2 billion in combined costs for the facilities ($1.2 billion for the 49ers and $800 million for the Raiders between public and private funding)?
So, if they stay in the Oakland area, how do they do it?
They move to Santa Clara. People way smarter than I am view that as the only viable alternative. Who am I to disagree?
Al Davis studied the options at length, and, while common perception was he was dead set against that option, from what I gather from the NFL league office, his son is actually much more negative about the prospect than his father ever was. Alas, such stubbornness will only take more time, and money.
The best deal for the Raiders was there a few years back, when they could have shared debt and naming rights and revenue and design concepts with the 49ers. Absorb more of the risk (risk being a relative term in the world of NFL stadium-revenue economics), get in early, and  then reap more of the rewards. But no deal nearly that lucrative would exist now, given how far along the 49ers are with their project.
Davis would be wise, however, to fashion the best deal he can under the current stipulations, accept being a tenant at the stadium and begin to at least tap into some of the modern-day revenue streams most franchises enjoy from state-of-the-art facilities.
The 49ers know that more NFL games in Levi's Stadium, and fewer dark Sundays, is great for their bottom line as well, and plenty of people at the league office believe there is still a smart deal for all sides to be made.
Otherwise, options are limited.
Move back to Los Angeles?
Good luck. Been there, done that, I'd be shocked if the NFL had the Davis family back in this, their last chance to make the NFL work in that market and the reality is that the Chargers make more sense in LA, with their own stadium woes in San Diego seemingly without a simple fix.
And with the Rams able to shop around for a new home after this season, their owner Stan Kroenke has strong ties to enough movers and shakers in Southern California that I continue to believe if/when football comes back to LA it will be with the Rams and Chargers -- both with SoCal roots -- as the teams.
Move to London?
We're talking at least seven, 10 years before this becomes a reality for any team, the Raiders are going to need a stadium solution before then, and I don't see the league having Davis in London, either. No, that's looks like a much more rational endgame for the Jags, or perhaps the Bucs.
Find another location in the Bay Area?
The mere details with the environmental studies and necessary procedural hurdles would take years, and years, and years, and even then securing public funds remains an issue.
All the proposals in the world won't change this. If Davis actually pulls off a new stadium in Oakland, I'll be the first to offer sincere congrats and, please, feel free to call me a fool, Hell, I'll print out this column and try to eat it. Because it's an incredibly tough sell, and it would be a defining accomplishment even his father could not pull off.
Time might be better spent not with drawings, but with meaningful negations with the Yorks about Santa Clara. That stadium will be built and it will be beautiful and it looks to me like just the financial lifeline Mark Davis needs.
Show Comments
Hide Comments
Kizer, the former Notre Dame standout, is one of the top QBs in the draft class

Can the Browns get it right? Can the Cowboys and Raiders build dynasties?

The versatile safety/linebacker could slip out of the first round
Ware played the first nine seasons of his NFL career for the Cowboys

The crowd went wild when Waka informed them who was on the phone

Everybody whiffs in the draft. Here's the worst pick for each franchise since 1995