Raiders QB Terrelle Pryor named starter for Week 17 vs. Broncos
Terrelle Pryor is the starting quarterback in Oakland -- again. Raiders coach Dennis Allen announced on Monday that Pryor will start vs. the Broncos in the team's season finale.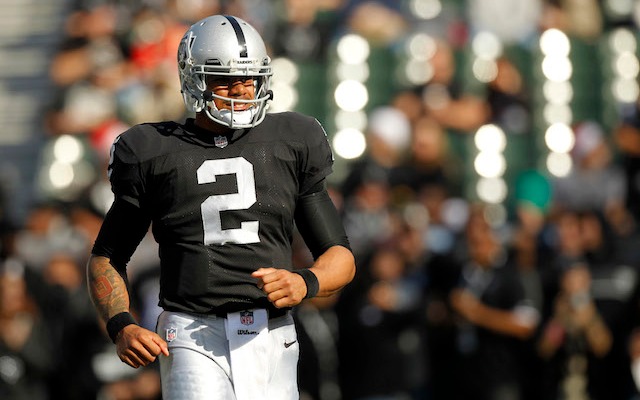 Terrelle Pryor's going to get one more chance to prove he can be the guy in Oakland. Raiders coach Dennis Allen announced on Monday that Pryor will be the team's starting quarterback against Denver in Sunday's regular season finale. It will be Pryor's first start since Week 10. 
"We're going to go with Terrelle. He's going to be the starter, I informed both of the guys this morning," Allen said. 
Rookie Matt McGloin has started every game for Oakland since Week 11, but according to Allen, he's not being pulled for poor play. Allen said that Pryor's getting the start because they don't need to evaluate McGloin anymore.  
"We got a chance to see Matt McGloin for six games. I liked a lot of the things that I saw in Matt," Allen said. "It's been awhile since we got the opportunity to see Terrelle in a game and get another opportunity to evaluate him."
In his last start, a 24-20 loss to the Giants, Pryor finished 11 of 26 for 122 yards. The second-year quarterback also threw an interception and added a rushing touchdown. Pryor has made a total of eight starts this season and the Raiders are 3-5 in those games. 
Pryor has thrown for 1,591 yards and five touchdowns, along with 11 interceptions in those eight starts. McGloin has started six games and thrown for 1,547 yards and eight touchdowns. McGloin's also thrown eight interceptions. 
Show Comments
Hide Comments
Here's everything you need to know about the 2017 NFL Draft

Will Garoppolo be Tom Brady's backup in 2017 or will he be dealt Thursday?

Ben Roethlisberger, Alex Smith and Carson Palmer get youngsters to mentor in Prisco's final...
Plus Jonathan Allen falls further than expected and the Saints double dip in the secondary

Lynch's mother made the revelation during a radio appearance

Jon Robinson has been responsible for five trades since he was hired in January 2016