Raiders show some fight on Cowboys turf during joint practices
Rookie quarterback Derek Carr and veteran Matt Schaub work out the kinks during Raiders' practices with the Cowboys.
• 6 min read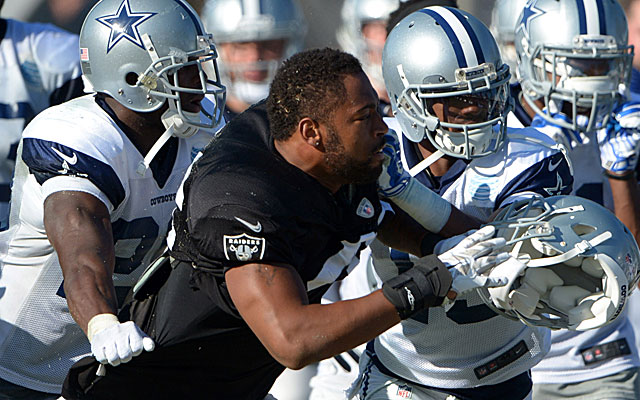 More NFL: Photos |  Videos & GIFs |  Training Camp updates | Manziel watch
OXNARD, Calif. -- It almost looked like a scene out of Slapshot. The Oakland Raiders tried to scramble to their team bus -- still wearing their uniforms -- for the ride back to northern California after another series of fights that flared up during their two days of practices with the Dallas Cowboys.
The moment the final horn sounded the screaming fans who packed the stands on the Raiders' side of the complex went bonkers calling out to the players. Several veterans gestured wildly for them to run around to the front of the complex, where the team was literally running onto the buses in a compound area to head out of dodge. There was no time to sign autographs, or hobnob -- this caravan of five buses was gassed up and ready to go, the team had to be back in Oakland in time for meetings and film sessions Wednesday night.  
This wasn't Charlestown, no sir, and best I could tell no cars were able to follow the buses down the 101, waving signs and dropping tops along the way. But with the dirt swirling in this barren crop field of a parking lot and the fans lined up and yelling as the buses pulled out under a brown haze of dirt, this felt like the old-school Raiders, plundering an outpost of a suburb 60 miles north of Los Angeles and leaving conquering heroes.
The team displayed some collective toughness in the brawl-filled practices, fired up by the rabid fans who made it clear early on that whether this happened to be the Cowboys' training camp home the past several years mattered no more. This was Raider Country (and, well, for owner Mark Davis a return to LA would be a dream come true), and this collection of largely unproven youngsters and veterans who may in fact be close to the end lived up to the mystique of old.
For a team that was fairly lifeless in the early weeks of camp from what I'm told, and that was certainly flat in the preseason opener, perhaps these two days of scrapping with the Cowboys will spark them, and add life to what's left of camp.
"Anytime you get in these competitive environments, it increases the sense of urgency of your football team," head coach Dennis Allen said. "I thought we got better these last couple of days." 
This was old-time hockey ... I mean old-time football. I got the sense the Raiders came together as a group a bit and, particularly offensively, displayed some ability, albeit at the expense of a Cowboys defense that might again challenge for all-time statistical inferiority.
The Raiders were cheered like they were Super Bowl contenders. There was jawing and trash-talking during many individual drills. When duty called,  entire units (offense or defense) were ready and willing to run to the opposite field and make sure their teammates -- already caught up in a physical altercation of some type -- had numbers on their side.
This group has some pluck, I'll give them that. For an outfit that may be nomads in the making -- with no lease beyond this season and an owner shopping them around to any municipality that might make sense -- the Raiders showed up to Oxnard like their name and logo meant something to them. Who knows, maybe they were channeling the spirit of the late Paul Newman, as Reg Dunlap, out here in distant Hollywood giving them a fiery pre-practice speech and imploring them to drop the gloves, as it were.
Despite the fisticuffs, both coaches gave two thumbs up to this experiment and there are at least preliminary plans to renew this exercise in Napa Valley next year (of course, assuming the Raiders and still in Oakland and still holding training camp there, and well, let's just say there are some loose ends to tie up).
"I don't know if that's 100 percent certain," Allen said of Round 2 in Napa, but he was clearly enthusiastic about the idea. "I really liked this."
Even with his team on the receiving end of most of the heckling ... OK, all of the heckling (a fairly regular chorus of "Cowboys suck," with an occasional "Romo sucks" thrown in for good measure) ... Cowboys coach Jason Garrett was gushing about the sessions, calling them "as electric of an atmosphere as I've ever been in on a practice field in my life."
Oh, and as for his stance on swinging helmets at opposing fans, lest anyone wonder: "Obviously, we're not for it," Garrett said, unable to fight back the urge to laugh out loud as the words came tumbling out.
Boys will be boys, you know and the Raiders certainly showed a pulse that seemed lacked at times previously. Time will tell how long it resonates and whether or not it compensates for some of their other deficiencies.
Raiders QB Matt Schaub hasn't had the greatest camp thus far, which is well documented, but this Cowboys defenses seems like quite the elixir. Schaub fared well in 11-on-11 drills for the most part, he had some excellent throws to the back of the end zone and few others were dropped. He seemed boosted by the atmosphere around him, and while this wasn't a virtuoso performance, it was plenty good, and all of those fears about Dallas' ability to cover -- linebacker and safety are among their many concerns -- appear warranted.
Of course, rookie Derek Carr looked pretty good, too, on Wednesday, and he was more effective than Schaub in the red-zone drills. He was also going against the backup defense on a Cowboys team whose first-team defense looks like a backup unit compared to the NFL's elite. Carr was alert in knowing when to throw the ball away and live to see another play, he had a few expert shows to the back shoulder and none of this seemed in the least too big for him.
"I like where Derek is," Allen said. "He's a rookie and he continues to come out here and try to get better and the more reps he gets the better he's going to get. ... He's got good poise for a young player, and that's exciting to see. And his deal is not really worrying about too much what happens in the future, and just worrying about what he's doing on a daily basis."
I still get the feeling Carr plays plenty this season, particularly if the Raiders struggle. Developing him, and showing some ability for the future, would only make this job more desirable to an A-List coach come 2015, as would a move to a stadium that had NFL-caliber revenue streams. (Jon Gruden anyone? This flirtation with him has been going on for years at this point.)
Oakland is going to need to sign a tight end soon just to round out the roster. Allen spoke positively of the recovery of David Ausberry, but cautioned several times that there is no real timetable for him to return, and the Raiders lost Nick Kasa for a while after he was hurt in Tuesday's session. They don't have enough capable bodies there and will be scouring the wire after the cuts to 75 players, I'm sure. They'll probably have to sign a vet before then just to have enough numbers.
Denarius Moore impressed me throughout these two days. I like the depth of Oakland's receiving group overall, but Moore has flashed well in games in the past despite a revolving door at QB, and although he suffers from the occasional drop, he could be a bigger factor this year even despite the added competition. Allen seemed genuinely enthused by what he's seen of him thus far, and the quarterbacks clearly are not shy about throwing the ball his way.
The Raiders had their share of explosive runs these past two days, often hitting the crease with speed and turning it down the sidelines with relative ease. Of course, this is the Cowboys they're facing and Darren McFadden has yet to encounter the type of nagging injuries that have marred his career to this point. It's early, for sure, but seems to be a cause for optimism thus far.
"I like the direction our run game is going," Allen said.
Show Comments
Hide Comments
Could Green Bay trade to a QB-needy team or possibly take DeShone Kizer with the No. 33 pi...

The commissioner is concerned about how the league approaches medical marijuana

The Clemson quarterback started crying when he read a note from his mom
Both teams blasted the reports of a potential Kirk Cousins deal during Round 1 of the draf...

After an unpredictable Round 1, here are some predictions you can bank on for Rounds 2 and...

Receivers surprise in the top 10, Alabama goes MIA in the top 15 and more 2017 NFL Draft t...