Raiders sign QB Derek Carr, reportedly don't plan to start him
Derek Carr is officially under contract with the Raiders, but he might not be the team's starting quarterback in 2014.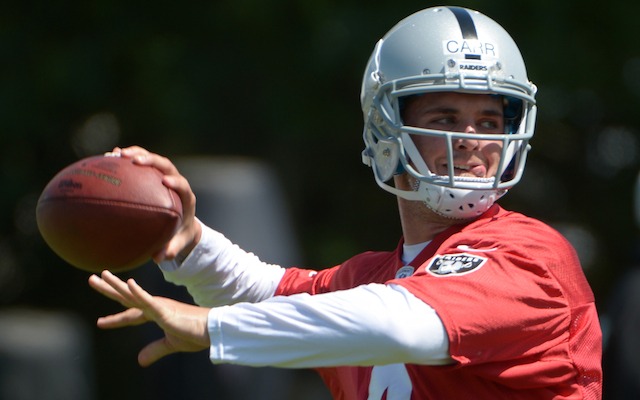 More Draft coverage: 2015 Mock Drafts | 2015 Top 100 | 2014 Draft Grades | News
It's not quite the rookie contract his brother got, but Derek Carr's deal is done in Oakland. The Raiders announced on Wednesday that Carr has officially signed with the team. The quarterback's deal with the Raiders is worth $5.37 million over four years. 
The signing comes 12 years after Derek's brother, David Carr, signed a seven-year, $46.25 million deal with the Texans after Houston made him the No. 1 overall pick in the 2002 NFL Draft.   
The younger Carr was the fourth quarterback taken in the 2014 draft, behind third overall pick Blake Bortles (Jacksonville), 22nd overall pick Johnny Manziel (Cleveland) and 32nd overall pick Teddy Bridgewater (Minnesota).
"I feel great. I'm excited," Carr said. "I'm excited that this part of it is over and now we can just get to work and focus on winning games and getting better every day."
If the Raiders do win games next season, it might not be with Carr under center. According to ESPN.com, Carr will only start in 2014 if something 'catastrophic' happens, which means Matt Schaub will most likely be the front-runner to win the starting job when Oakland begins training camp in July. It's not clear if Schaub throwing a pick-six counts as a catastrophe. 
Carr is the fifth of the Raiders' eight draft picks to sign so far. The former Fresno State quarterback was one of only two offensive players taken by the Raiders in an Oakland draft that was graded a B by CBSSports senior writer Pete Prisco.
The oft-troubled cornerback is once again suspended by the NFL

McDermott is replacing notorious defensive specialist Rex Ryan in Buffalo for the head gig

According to a report there is pressure from other NFL owners to suspend Ezekiel Elliott
Want to know what Mack stands to make in extension talks? Just look at recent top deals and...

Darren Perry's BAC was .21 upon a blood test Dec. 17 of last year

Helping Cleveland make the playoffs would justify Garoppolo as a Superman type of player