Rams' Rodger Saffold returns to practice three days after scary incident
The Rams got some good news Wednesday when left tackle Rodger Saffold was diagnosed with only a strained neck. Incredibly, Saffold participated in a limited fashion in Wednesday's practice.
• 2 min read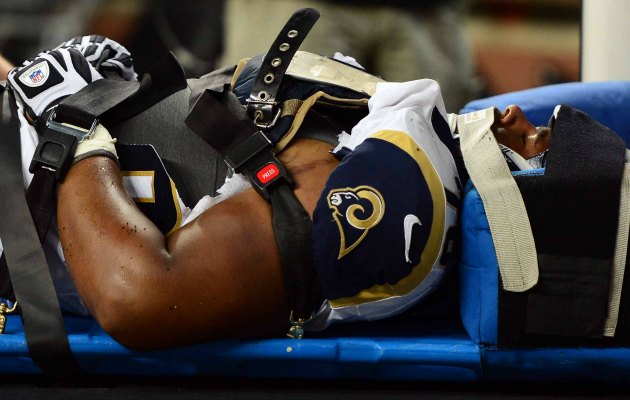 Somehow, Roger Saffold practiced Wednesday, three days after this picture was taken. (US Presswire)
One of the scarier moments of Week 1 occurred in the Rams-Lions game when St. Louis tackle Rodger Saffold got pushed into a Detroit defender head-first and collapsed to the ground with what appeared to be a serious neck injury.
But the Rams got some good news when Saffold was diagnosed with only a strained neck, and incredibly, Saffold practiced in a limited fashion Wednesday.
"Right now, we're taking it day-to-day," Saffold said, via the St. Louis Post Dispatch. "I'm getting movement back, more and more every day. The pain is getting less every day. I've really been putting a lot of work into using all of my off time to getting ready.
"I definitely thank everybody for their prayers and their thoughts. I'm just glad to be out here walking. It's a blessing to be able to be on the field with the guys."
Many feared the worst because of the way Saffold went down Sunday. His neck was immobilized and he was carted off the field. Saffold had sensation in his limbs and he kept asking for game details in the ambulance on the way to the hospital. In fact, the heartless paramedics (kidding, kidding) wouldn't even put the game on the radio so Saffold could listen. Something about a medical emergency or something.
Saffold this week will be replaced by Jets pariah Wayne Hunter at the left tackle spot against the Redskins. Though Hunter was awful in New York, he actually performed competently Sunday when taking over for Saffold.
"I haven't been in a lefthanded set in a while," Hunter said. "Even as a swing guy in New York, D'Brickashaw [Ferguson] never got hurt, so I've always been backing up right tackles for pretty much five years. And even [in Seattle] Walter Jones never got hurt, so I've been pretty much a right tackle my whole career.
"What I found [Wednesday at left tackle] is that once you kind of get in the flow of things, it makes it a little bit easier. I know tomorrow's practice will be even easier, and then the day after that. So I've just got to find a rhythm, I guess."
Though Saffold won't play this week, it's heartening that he was well enough to participate Wednesday. He's a lucky man, indeed.

For more NFL news, rumors and analysis, follow @EyeOnNFL on Twitter, and subscribe to our Pick-6 Podcast and NFL newsletter. You can follow Josh Katzowitz on Twitter here: @joshkatzowitz.
Williams is currently a free agent

Eight members of the Cowboys' defensive front-seven have been suspended since 2015

After being scammed, Portis contemplated murder until his friend dissuaded him
Two months after a woman earned a football scholarship, the AFFL says 'everything is on the...

The quarterback nearly retired this offseason but opted to return for his 15th NFL season

One of 2016's breakout rookie stars says he and Romo have a strong relationship