Randle El wishes he hadn't played football, thinks it's gone in 25 years
Former Steeler wide receiver Antwaan Randle El says now he wishes he never played football.
One of the lasting Steelers' Super Bowl memories is Antwaan Randle El throwing a 43-yard touchdown pass to Hines Ward on a wideout-to-wideout trick play. If Randle El could go back in time, that play wouldn't have happened, because Randle-El wouldn't have played football.
In a very compelling, graphic-heavy feature about the Steelers' Super Bowl past in the Pittsburgh Post-Gazette on Tuesday, Randle El says he wish he'd played baseball.
"If I could go back, I wouldn't," he said. "I would play baseball. I got drafted by the Cubs in the 14th round, but I didn't play baseball because of my parents. They made me go to school. Don't get me wrong, I love the game of football. But right now, I could still be playing baseball."
Randle El is dealing with a load of issues, both physical and mental.
He says he has trouble walking down the stairs ("I have to come down sideways sometimes, depending on the day") and said he struggles with routine memory issues.
"I ask my wife things over and over again, and she's like, 'I just told you that,'" Randle El said. "I'll ask her three times the night before and get up in the morning and forget. Stuff like that. I try to chalk it up as I'm busy, I'm doing a lot, but I have to be on my knees praying about it, asking God to allow me to not have these issues and live a long life. I want to see my kids raised up. I want to see my grandkids."
The former wideout -- and quarterback at Indiana, hence the trick play -- said he believes the game of football isn't turning back the tide of concussion issues because there's no helmet able to correct what's happening nor any amount of "teaching that's going to correct it."
Randle El, who played for both the Steelers and Redskins during his time in the league, could even go so far as to see the sport disappearing one day.
"Right now," Randle El said, "I wouldn't be surprised if football isn't around in 20, 25 years."
Randle El is hardly the first person to float the idea of football disappearing in the next couple of decades due to violence.
But coming from a former player -- and somewhat of a former star -- it carries a lot more weight.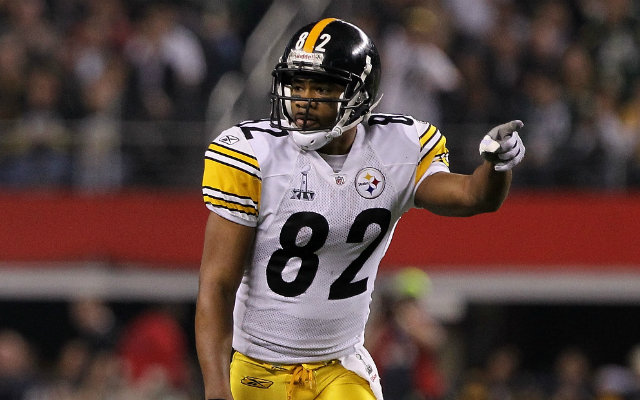 Show Comments
Hide Comments
Our Latest Stories
The Browns will turn to rookie Cody Kessler with their 37-year-old veteran sidelined

There have been protests -- both peaceful and violent -- in Charlotte every night since Tu...

Everything you need to know heading into Week 3 is right here
Let's look at the line moves over the last week

Here are the 10 biggest storylines to watch as Week 3 of the NFL continues Sunday

Cutler has been trying to convince coaches he can go against the Cowboys