Randy Moss has a new job: Assistant high school football coach
Randy Moss' NFL career might be over, but he's not done with football. The five-time Pro Bowler is an assistant coach on his son's high school team in North Carolina.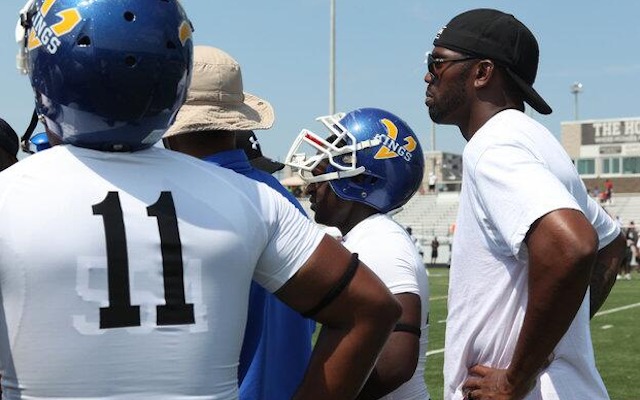 Randy Moss is returning to football. The six-time Pro Bowler won't be putting on a helmet and shoulder pads though, he'll be on the sideline coaching. According to the Charlotte Observer, Moss has taken a job as the associate head coach at Victory Christian Center School in Charlotte. 
If you're wondering how Moss ended up with a coaching job at a small Christian school in North Carolina, the answer's simple: His son is set to attend the school this fall. 
Thad Moss will be a junior at Victory Christian after spending his freshman and sophomore years at schools in Kentucky, West Virginia and Rhode Island. Father and son were both at Cam Newton's 7-on-7 tournament this week where Randy coached Thad and his teammates from the sideline.  
Here's a short Thad Moss highlight video from our friends at MaxPreps.com. 
Show Comments
Hide Comments
Our Latest Stories
Sheldon Adelson is willing to walk away from the Raiders deal

The former Redskins quarterback has some advice for the current Cowboys quarterback

The NFL trade deadline is less than a week away and every team could use some help.
The Cowboys rookie quarterback is all about 'football and family,' even during his week of...

The Broncos running back will miss time but says he isn't out for the year

These of the perils of not using airplane mode when trying to record an interview