Ranking NFL QBs: Rodgers, Brady, Peyton and Brees are elites
There are four elite NFL QBs -- Rodgers, Brady, Manning (Peyton) and Brees. We rank them all, from No. 1 down to the Manuel-Kolb experiment in Buffalo.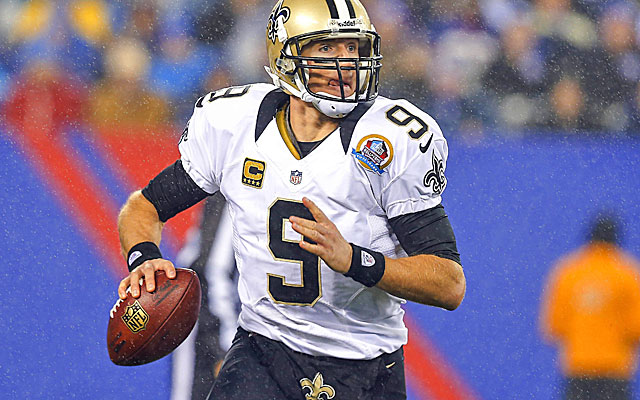 Any time you rank a group of things, people get angry. And when you start ranking NFL quarterbacks and then (stupidly?) throwing labels on them, people get real angry. So be prepared to get mad at the following list of quarterbacks, from best to worst.
Prepared to get especially mad because there's really not a precise way of categorizing guys. There's a group of "elite" quarterbacks up top (my group only features four of them, but it can vary dependent on your preferences), there's another group of quarterbacks who have proven they can win right below that, there's a great crop of "young guns," there's a big slew of veteran quarterbacks stuck in limbo in terms of their future as franchise guys, and there's even a glob of young "put up or shut up" quarterbacks.
Listing NFL Bests and Worsts
Columns

---

More Lists
NFL coverage on the go
I've got them roughly grouped like that below, but the defining criteria for this list is that I've picked, in order with one or two quarterbacks from each team, the signal caller who I think gives me the best chance to win a Super Bowl in 2013 if all things -- wideouts, offensive line, defense -- were created equal.
It's not a list for building a franchise for the long-term future, it's a list for winning this season. And it's also an indication of how deep and talented the quarterback pool in the NFL really is. Feel free to leave your list in the comments or tell me your thoughts on my list on Twitter @WillBrinson.
Elite
1. Aaron Rodgers , Green Bay Packers : Rodgers didn't have his best statistical season in 2012 and the Packers didn't climb the mountain, but there's no reason to think of him as anything other than the best quarterback in football. He threw for 4,295 yards, 39 touchdowns and had only eight picks last season. A revamped offensive line and the addition of Eddie Lacy and Johnathan Franklin in the running game should only help him improve.
2. Tom Brady , New England Patriots : I give Brady the ever-so-slight edge on Peyton Manning here, mainly because I think that if you swapped their situations, Brady could put up some eye-popping numbers. He has Rob Gronkowski and Aaron Hernandez , but he's losing Wes Welker . Danny Amendola joining New England is nice, but I'm not convinced that swap doesn't end up burning Bill Belichick and Co. Brady's two biggest advantages, though, are health (I'm less worried about him than Manning) and a history of throwing to absolute garbage wideouts and still succeeding.
3. Peyton Manning, Denver Broncos : It's almost unfathomable, but Manning nearly had the best season of his career at the age of 36, coming off a few neck surgeries and playing for a new team for the first time in his career. Manning threw for 4,659 yards, 37 touchdowns and 11 interceptions and with Welker coming to Denver, his stats might only get better. This is really 2A and 2B, more than anything else.
4. Drew Brees , New Orleans Saints : You could argue that Brees is higher and maybe he'll be after a year that features a better defense and the return of Sean Payton. Still, Brees threw for more than 5,000 yards for the second-straight season and threw for 43 touchdowns in 2012. His completion percentage (63) was lower and interceptions (19) were higher than you'd like to see from him though.
The next group
5. Eli Manning , New York Giants : Yeah, yeah. You can't spell "Elite" without "Eli." And with his second Super Bowl ring in 2011, the younger Manning proves he belongs. But I'm cutting the list a little shorter for these purposes, and I feel justified after Eli "only" threw for 3,948 yards and 26 touchdowns (along with 15 interceptions) in a slightly down season that saw the Giants miss the playoffs. I'd still be more than happy riding Manning as my franchise guy.
6. Matt Ryan , Atlanta Falcons : Finally broke free of the stupid "can't win a playoff game" burden during a monster season that featured 4,719 passing yards, a 68.6 completion percentage and 32 touchdowns. With Julio Jones and Roddy White in the fold again, Ryan could push the 5K yardage marker in 2013. He's much closer to elite than people give him credit for.
7. Ben Roethlisberger , Pittsburgh Steelers : Big Ben's stats don't tell the whole story from 2012 -- he changed offensive coordinators, didn't really have Mike Wallace in the fold the whole time and suffered injuries that led to him starting only 13 games. Even still, he had 3,265 passing yards, 26 touchdowns and only eight interceptions. Should be primed for another Big Ben season in 2013.
8. Tony Romo , Dallas Cowboys : Maybe the most maligned quarterback on this list, Romo has no postseason success. But he did just throw for 4,903 yards while completing 65.6 percent of his passes. His 19 picks tied a career high but his team put him in consistently bad spots. He's not nearly as bad as people want to believe. Romo has run roughshod into bad luck consistently in his career and neither his defense nor his general manager have ever done him any real favors -- other than handing him monster contracts.
9. Joe Flacco , Baltimore Ravens : Using only postseason stats, Flacco would be in the top five. But we've got to take more than that into account, and Flacco's 3,817 yards, 59.7 completion percentage and 22 touchdowns (albeit with 10 picks) just don't move the needle enough. It'll be interesting to see how people would view those stats -- or similar ones -- in 2013 after Flacco signed his monster deal.
Ready for a leap?
10. Cam Newton , Carolina Panthers : Newton's 2012 doesn't get its due because expectations were high and people wanted him to fail. But Newton caught fire during the second half of the season and I think we'll see him make a jump into the next group this coming season. The biggest concern has to be his lack of weapons -- Steve Smith is aging, Brandon LaFell needs to improve, Greg Olsen is underrated but not entirely dynamic ... and there are too many running backs on the roster. Plus, Rob Chudzinski left Carolina for Cleveland. The latter terrifies me, but Cam has all the tools to put together a complete season in 2013. Just don't expect the critics to stop complaining until the Panthers produce a winning season, which might be tough with their defense.
11. Matthew Stafford , Detroit Lions : Stafford nearly put up 5,000 yards again, but 20 touchdowns and 17 interceptions is no good (even though, yes, I know Calvin Johnson was always tackled at the 1-yard line). Stafford regressed a little bit, but is still a stud quarterback. So it's weird asking for a "leap" out of Stafford since he's put up big numbers over the course of a year. Perhaps "rebound" is a better word.
Young guns
12. Russell Wilson , Seattle Seahawks : Wilson should've been the 2013 Rookie of the Year and I'm aware it's blasphemy to take him over the other two big-time rookies in this class. But three things separate Wilson for me. His decision-making is phenomenal (as is his poise in the pocket) and it only got better as the season wore on. That was incredibly impressive. I also think Wilson's ability to run multiple offenses -- he's done so for years now -- gives him a leg up on the other two rookies. And his combination of running ability plus durability puts him over the top. Now if you'll excuse me, I have to buy a hose for the flame war that's about to pop up in the comments.
13. Andrew Luck , QB, Indianapolis Colts : Luck's a stud and he's going to be a stud for years to come. He's going to "regress" in 2013 with a change in offensive coordinators, as Pep Hamilton comes over from Stanford. That's actually not a bad thing, because it'll mean fewer interceptions and a higher completion percentage. An improved defense and offensive line should involve less passing attempts and less shootouts/high-volume comebacks. That'll add up to a better season that people will question because of his stats. But the real reason Luck's not first among this young group? Too many mistakes in 2012. He had a ton on his shoulders with that Colts franchise, but he also wasn't entirely steady throughout the year and had some back-breaking mistakes down the stretch. He'll be fine, of course, and this spot simply reflects personal preference.
14. Colin Kaepernick , San Francisco 49ers : Kaep nearly won a Super Bowl last year, so it's no stretch to think he could lead a team to one in 2013. What I want to see is whether or not his stats from reasonably limited action in 2012 carry over and extrapolate to 2013. Kaepernick can wing it like few others and can throw on the run. He mostly makes smart decisions and he turned Michael Crabtree into a legit No. 1 weapon when he took over in the middle of 2012. He's one of the most intriguing story lines in the NFL heading into 2013.
15. Robert Griffin III, Washington Redskins : Can I get a big, fat asterisk for this selection? I can't possibly leave RG3 out of this group, but he's also dealing with an ACL injury suffered in the playoffs last season that very much makes 2013 a gigantic question mark. When healthy, Griffin's one of the most dynamic playmakers we've seen in a long time. He took the lowly Redskins back to the playoffs and he did it with a combination of deadly accurate passing and awe-inspiring running. Healthy weapons and an improved defense and, most importantly, Griffin being healthy, should equate to another big season.
In limbo
16. Philip Rivers, San Diego Chargers : So sue me, I still believe. There's not much of a reason to trust Rivers, who has approximately 5 million turnovers in the past two years. But I don't like to put the blame on Rivers as much as I do coaching and personnel decisions: playmakers like Darren Sproles and Vincent Jackson departed and were replaced by guys like Ryan Mathews and Robert Meachem . Antonio Gates is older. Prior to drafting D.J. Fluker, Rivers' offensive line was just flat-out offensive. With Mike McCoy running the ship, I think Rivers can bounce back. The Chargers might not be a great -- or even good -- team in 2013, but I think Rivers reminds us that he's a capable franchise quarterback.
17. Josh Freeman , Tampa Bay Buccaneers : What can I say? I'm a bigger believer than Greg Schiano. Freeman is still really young and no one seems to realize this -- he's played four full seasons and only turned 25 in January. There is still time for him to blossom and recreate the magic he flashed in a very impressive 2010.
18. Sam Bradford , St. Louis Rams : For the first time since he entered the NFL, Bradford will be surrounded by actual talent (other than Steven Jackson ). Jake Long immediately improves a porous offensive line and the additions of Jared Cook , Tavon Austin and Stedman Bailey to a group that includes Brian Quick and Chris Givens should allow Bradford to blossom.
19. Jay Cutler , Chicago Bears : Some will probably argue that Cutler should be higher, and maybe he will be after Marc Trestman actually allows him to sling the ball. For a long time, Cutler's been hampered by playing under a defense-first organization that liked to focus on the run. He's also got an offensive line that won't do its best running-of-the-bulls imitation in 2013.
20. Ryan Tannehill , Miami Dolphins : Maybe I'm too low on Tannehill here? We'll find out when he gets some actual weapons in 2013 thanks to the Dolphins addition of Mike Wallace, Brandon Gibson , plus their decision to bring back Brian Hartline . The running game could suffer in 2013 without Reggie Bush , although many folks believe Lamar Miller can break out in a big way. If Tannehill is indeed the most-improved quarterback in the game in his sophomore campaign, he'll rocket up this list.
21. Michael Vick , Philadelphia Eagles : Twice upon a time Vick's been a quarterback destined for greatness. But his inability to protect the football and stay healthy has him on thin ice in Philadelphia; he could very much end up thriving in Chip Kelly's up-tempo offense and surge up this list, but as it stands right now, there are too many issues with Vick's ball security, accuracy, ability to read defenses and age to completely trust him.
22. Alex Smith , Kansas City Chiefs : Another one of the big-time story lines heading into 2013, Smith will be fascinating to watch in Andy Reid's system. Reid maintains he's always had his eye on Smith and we'll see if he's right about his belief that Smith will work in his system. It's a logical pairing since Smith protects the ball, the Chiefs should be able to run and he can be accurate on short and medium throws. But is he the guy for the long haul the way Reid seems to think? Dunno about that, and I'd like to see him out from under the magic wand of Jim Harbaugh before I'm convinced.
23. Matt Schaub , Houston Texans : This may seem unfair given how close Schaub and Houston have come to making it to the Super Bowl. But their success isn't about the quarterback -- it's about the system and running the ball and playing defense. The Texans gave Schaub a four-year extension in 2012 and it may be a decision they'll regret soon. Schaub's a very nice quarterback, but is he someone who's going to win a Super Bowl without a stout running game and a big-time defense? I really don't think so.
Put up or shut up
23. Andy Dalton , Cincinnati Bengals : This is a harsh spot for a quarterback who's been to the playoffs twice in two seasons since being drafted in the second round. But despite Dalton's success, I have questions about whether he could simply step into any situation and produce at a high level. He's got A.J. Green in Cincinnati and a great defense and with the addition of Tyler Eifert and Giovanni Bernard, has a pretty loaded stable of weapons to improve. He's got plenty of people who back him, but more who criticize him, and he'll need to take a step forward to justify more faith.
24. Christian Ponder , Minnesota Vikings : Ponder's got a playoff trip under his belt but there have to be concerns about his viability as a franchise passer: even without big-time weapons staying healthy the whole season (see: Percy Harvin ), he still had the benefit of passing in an offense that revolved around Adrian Peterson . That makes life pretty, pretty easy and Ponder still didn't produce monster numbers. With Cordarrelle Patterson and Greg Jennings on board now -- everyone, including teammate Jared Allen -- knows that Ponder has to be the man.
25. Jake Locker , Tennessee Titans : Locker's athleticism has a wow factor to it, but at the same time his accuracy leaves a LOT to be desired. He's been injured some but now has to step up and be a franchise passer, the one the Titans took in the first round. With Andy Levitre coming over in free agency, Chance Warmack added via the draft and Chris Johnson theoretically prepared for a big year, there's really no reason why Locker, who has ample weapons around him, can't step up and have a strong season.
Grizzled
26. Carson Palmer , Arizona Cardinals : Feels like Palmer's been around forever and it feels like he's not considered the same talent he once was. Oh, right. He's not. That's why he was traded for peanuts from Arizona to Oakland. Palmer produced a big season with the Oakland Raiders last year, but I don't know that I trust his arm strength or decision making to produce the way he did when he would've once been considered on top of this list.
27. Brandon Weeden , Cleveland Browns : It's unfair to have a put-up-or-shut-up season at Weeden's age, but ... yeah, he's actually older than the No. 1 guy on this list. And he's dealing with a new regime. I liked Weeden's rookie year but didn't see him progress the way I would like. That gives me reason for concern.
28. Blaine Gabbert , Jacksonville Jaguars : BIG season coming for him now that he's got help on the line and the receivers; failing under a new regime means he's probably done in Jacksonville.
30. Geno Smith or Mark Sanchez , New York Jets : This is where things start to get ugly. My money is on Geno to win the job and for Sanchez to eventually get discarded by a new regime in New York.
31. Matt Flynn or Tyler Wilson, Raiders: The last time Flynn tried to beat out a rookie named Wilson, how did things work out?
32. EJ Manuel or Kevin Kolb , Buffalo Bills : Maybe this will work out down the road, but I don't see it happening right now.
Show Comments
Hide Comments
The Saints have four of the first 76 picks in this week's draft

Players can now sell their data as the NFLPA looks to advance player safety

Ross looks like the perfect replacement for Brandin Cooks in the Big Easy
The former Bucs and Raiders star only sees 'splash plays' with the Texas A&M defensive end

Expect four QBs to come off the board and for Reuben Foster not to fall out of the first r...

John Lynch needs a franchise QB, but he also said the 49ers were open to trading the pick