Ravens, 49ers to hold joint practices after Week 1 preseason game
The 49ers and Ravens will be practicing together for a few days in early August.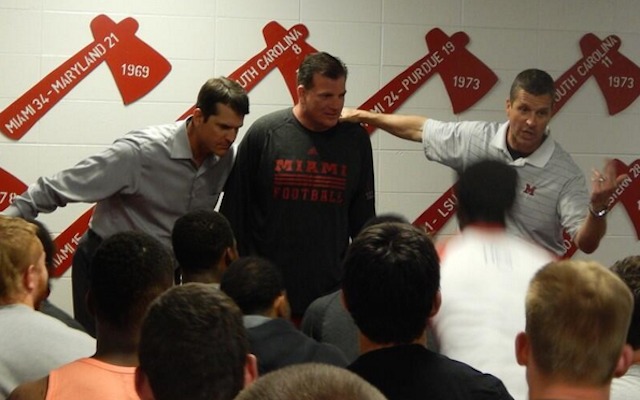 More NFL offseason: Mock Drafts | Prospect Rankings | Pro days | Top free agents
It looks like the Harbaugh brothers are going to get some extra family time together in August. John Harbaugh announced on Friday that his team will be holding joint practices with the 49ers  following the Week 1 preseason game between the two teams. 
The Harbaugh brothers like to do things differently and these joint practices are proof of that. Most NFL teams hold a joint practice in the days before they play another team, however, the Harbaughs are going to change it up and hold the practices after the Aug. 7 preseason game between Baltimore and San Francisco. 
The 49ers will practice in Baltimore with the Ravens for 4 days after the first preseason game this year, Coach Harbaugh said.

— Baltimore Ravens (@Ravens) April 19, 2014
That means the 49ers will be on the East Coast until Aug. 11 or 12, at which point the team will jet back to California to open up Levi's Stadium on Aug. 16 or 17 against the Broncos in Week 2 of the preseason. 
John Harbaugh made the joint practice announcement from Oxford, Ohio. Both Harbaugh brothers are on the campus of Miami University where John is set to be inducted into the Cradle of Coaches. The school will be unveiling a statue for John on Saturday. 
Back in Ohio for John Harbaugh's statue unveiling at Miami University. pic.twitter.com/Khdb6MzkfQ

— Garrett Downing (@gdowning14) April 18, 2014
According to a police report, he faces six years in jail and/or a $10,000 fine

Floyd has claimed that he failed the test due to drinking too much kombucha
Fairley will miss the season due to a heart condition, and his career is in jeopardy

The Chiefs went 43-21 under Dorsey's guidance

He definitely doesn't skip leg day