Ravens, 49ers turn joint practices into family gathering
The Ravens and 49ers share a special bond that is unique in the NFL. Jim and John Harbaugh turn joint practices into a family reunion.
• 10 min read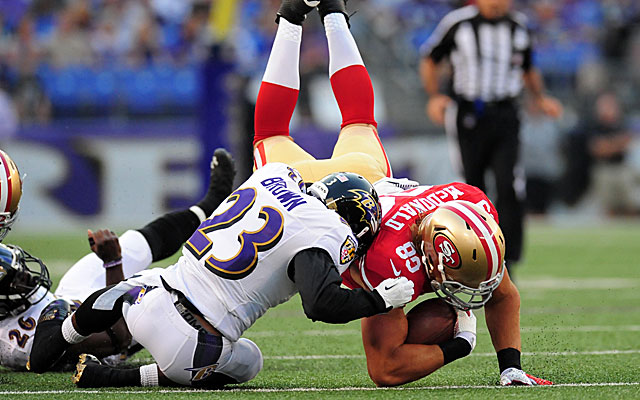 More NFL: Photos |  Videos & GIFs |  Training Camp updates | Manziel watch
OWINGS MILLS, Md. -- There is talk in every NFL training camp of instilling a family atmosphere, how players should treat each other like brothers, and all of that good stuff. But, here at the Baltimore Ravens training facility the family vibe is beyond compare this week.
John Harbaugh's Ravens have been hosting the San Francisco 49ers , coached by his brother Jim, since last week. The teams opened their preseason Thursday playing at M&T Bank Stadium, and were supposed to hold a joint practice there Friday, but that got cancelled because of regulations in the collective bargaining agreement about how many consecutive days teams could work. So, they resumed Saturday afternoon with a vigorous and spirited lengthy practice at the Ravens' majestic practice facility. Both teams shared cafeterias, locker areas and meeting rooms, and all aspects of the headquarters.
They continue with another joint practice Sunday, and they are doing all of this under the watchful eye of Jack Harbaugh, father to Jim and John, and a lifelong coach himself who watched practice from a perch above the practice field surrounded by nieces and nephews and cousins and aunts and uncles, all cheering on both teams.
I've been to my fair share of camps, in places all over the United States, but never seen anything quite like this (one of the practice fields had the 49ers logo painted in the end zone, for goodness sake; you can't ask for any more hospitality than that).
For two teams to be able to share a relatively limited space, for this amount of time, after having just played a preseason game against each other, speaks to the unparalleled respect between the organizations, and the obvious bond shared by their head coaches. It made for a familial vibe the likes of which we might not see again until, well, next August, when the Ravens are expected to spend a week practicing with the 49ers at that team's new home in Santa Clara, Calif.
"I don't know that two teams have ever been in the same facility at the same time like this before," John Harbaugh said after the teams completed their morning walkthrough. "The 49ers are going to feel very comfortable in this facility."
Everyone feels comfortable here, in one of the more pristine facilities you were find in the league, long-ago dubbed "The Castle" for its mansion-like façade and sprawling setting.
John Harbaugh was the first to actually alert the media to the large cheering section of family overlooking the fields, and joked that his brother's overzealous security force actually had to take down Uncle Bob when he tried to shake Jim Harbaugh's hand. There were plenty of people to introduce, and Friday night the extended family gathered at John Harbaugh's house to celebrate some birthdays and spend quality time together.
"It's wonderful, wonderful, to be a part of that family," Jim Harbaugh said of his brother's brood.
The coaches, similar in their approach, easily adopted a practice format that ensures both clubs get all the work that they need, and everything could also be flexible if need be. Both are obviously rooting for the other brother's team whenever they are not playing (John is 3-0, including preseason and the Super Bowl, though it should be noted Jim hasn't had a home game against him yet). They both spoke extensively to their teams ahead of this trip, and during it, about wanting to extend that respect and brotherhood between the locker room as their share relatively tight quarters during the work days.
Having two teams that practice this hard and play this physically -- and this long, with Saturday's session going for three hours -- could lead to tempers flaring, but outright fighting won't be tolerated. There is every expectation this will be highly efficient and effective work for both teams. That's what Saturday was, with players helping one another up and no instances of pushing and shoving.
"We feel like it's in the best interest of both teams to do that," Jim Harbaugh said of maintaining a healthy and safe atmosphere at practice. "We want to take care of the Ravens."
But bodies were certainly colliding Saturday. There is no cutting and no tackling to the ground, but this was definitely football being played, at a high pace, with intent. Oh, and with a good chunk of the Harbaugh clan on hand, and both clubs feeling at least some sense of being the home team. Kudos to all involved for pulling it off. The early returns have been exceptional.
Said the patriarch, Jack Harbaugh: "They practices hard, it was a great practice. And to go about it so respectful of each other, I think it speaks highly of the players."
I would say it speaks highly of their coaches as well.
Boone out a while
Don't expect to see 49ers starting guard Alex Boone , one of the best in the league, back in camp anytime soon. While the team has expressed no interest in dealing him, league sources said numerous other clubs have interest in him should they opt to do so. There would be no shortage of possible trade partners, but Boone is also very valuable to the 49ers, who are watching closely to see how understudy Joe Looney holds up in that starting right guard role.
Of course, Boone is most valuable to the 49ers at his budget salary for 2014, and at this point there remains no progress between the sides on a new deal.
I said last month that this is the rare NFL situation in which a long holdout was in store and that continues to be the case. Boone isn't budging from everything I've heard. Coach Jim Harbaugh, himself in line for a contract extension with none in sight, is taking a pragmatic approach to his absence.
"I'm not assuming anything," he said.
But I've heard that it has been made pretty clear to the team about Boone's intent. I don't see that changing, with him scheduled to be not even one of the 40 highest-paid guards in the NFL. His rough and physical presence has helped solidify the interior of what has been on the game's premier offensive lines. Looney isn't Boone. The 49ers have done a great job of getting stars to take deals that have been very favorable to the team, but I don't sense any hometown discount taking place here.
Ravens taking it slow with Webb
The Ravens have been taking every precaution with top cornerback Lardarius Webb , who is out with a back issue, but from all I've heard he is doing well. He has been itching to get back to practice but, with corner a position of great depth and Webb a proven commodity, the team will take no chances.
Harbaugh has talked about him coming back by the third preseason game, and to this point he has had no other setbacks beyond the original muscle flare-up early in camp. Expect Webb to get a few reps in possibly the fourth preseason game, but regardless, at this point it's largely precautionary.
It could make for some rough patches in the preseason, however, with Jimmy Smith the only other proven corner on the roster and the team also lacking an established free safety who can make plays on the ball ( Will Hill opens the year suspended). That might be the one area of the roster lacking -- the free safety.
Boldin homecoming
This is a unique homecoming for 49ers receiver Anquan Boldin , whose last game with the Ravens was the Super Bowl win over the 49ers. Baltimore ended up dealing him to San Francisco when it could not come to terms on a more cap-friendly, reworked contract. Though advanced in age, Boldin nearly helped the 49ers nearly back to the Super Bowl.
Boldin spent Friday night at a barbeque in his old neighborhood here, and it's certainly odd to be back in this practice facility facing former teammates. He remains beloved by his former teammates and John Harbaugh joked that he still blames general manager Ozzie Newsome for the trade.
"We fought like crazy [to keep Boldin], but we were fighting against a [cap] number," the coach said.
Jim Harbaugh called Boldin "the most special practice player I've ever seen," and youngsters from both teams were keeping a close eye on the consummate professional during practice, awed by his intensity.
Boldin said he isn't sure how much longer he will play beyond 2014. ("For me it's just one year at a time," he said.) He remains a starter in this offense -- we'll see if Stevie Johnson can push him -- but at some point all the years of playing the game as hard as he does would have to catch up to him. Boldin had 90 yards receiving or more four times during San Francisco's six-game winning streak to close out 2013, so you can't count out his production.
Ravens' O-line looks much better
It's early, but the Ravens' offensive line has the potential to be much improved. Jeremy Zuttah already looks like a big upgrade at center and if stud guards Kelechi Osemele and Marshal Yanda hold up, I cannot imagine the run game and pass protection are not markedly improved. They looked good against a physical 49ers team in the game and practice, and though Harbaugh is reserving judgment until the regular season, there are plenty of positive signs as the unit takes to new coordinator Gary Kubiak's blocking schemes.
"We don't know yet," Harbaugh said when asked about what appears to be a blossoming line. "But I like the way our coaches are coaching."
Right tackle is the one area without a proven starter, but youngster Rick Wagner seems to have a pretty good handle on that job for now, though ample time remains for him to lose it.
This and that
• Out of the massive national media spotlight that engulfed Jonathan Martin in Miami last year, during the investigation into the Dolphins' offensive line, the 49ers believe he can be a valuable swing tackle and are giving him plenty of work. Few coaches seem to take as much glee in a rehabilitation project as Jim Harbaugh (though the Blaine Gabbert experiment has the potential to be a disaster) and he had praise for Martin.
"He's played extremely well," Harbaugh said. "He's been very effective."
• All the attention on the Ravens' offense has gone to newcomers like Steve Smith and Owen Daniels, but there is a youngster who continues to catch quarterback Joe Flacco 's eye. Marlon Brown emerged as a trusted target as a rookie, and now another year removed from his ACL injury in college, the Ravens believe he could take on a bigger role. Brown dropped some passes early in camp, but Flacco has plenty of trust in him, and at 6-foot-5 and getting more explosive, I wouldn't write him out of this offense by any stretch.
"He's making big strides in this training camp and getting better every day," Flacco said.
Brown made a great reaction on what appeared to be a broken play for a 70-yard TD in 11-on-11 drills and he looked sharp in 7-on-7 as well.
• Kubiak is moving second-year fullback/tight end Kyle Juszczak all over the place. I tend to think he will be a factor. He can be a lead blocker, he can be flexed out to the slot or even the outside (the kid can run), and he can serve as an in-line blocker. Kubiak is very intrigued.
• I'm not sure if rookie receiver Michael Campanaro can stay healthy, or survive in this league at 5-8, but the Ravens are going to give him every opportunity to keep showing what he can do. He has opened some eyes early. Expect this offense to look drastically different that a year ago.
• With so much action taking place on so many fields it was impossible to focus on everything at these joint sessions, but the moment I went over to hone in on Colin Kaepernick he did something fairly amazing. He saved a play in 11-on-11 rolling left, going sidearm against his body and delivering an absolutely on-point bullet of a pass, in stride, about 30 yards downfield. Pretty sick.
Jones is the latest Cowboys defensive player to heap praise on the redshirted linebacker

He might play for the bad Bears, but Howard is just as good as Cowboys' Elliott

Only two defensive players finished in the top 10 of the rankings
According to a police report, he faces six years in jail and/or a $10,000 fine

Floyd has claimed that he failed the test due to drinking too much kombucha