Ravens RB Ray Rice indicted on one count of aggravated assault
Ravens running back Ray Rice has been indicted on one count of third-degree aggravated assault after allegedly knocking his fiancee unconscious in New Jersey in February.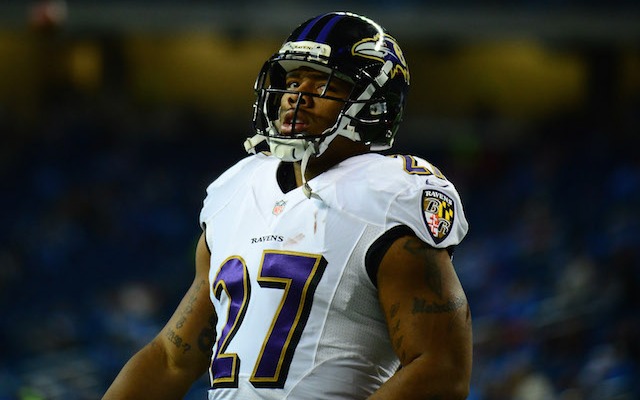 Ravens running back Ray Rice was indicted by a grand jury in New Jersey on Monday on one count of third-degree aggravated assault. The indictment stems from an incident that took place on Feb. 15 when Rice allegedly got into altercation with his fiancée, Janay Palmer. 
Rice could face three to five years in prison if he's convicted on the one charge.
Both Rice and Palmer were originally charged with simple assault-domestic violence, however, as of now, only Rice has been indicted. The aggravated assault charge Rice was indicted on is a more serious count than the original simple assault-domestic violence charge.
Rice was indicted on the more serious charge for "attempting to cause significant bodily injury, and/or purposely or knowing causing such injury and/or recklessly causing such injury under extreme indifference to the value of human life," according to the formal indictment.
The altercation between Palmer and Rice took place at a casino in Atlantic City, N.J. last month. According to the court summons from the incident, Rice allegedly hit his fiancee with his hand and knocked her unconscious.
Security footage from the night of incident shows Rice dragging Palmer out of an elevator at Revel Casino. Palmer appears to be unconscious and doesn't move at any point during the 51-second video.
Michael Diamondstein, Rice's lawyer, told The Press of Atlantic City that neither Palmer or Rice wants to take the case to court.
"On behalf of Ray Rice we vehemently deny that Mr. Rice committed an aggravated assault," Diamondstein said. "Both Mr. Rice and Miss Palmer are together, they are happy and they're in counseling."
Ravens owner Steve Bisciotti said on March 23 that he's talked to Rice about the incident and that Rice will 'definitely be back' with the team.
The Ravens also released a statement on Thursday, regarding the indictment, "This is part of the due process for Ray. We know there is more to Ray Rice than this one incident," the statement said.
Here's the security video that was taken on the night of the alleged altercation:  
Show Comments
Hide Comments
The Raiders have some special plans for the draft that fans in Oakland might not like

She's not a huge fan of the Hall of Fame defensive lineman

Follow along as we track all the rumors as the 2017 NFL Draft approaches
The Eagles QB is representing his city

A report Thursday afternoon indicates that Myles Garrett will be the first overall pick in...

Mitchell Trubisky will not be the top overall pick after all