Ravens visit White House; Harbaugh vows 'to be back next year'
The Ravens visited the White House on Wednesday to celebrate their Super Bowl victory. President Obama slung wisecracks, and John Harbaugh vowed to return in 2014.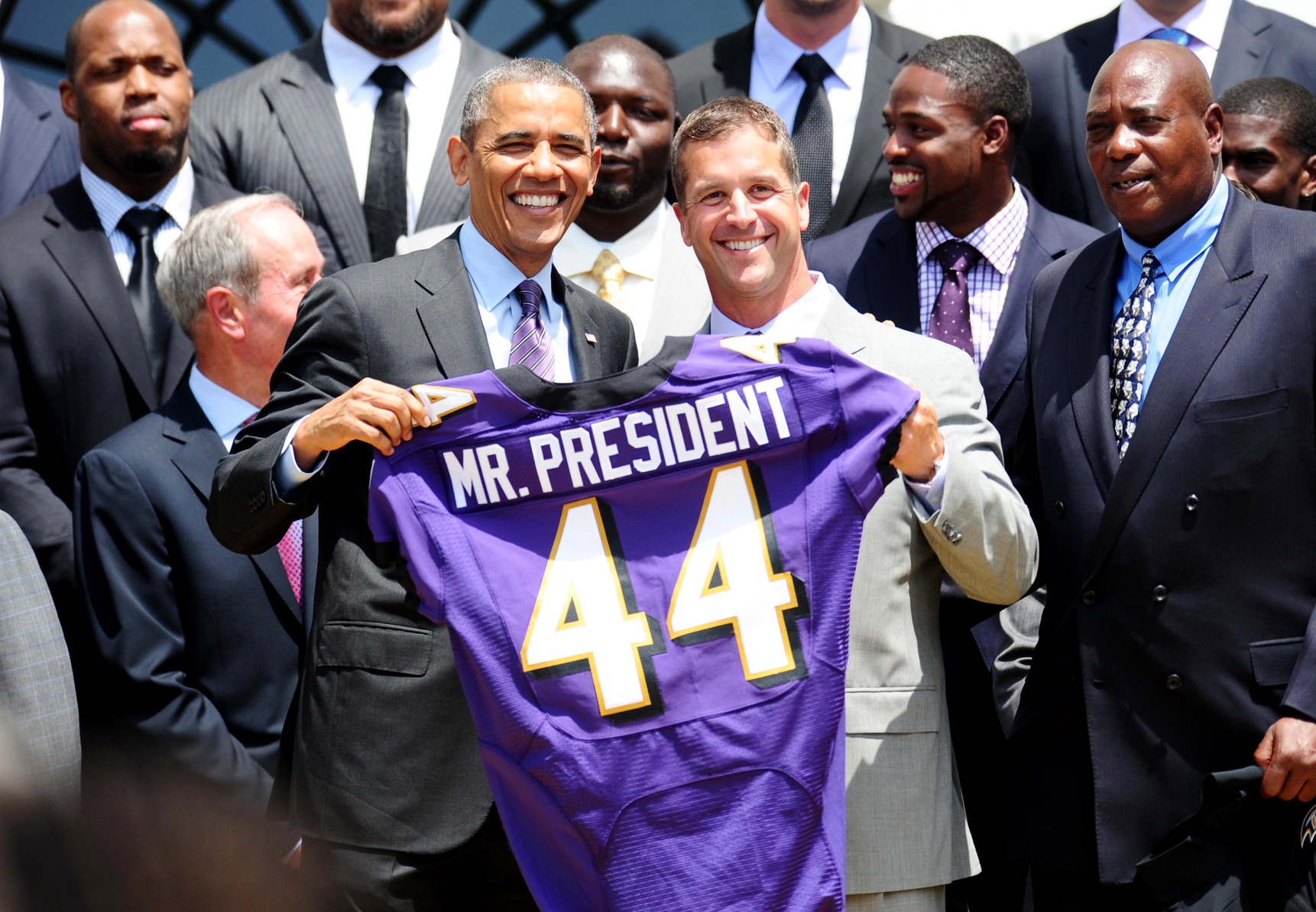 Though the sequester caused the Ravens' ceremony at the White House on Wednesday to be a little short, it was certainly entertaining. And what else would you expect from a crew that featured Ray Lewis, Ed Reed, Jacoby Jones and, whether you like his politics or not, President Barack Obama, who almost always cracks wise at these sort of events.
He did just that, coming out firing on Wednesday.
"I suspect these guys are wondering what kind of introduction is that," Obama said after walking up to the podium. "No smoke machine. No fire cannons. Obama didn't even tear up chunks of turf and rub them on his suit.
"That reminds me ... please don't do that on the South Lawn."
He also had a few words for Super Bowl MVP and newly minted quarterback Joe Flacco.
"Joe was named the game's MVP," Obama said before turning back to look at Flacco. "Good timing with that contract, huh?"
Obama then listed off Flacco's accomplishments in the postseason.
"I don't know about you, Joe, but I would say that qualifies as elite," Obama said. "I would say if you keep on playing like that, you're going to challenge [Vice President Joe] Biden for the most popular person from Delaware."
The president riffed on Lewis' dance (caused by "that dance he does") and Reed's gray hair ("You look like an old man!") before praising the Ravens' off-field work with PLAY 60 and other charitable causes.
The best line was left for coach John Harbaugh, though, who, despite Reed's coughing protestations, promised a return visit to the White House in 2014.
"On behalf of all the Ravens, we want to thank Mr. President for hosting us here today. It's an unbelievable honor. We are grateful to be here," Harbaugh said.
"We have plans to be back next year."
Show Comments
Hide Comments
Our Latest Stories
Washington's John Ross outshines Christian McCaffrey, and the Huskies' defense shows its t...

Here's the latest update on all the Week 4 lines in the NFL

The Bills receiver is going to miss at least eight weeks and possibly the rest of the seas...
The best wide receiver in the game is paying homage to The King

The running back is supposed to get his first action against the Steelers

The Cowboys are going to play it safe with their star receiver, who's dealing with a knee...