Ravens WR Brandon Stokley set to retire after 15 years in NFL
After playing for six teams in 15 years, Ravens wide receiver Brandon Stokley has decided to hang up his cleats.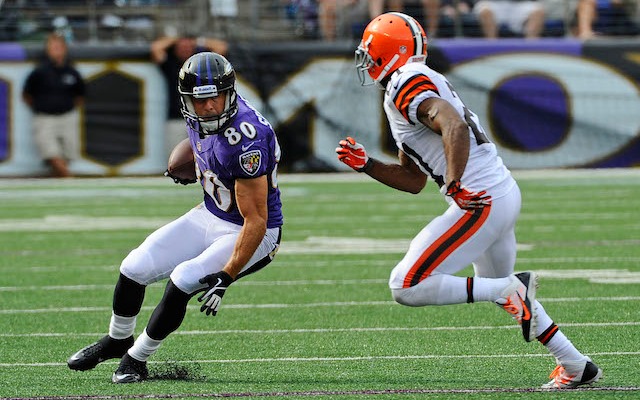 After 15 seasons, Brandon Stokley is ready to call it quits. The Ravens wide receiver told the Denver Post on Thursday that he'll be retiring at the end of the season. Stokley's already played in his final game, the 37-year-old receiver suffered a concussion in Week 14 and was placed on injured reserve on Dec. 10. 
"I'm glad I played this year because now I know I'm done," Stokley said. "Had I not played this year I would have always felt I could have kept playing. I still know I can play but my body just can't go through it anymore."
Stokley's career began in Baltimore in 1999 when the Ravens selected him in the fourth round of the NFL Draft. After four seasons in Baltimore, Stokley moved on to Indianapolis, where he spent the next four seasons of his career (2003-06) catching passes from Peyton Manning. 
"I think Brandon is the best teammate I've ever had," Manning said. "He's a guy you want on your team in your corner. Fifteen years as a slot receiver in the NFL, going across the middle, taking hits, it's almost unheard of."
Stokley and Manning were reunited in 2012 when both players signed with the Broncos. 
"I guarantee you every quarterback he's played with, whether (Trent) Dilfer or (Jay) Cutler all the guys would tell you how great a teammate and how thankful they were that he was in the slot," Manning said. "Because you knew he was going to get open on a critical third down and make that big catch."
Besides Baltimore, Indianapolis and two-stints in Denver, Stokley also spent one season with both the Seahawks and the Giants. 
One of the biggest regular season plays of Stokley's career came in 2009 when he caught the 'Immaculate Deflection,' a tipped 87-yard Hail Mary that helped the Broncos beat the Bengals 12-7. The quarterback who threw that pass? Kyle Orton. The same Kyle Orton who will likely start for the Cowboys on Sunday.
As for Stokley, he now becomes an odd footnote in NFL history: He'll go down as the only receiver who played 15 or more seasons but caught less than 400 career passes. 
Show Comments
Hide Comments
No teams did bad enough to earn an 'F,' and give credit where it's due to the 49ers(!) and...

The expectation is that Whaley will be replaced with the Panthers' Brandon Beane

Plus Seahawks eschew needs on the line and Rams seek help for Goff as we hand out NFC West...
Plus Saints and Falcons load up on defense as NFC South gets a massive boost in talent

Lions draft for now, Packers run down their checklist and Vikings find a runner in our NFC...

Plus Giants do a lot with a little and Eagles and Redskins face durability concerns in our...