Ravens WR Steve Smith pulled over by cops during radio interview
New Baltimore Ravens wide receiver Steve Smith had an interesting experience during a radio interview this week.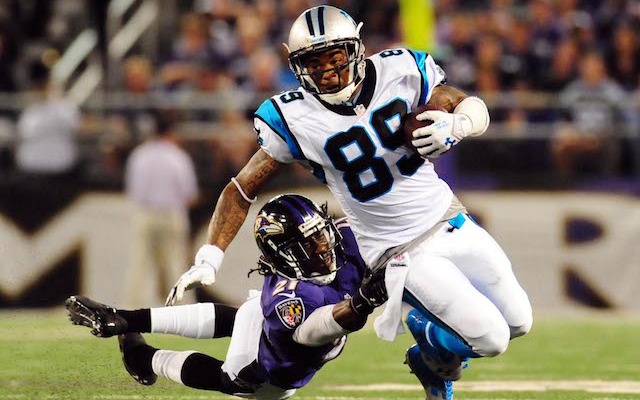 NFL players do radio interviews across the country every day, but it's not every day that one of those players gets pulled over by police during one of those interviews. That's what happened to new Ravens wide receiver Steve Smith on Thursday though.
About a minute and half into an an interview with "The Dan Le Batard Show" on ESPN Radio, Smith was pulled over. It's not clear why Smith was pulled over or what state he was driving in. Smith could have been in Maryland, he could have been in North Carolina or it could have been neither. The hosts of the show theorized that he's in New York. 
Anyway, here's exactly what happened: 
Smith: Oh. See, you guys got me in trouble. I'm getting pulled over by the police.
Host: Right now? While we are talking to you?
Smith: Yup.
Host: Were you speeding?
Smith: No, I'm not speeding. I guess I'm on my cellphone. How about I keep you on hold while I go through the procedure.
The hosts then yap for about three minutes before Smith returns to the interview. 
Host: You must have gotten out of the ticket if you're back that fast, right?
Smith: Hey, when you don't have any warrants or prior arrests, it goes a long way with being a good citizen.
Host: Did you drop the Steve Smith card at all?
Smith: No I didn't. My ID does that.
Host: Does your ID say NFL wide receiver? Is the cop a football fan?
Smith: No, my ID is cleared as no priors. So I was good.
Host: What did you get in trouble for? Being on the cellphone?
Smith: Nah, you know. Hey, a brother driving a nice car. You know, sometimes they got to make sure... it all matches up.
---
And we'll stop there so a race riot doesn't start in the comments section. You can hear the entire interview below. 
Show Comments
Hide Comments
Plus Nick Saban sends a ton of talent to the NFL, the Browns find a QB and more from Rounds...

The Vikings' Latavius Murray and Bengals' Jeremy Hill also get put on notice with Cook, Mixon...

Here's everything you need to know about the 2017 NFL Draft
Here's a recap of Round 2 and Round 3 in the 2017 NFL Draft

Here are the 25 best prospects still available after three rounds of the 2017 draft have w...

The fans in Philadelphia did their best to make the 2017 NFL Draft more fun