Ray Rice's arraignment on assault charge pushed to Thursday
Ravens running back Ray Rice will get his day in court on Thursday.
• 1 min read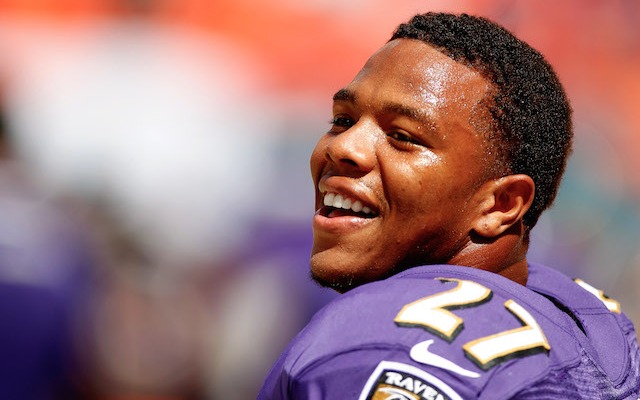 More NFL offseason: Mock Drafts | Prospect Rankings | Pro Days | Top free agents
Despite the assertion of Bills linebacker Brandon Spikes that somebody should choke out Ray Rice, the Ravens running back will actually get his day in court after he was indicted last month on a third-degree aggravated assault charge after allegedly knocking his fiancee into unconsciousness.
Originally, Rice was scheduled to be arraigned Monday, but according to the Baltimore Sun, that court date has been pushed back to Thursday because of the judge's busy court docket.
After Rice and Janay Palmer got into a physical altercation at an Atlantic City casino, both were charged with simple assault-domestic violence. A leaked video later appeared to show Rice dragging Palmer's unconscious body from the hotel elevator.
Rice's charge was upgraded and he was indicted by a grand jury for "attempting to cause significant bodily injury, and/or purposely or knowing causing such injury and/or recklessly causing such injury under extreme indifference to the value of human life."
No matter what happens, Ravens owner Steve Bisciotti is on record saying that Rice "definitely" will be back with the team in 2014. Palmer most likely hopes for the same. Considering, you know, she married Rice the day after he was indicted.
If convicted of the charge, Rice could face 3-5 years in prison. 
Show Comments
Hide Comments
Brett Hundley was apparently on the block during Day 2 of the draft

The Bills fired their GM Sunday morning, then cleaned house

Get ready to start hearing a lot about Sam Darnold and Josh Rosen
College players who didn't get drafted are now free to sign with any team in the NFL

Benjamin has had weight issues going back to college

As one exec put it, 'We don't know what the hell they were doing'