Redskins DB Tanard Jackson suspended indefinitely by NFL
For the fourth time in his career, Tanard Jackson has been suspended by the NFL.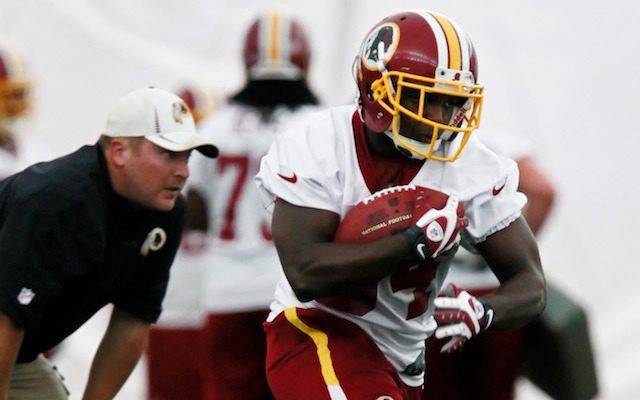 Just two months after being reinstated by the NFL, Redskins safety Tanard Jackson has been suspended again. The league announced on Wednesday that Jackson's been suspended indefinitely for violating the NFL's substance-abuse policy. 
It's the fourth suspension for Jackson and could mean the end of his NFL career. It's his second suspension since signing with the Redskins before the 2012 season. The 28-year-old has yet to play in a regular season game with the team.  
Here's a quick recap of Jackson's NFL career:
The defensive back was Tampa Bay's 2007 fourth-round pick out of Syracuse and ended up starting 44 games for Tampa Bay from 2007-09. The four games Jackson missed in that span came in 2009 because he was serving a suspension. 
In September 2010, Jackson was suspended indefinitely for violating the league's substance-abuse policy and ended up sitting out 13 months before being reinstated in October 2011. The Bucs signed him to a contract extension later that month.
In April 2012, Tampa Bay released Jackson after he failed a physical. The team said the decision had nothing to do with "any new issues related" with Jackson's previous two NFL suspensions.
The defensive back went on to sign with the Redskins before the 2012 season, but was suspended indefinitely in August of that year before playing a game with the team. 
Jackson was reinstated to the Redskins on May 5, only to be released one day later. However, the Redskins re-signed him on May 7 at a cheaper rate. 
After sitting out the past 20 months due to suspension, it's unlikely Jackson will be reinstated anytime soon, likely meaning the end of his career. 
Show Comments
Hide Comments
Our Latest Stories
Washington's John Ross outshines Christian McCaffrey, and the Huskies' defense shows its t...

Here's the latest update on all the Week 4 lines in the NFL

The Bills receiver is going to miss at least eight weeks and possibly the rest of the seas...
The best wide receiver in the game is paying homage to The King

The running back is supposed to get his first action against the Steelers

The Cowboys are going to play it safe with their star receiver, who's dealing with a knee...