Redskins GM on if he sees a scenario with RG3 staying: 'Certainly'
Despite the general manager's (mostly vague) comments, it's hard to envision a scenario where Robert Griffin III is a member of the Redskins next season.
It's hard to envision a scenario where Robert Griffin III is a member of the Redskins next season. Partly because he lost his job to Kirk Cousins, mostly because it would cost the organization $16 million to keep Griffin walking around in civvies on game days.
So it stands to reason that the Redskins would part ways with RG3 before March 9, the first day of the league year, when that $16 million becomes fully guaranteed.
In the meantime, however, general manager Scot McCloughan offered this vague response to a question about the team's plan for Griffin.
"Well you know what, the thing is, and I'm looking forward to getting back because we had the playoff game, of course, then you had the loss," McCloughan said from the Senior Bowl in Mobile, Alabama, according to comments distributed by the team. "I had that week where I met with the staff as a whole on that Monday, we went over the game, you know, the tape and all that, and then they had that week to self-scout their own guys and I got the book right before I went to Florida last week for the East-West Shrine Game, and then of course I came here. So, I'm looking forward to getting back there after the Super Bowl and meeting with each coach individually and going over every player."
So yeah, he didn't really answer the question. Let's try this again. Can McCloughan see a situation that includes Griffin on the Redskins' roster next season?
"Certainly, the thing that's good about what we have right now is that we have until March 9th, and that's why I want to sit down with the coaches," he said. "Not just the coordinators, the position coach, but everybody individually and just get a feel for it. He is a good football player, he's a really good person, and he's under contract. That's where we're at right now."
In his defense, McCloughan has no reason to tip his hand, even if that means the Redskins end up releasing RG3 in the coming weeks. In the meantime, McCloughan should probably be working the phones trying to convince Jerry Jones that Griffin would be a perfect fit in Dallas. We're guessing it won't be a tough sell.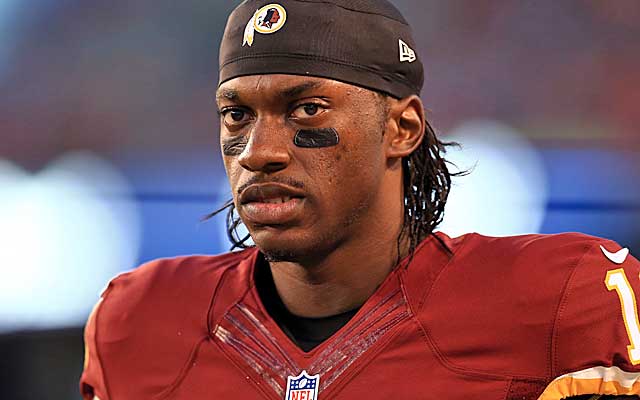 Show Comments
Hide Comments
Receivers surprise in the top 10, Alabama goes MIA in the top 15 and more 2017 NFL Draft t...

Florida State RB Dalvin Cook will kick off Day 2 of the draft

There were a lot of good moves made during the first day of the 2017 NFL Draft
It seems that fans in Chicago feel like the Bears may have gotten ripped off

Round 1 is in the books -- and here's a recap of all the rumors, picks, trades and analysi...

Here's everything you need to know about the 2017 NFL Draft