Redskins' Niles Paul: RG3 'will ball out' wherever he plays next year
At least one teammate still believes in Robert Griffin III's ability
• 1 min read
Today is Feb. 17, which means the Robert Griffin III era in Washington is officially in its final days. Unless the Redskins pull a shocker, they'll undoubtedly cut their former first-round pick before they're forced to pay him a boatload of cash on March 9. Now, it's just a matter of where the former Heisman winner will attempt to revive his once-promising, now-on-life-support career.
According to Redskins tight end Niles Paul, who missed the season with a fractured ankle, it won't matter where RG3 lands.
"Robert hasn't missed a beat," Paul told 106.7 the Fan, a CBS Sports Radio station. "I'm confident, wherever he goes, he'll play and I expect him to do big things, because that's just the type of person he is, the competitor he is. I know Rob is not down and out, he's just that type of guy and I love him to death. I know that, if it's not here, wherever he goes he'll ball out. I guarantee that."
By now, RG3's rollercoaster career has been documented to death, but it can be hard to remember just how good he was in his rookie season, which culminated in the Rookie of the Year award. But after excelling in his first season, it all unraveled.
Robert Griffin III by year
Year
Record
Comp. percentage
Passing yards
Rushing yards
Total TDs 
INTs
Passer rating
2012
9-6
65.6
3,200
815
27
5
102.4
2013
3-10
60.1
3,203
489
16
12
82.2
2014
2-5
68.7
1,694
176
5
6
86.9
Eventually, RG3 spent the past season on the bench and playing scout-team quarterback as Kirk Cousins took over Washington with chants of "You like that!" And now, it's Cousins who's seeking a long-term deal with the club. Meanwhile, RG3's time in Washington most likely ended with an inspirational note and a box.
RG3 cleaning out his locker is one of the sadder, more surreal scenes I've seen in DC sports https://t.co/kYXfogNAvb pic.twitter.com/6faKUx8w4B

— Keely Diven (@keelydivenCSN) January 11, 2016
But that doesn't mean RG3 is set to disappear for good. In fact, he's only one Jerry Jones phone call away from keeping his place in the headlines.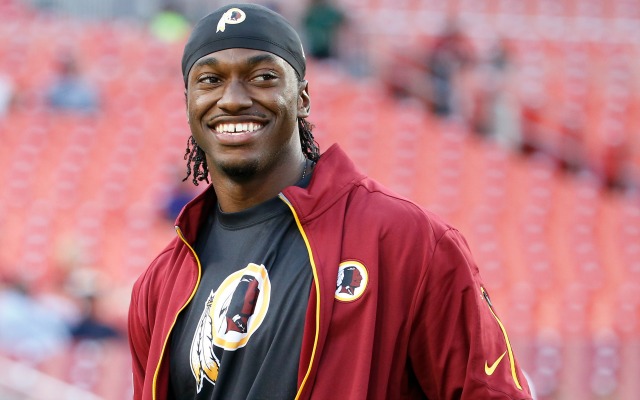 Show Comments
Hide Comments
Brett Hundley was apparently on the block during Day 2 of the draft

The Bills fired their GM Sunday morning, then cleaned house

Get ready to start hearing a lot about Sam Darnold and Josh Rosen
College players who didn't get drafted are now free to sign with any team in the NFL

Benjamin has had weight issues going back to college

As one exec put it, 'We don't know what the hell they were doing'