Redskins' Santana Moss: Kirk Cousins almost being set up for failure
Redskins wide receiver Santana Moss says that starting Kirk Cousins is 'almost like setting a guy up for failure.'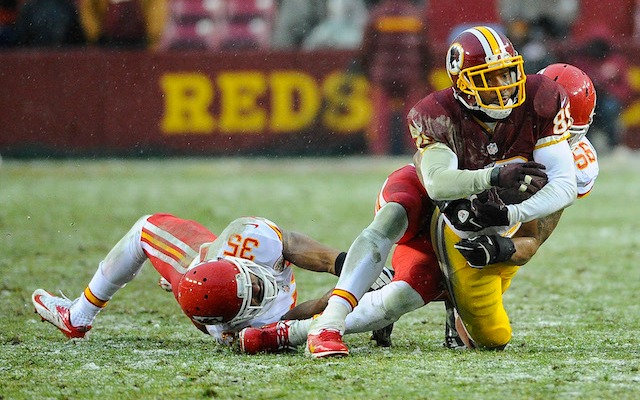 If new starting quarterback Kirk Cousins struggles in Washington, wide receiver Santana Moss won't be surprised. Coach Mike Shanahan's decision to bench Robert Griffin III isn't just bad for RG3, it's bad for Cousins too, according to Moss. 
The 34-year-old wide receiver, who's been in Washington since 2005, thinks that Shanahan's decision to start Cousins for the Redskins final three games is akin to setting him up for failure.
"It's kind of tough to put him into this situation right now and hope for him to be excellent," Moss said of Cousins, via the Washington Post. "It's almost like setting a guy up for failure. But you just want him to go out there and be at ease and just take his time, be as efficient as he can because it's one of those situations that's like, you know, Catch[-22]. He don't play as well, then you're gonna say, 'Well, should he have been in there?' But you can't do that to him because he hasn't had all this season to go out there and gel with us. But he has been ready enough to go out there and be able to run this offense. So we're just hoping for the best."
RG3's benching seems to be awkward for everyone involved. Shanahan said on Wednesday that he benched Griffin to keep him healthy, so RG3 would be available for Washington's offseason workout programs. 
Griffin told Shanahan he wanted to play, but Shanahan shut him down for the rest of the season anyway. The situation could take another weird turn if Cousins closes the season with a hot hand. Moss was worried about Cousins failing, but if Cousin's is successful, that too will raise more questions than it answers. 
Three strong games from Cousins to close the regular season isn't out of the question. Two of Washington's final three games are against two of the worst defenses in the NFL in Atlanta (ranked 26th) and Dallas (ranked last). 
Show Comments
Hide Comments
Plus Nick Saban sends a ton of talent to the NFL, the Browns find a QB and more from Rounds...

The Vikings' Latavius Murray and Bengals' Jeremy Hill also get put on notice with Cook, Mixon...

Here's everything you need to know about the 2017 NFL Draft
Here's a recap of Round 2 and Round 3 in the 2017 NFL Draft

Here are the 25 best prospects still available after three rounds of the 2017 draft have w...

The fans in Philadelphia did their best to make the 2017 NFL Draft more fun