Reggie Bush to sue city of St. Louis over injury suffered vs. Rams
Reggie Bush's career could be over due to an injury suffered on the concrete at the Edward Jones Dome in Week 8.
• 1 min read
Running back Reggie Bush, who suffered a season-ending and potentially career-threatening knee injury after slipping on concrete surrounding the field in St. Louis, has procured legal representation and plans on suing the city of St. Louis over the matter, according to a source close to the player. High-powered attorney Shawn Holley and her KWIKA firm is handling Bush's case, which will take aim at the Edward Jones Dome -- owned and operated by the city of St. Louis through its Sports Authority and Convention Bureau.
The NFLPA contacted the NFL about the safety issue at the stadium following the latest incident on the concrete, sources said. Bush was carted off with a season-ending injury and one, given this stage of his career, that could jeopardize his ability to play professional football again. The league and the Rams worked with the operators of the stadiums to make sure the problem is corrected, but obviously that's after the fact for Bush, a former first-round pick who had only recently gotten back on the field for the 49ers after battling injury.
Bush's suit will likely seek gross negligence given the potential danger of having such a slippery surface abut the playing field, the source said, especially considering this was not the first incident of this sort to take place there.
Holley was a member of the famed O.J. Simpson legal team working with Johnnie Cochran. Bush has been a client of hers in the past, and she has also served as an attorney for celebrity clients like Snoop Dogg, Paris Hilton and Lindsey Lohan. Bush, 30, signed a one-year deal with San Francisco with a $1.6-million base salary and $500,000 roster bonus as well as the chance to earn $18,750 for each regular-season game for which he is active.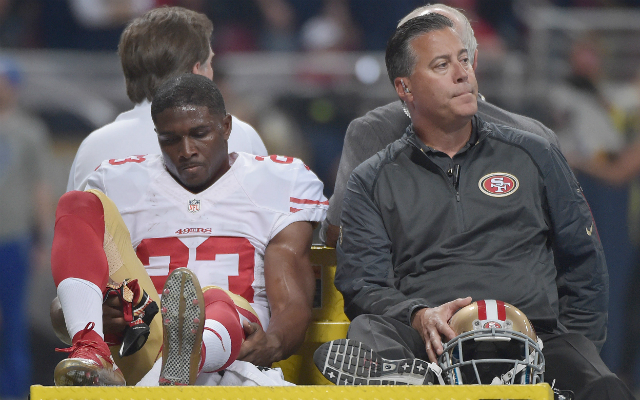 Show Comments
Hide Comments
Our Latest Stories
Bryant, the Cowboys' biggest downfield weapon, is expected to play this Sunday

The Browns also can't wait on DeShone Kizer, taking the Notre Dame QB at No. 1

The Patriots coordinator will be a hot candidate when NFL jobs come open
The four unbeaten teams playing Sunday will remain perfect and the Steelers will get back on...

HBO's 'Real Sports' spoke to the former Green Beret

The Saints lose their first three games for the second consecutive season