Reggie Wayne explains meaning of 'Omaha,' reveals Peyton's secret
Reggie Wayne is revealing Peyton Manning's secrets
One of the greatest mysteries in the history of football revolves around Peyton Manning's favorite word, "Omaha."
Why does he say it? Is it an audible? Is it a check-down? Does he like the city? Does billionaire and Omaha-native Warren Buffett give him $5,000 every time he says it on national television? Is it Peyton's way of saying that he's going to move there after he retires?
Only people who have actually played with Manning know the real answer to the "Omaha" riddle and lucky for us, one of his ex-teammates went on NFL Network on Sunday to spill the beans on what "Omaha" actually means. 
Former Colts receiver Reggie Wayne, who caught passes from Manning for 10 years in Indy, explained that the meaning of "Omaha" is actually pretty simple. 
"Omaha means, he's going the other way," Wayne said. "If it's a run to the right -- if it's dive right, 'Omaha' is gonna be dive left."
However, Wayne did point out that the Patriots probably shouldn't develop a defensive game plan around his "Omaha" revelation. 
"'Omaha's not going to be the same thing [vs. New England]," Wayne said. 
Anyway, Wayne isn't the first person to try and explain what Omaha means. Peyton and Eli Manning have both explained it recently, without actually explaining anything. 
ICYMI: How many times did Peyton Manning yell Omaha on Sunday? WATCH: http://t.co/2vaAjPx4gG #NFLPlayoffs

— NFL (@NFL) January 13, 2014
What will Omaha mean on Sunday? How many times will Manning say it?
To find out, just turn on CBS at 3:05 p.m. ET for the AFC title game. If you won't be near a television on Sunday, you can stream the game for free here at CBSSports.com.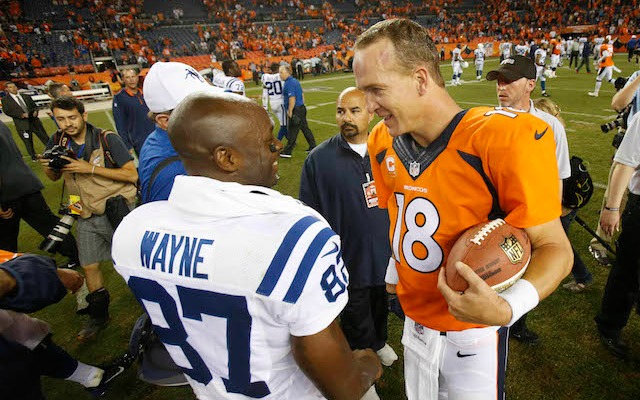 Show Comments
Hide Comments
Our Latest Stories
Washington's John Ross outshines Christian McCaffrey, and the Huskies' defense shows its t...

Here's the latest update on all the Week 4 lines in the NFL

The Bills receiver is going to miss at least eight weeks and possibly the rest of the seas...
The best wide receiver in the game is paying homage to The King

The running back is supposed to get his first action against the Steelers

The Cowboys are going to play it safe with their star receiver, who's dealing with a knee...