Remember When: College coaches of yore also struggled in NFL
It's not just Steve Spurrier or Greg Schiano or Bobby Petrino. Successful college coaches have struggled in the NFL for years.
• 3 min read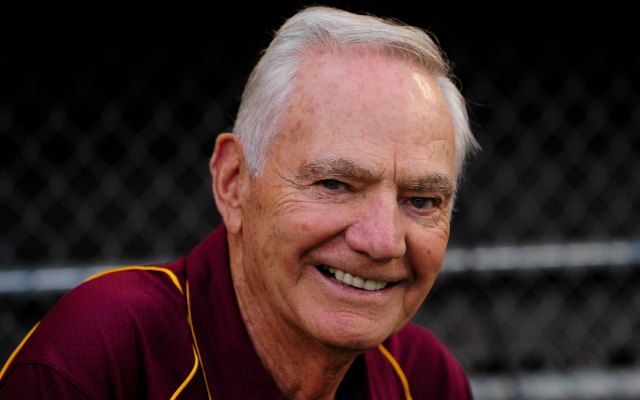 With the exception of a few like Jim Harbaugh and Pete Carroll, when college head coaches take NFL head coaching jobs, it usually doesn't go well.
Steve Spurrier is a prime example. As are Nick Saban and Bobby Petrino. Or Dennis Erickson or Butch Davis. No matter how successful a college coach is at procuring college conference and national titles, it seems that in the past two decades or so, it's an impossible task for a former college head coach to win a Super Bowl title (coaches like Weeb Ewbank, Bill Walsh, Jimmy Johnson and Barry Switzer successfully made the transition previously).
And some of the best coaches in NCAA history can understand what somebody like Eagles coach and former Oregon coach Chip Kelly or Buccaneers coach and former Rutgers coach Greg Schiano is going through right now (well, not exactly like Schiano. I'm pretty sure the coaches I write about never had to deal with MRSA scares).
Anyway, in today's history lesson, here are two coaches who had tremendous college careers but who flamed out during their brief NFL tenures.

Dan Devine
After coaching at Michigan State under legend Clarence "Biggie" Munn, Arizona State hired Devine to clean up a mess of a program in 1955. Immediately, the 31-year-old Devine went to work, going 27-3-1 before he moved on to Missouri, where he coached for 13  years and, from 1960-1970, never lost more than three games in a season.
Apparently, that was enough to convince the Packers organization to believe that Devine could replace the failed tenure of Phil Bengtson, who had the great pleasure of following Vince Lombardi.
After going 4-8-2 in 1971, Devine's first season, the Packers had a strong showing in 1972, recording a 10-4 mark and making the playoffs.  "This is a very receptive team," Devine said at the time. "The players have done everything I've asked and to the best of their abilities."
Unfortunately for Devine, he couldn't recreate that success in his final two seasons in Green Bay, combining for an 11-19 record. He likely was about to be fired. Except ...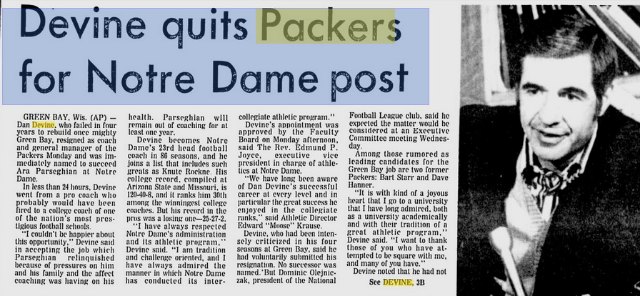 Devine landed at Notre Dame where he won a national title in 1977 and gave awesome pregame speeches like this one:
Actually, I'm just kidding. That's Devine, as played by Eddie Harris Chelcie Ross, in the movie "Rudy." Here, in fact, is some real footage of a Devine-coached Packers team.
Frank Kush
He actually was an assistant to Devine at Arizona State, but when their careers were over, there was no question that Kush was the best coach in Sun Devils history, amassing a 176-54-1 record from 1958-79. But his tenure ended when he was accused of humiliating and physically assaulting a player in 1978 and then was later fired for trying to cover it up, even though Kush said, "Believe me, in my heart and in my mind, I did not punch Kevin Rutledge."
Either way, Kush ended up in Canada where he coached the Hamilton Tiger-Cats to a successful year.
But he left there after a season, again embroiled in controversy. Via the Calgary Herald: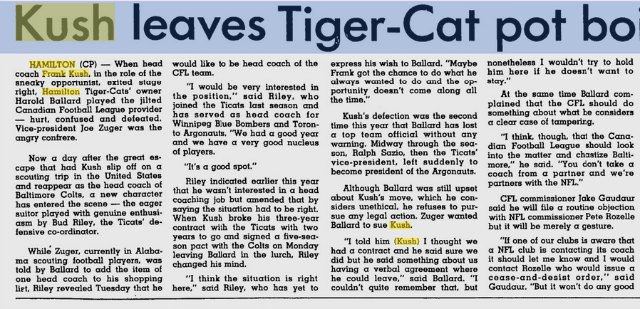 It was probably a bad move, because this is what happened when Kush took over the Colts franchise.
But perhaps the most gut-punching occurrence in Kush's pro career came via John Elway.
After going 0-8-1 in that strike-shortened 1982 season, the Colts drafted Elway with the No. 1 overall draft pick. Elway, though, had no desire to go to Baltimore or to play for Kush.

Instead, Elway finagled his way into a trade to the Broncos, and we all know what happened there. And now we know what happened to Kush: he was fired from  Indianapolis after the 1984 season. He coached in the USFL for a season and then never coached again.
But his former players, at least in the college ranks, seemed to love him. Especially a guy named Reggie Jackson.
"I came to Arizona State on a football scholarship, and I shall always be indebted to Frank Kush for instilling toughness in his players. He was as tough as Charlie Finley and George Steinbrenner rolled into one," said Reggie Jackson during his Hall of Fame speech.
And in case you're interested in hearing from Kush in his own words, here you go.
So, what did we learn from the sagas of Devine and Kush -- both of whom, it should be noted, are members of the College Football Hall of Fame? What do we know about most coaches, then and now, who leave the cozy confines of coaching kids just out of high school to coaching men in their 20s and 30s?
Just this: Eh, it's probably best just to stay put.
Follow Josh Katzowitz on Google+
Show Comments
Hide Comments
The Cowboys' draft picks since 2002 have been to 17 more Pro Bowls than the next closest t...

The Cardinals, however, don't sound enthused about his return

According to NFL Network's Michael Silver, the Browns might want to trade up to draft a franchise...
The projected top-20 pick could fall out of the draft with teams having little time to gather...

Bryant will have his progress reviewed again before the coming season

From Jadeveon Clowney to Odell Beckham, here's the option year prognosis for each 2014 first-round...