Remember When: Don Shula passes Halas, collects win No. 325
On Nov. 14, 1993, Dolphins coach Don Shula became the all-time winning NFL coach.
• 3 min read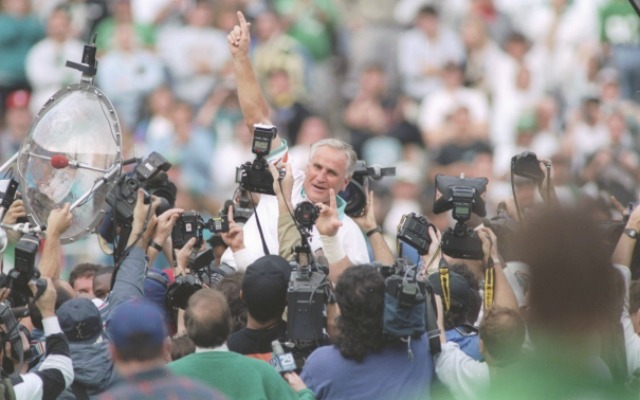 In his long, legendary career, Paul Brown accumulated 170 victories. Bill Parcells, just elected to the Pro Football Hall of Fame, won 183. Curly Lambeau, who had a stadium named after him, had 229. Tom Landry, the man with the hat, garnered 270. These are some of the best coaches the NFL has ever seen.
The active leader, Bill Belichick, has garnered 212 wins in 19 years of coaching. That's an average of 11.1 victories per season (including playoff wins).
And he has a long way to go to catch the all-time coaching victories leader, Don Shula. His number: 347 wins. As in 3-4 freakin' 7 successes. At Belichick's current pace, he'd have to coach another 12-plus seasons before he ties Shula. At the age of 61, it doesn't seem likely that he'd stick around that long. If you take Belichick's average of 12.5 victories per year that he's recorded since taking over the Patriots, it'd take him almost 11 more seasons to get there.
That speaks, of course, to how amazing Shula was in his career -- and how long that 33-year  head coaching career actually was -- with his three Super Bowl titles, his four coach of the year awards and his unmatched perfect season in 1972.
But in this week's "Remember When," let's take a look at the day Shula took sole possession of that wins record. The day, in November 1993, that he passed George Halas to win game No. 325 and solidify Shula's claim as one of the greatest of all time.
Entering their Halloween matchup vs. the Chiefs in 1993, the Dolphins -- who had lost in the AFC title game the year before to the Bills and hadn't been to a Super Bowl in eight years -- were 5-1 but coming into the game on a down note.
Two weeks earlier, quarterback Dan Marino had been lost for the season with a torn Achilles tendon, and the team had turned to backup Scott Mitchell to fill in for the team's most celebrated player.
Immediately, Mitchell led Miami to a win against Kansas City and its quarterback Joe Montana to give Shula win No. 324.
It's nice to be a part of it," Mitchell said after throwing three touchdowns in the 30-10 victory. "I know [Shula] is excited about it. But I also know he would like to get to the Super Bowl, and that would make it even better."
After that game, here's where Shula stood in the annals of NFL history.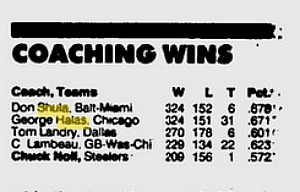 Halas' record remained safe the next week when the Dolphins lost to the Jets, but on Nov. 14, Shula and his team made history. Thanks to a rookie quarterback named Doug Pederson.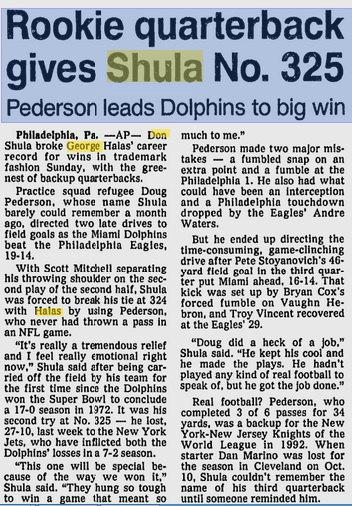 As the Sun Sentinel pointed out, Pederson had never thrown an NFL pass before, and before this victory, he was known primarily for fumbling two snaps when he was the holder on extra points.
But on this day, he helped a legend set a record.
The good times for the Dolphins, though, wouldn't last. Mitchell returned to his starting role and hurt himself again, leading Shula to play 39-year-old Steve DeBerg. Miami actually won three of the five games in which DeBerg played a significant amount of time, but the Dolphins lost the final five contests of the season and missed the postseason. Considering the team had started 9-2 that year, this was a significant achievement.
And unlike Mitchell's goal, the team did not play for a Super Bowl that season or in any other season that Shula would coach for the rest of his career. Miami still hasn't sniffed a championship game since the 1993 season.
Still, the memories of that day remain warm for the 83-year-old Shula.
"Did I ever imagine this?" Shula said in his press conference after win No. 325, via The Finsiders. "No way. One day I'm going to have the luxury to sit back and enjoy this."
And now?
"I," Shulta told Andy Cohen recently, "really enjoy the memories."
Follow Josh Katzowitz on Google+
Show Comments
Hide Comments
Plus Nick Saban sends a ton of talent to the NFL, the Browns find a QB and more from Rounds...

The Vikings' Latavius Murray and Bengals' Jeremy Hill also get put on notice with Cook, Mixon...

Here's everything you need to know about the 2017 NFL Draft
Here's a recap of Round 2 and Round 3 in the 2017 NFL Draft

Here are the 25 best prospects still available after three rounds of the 2017 draft have w...

The fans in Philadelphia did their best to make the 2017 NFL Draft more fun