Remember When: Grant Dibert signs first pro football contract
On Oct. 4, 1893, Grant Dibert apparently was the first football player to sign a pro contract.
• 2 min read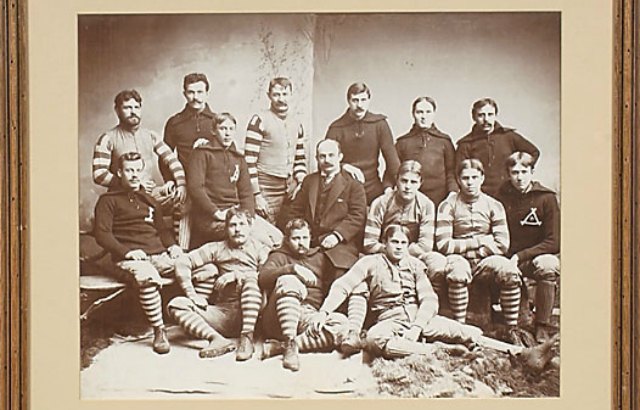 When football was first introduced in this country, players didn't expect to get paid. No, they'd beat the crap out of each other in a game that was more similar to rugby, and people, you know, actually died playing the game. But they were good college men, who played for love of school and love of sport.
And then, along came a man named Grant Dibert, and he RUINED EVERYTHING.
Well, not exactly. Grant Dibert, you see, signed the first professional football contract on Oct. 4, 1893, exactly 120 years ago today. Dibert played as a running back at Swarthmore in college (where he also apparently was a charter member of the Phi Kappa Psi fraternity) and then after tooling around the western Pennsylvania amateur football scene, he signed a deal to play for the Pittsburgh Athletic Club.
A note: he was not the first player to be paid for playing in a game. That honor went to William "Pudge" Heffelfinger in 1892. Dibert was the first player to sign a season-long contract where he could only play for Pittsburgh and he apparently could NOT play for Pittsburgh's rival, the Alleghany Athletic Assocation. For his trouble, he was paid $50 a game.
It's believed to be Dibert's signature anyway.
As the Professional Football Researchers Association explains: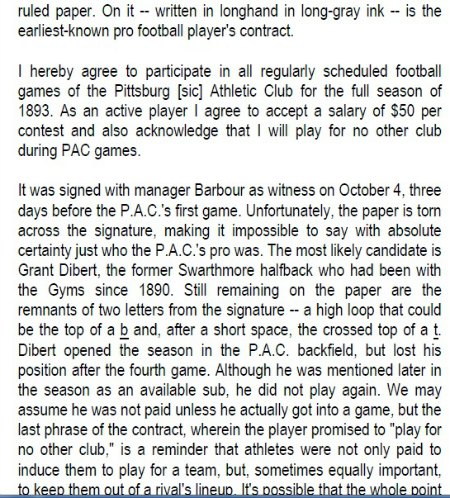 Unfortunately for Dibert, his star status didn't last long, and he was soon lost to history.
Interestingly, the Pittsburgh club denied that it paid anybody to play football, and the players apparently didn't admit to taking the money either.
As the Pittsburg Herald wrote at the time, praising the manager and the president of the Alleghany team for maintaining the purity of amateur athletics: "[They] have done much toward making amateur sports and pastimes what they are in Pittsburg (sic). … They have always aimed at sports that are pure and ennobling. If all sports and contests were carried on according to their principles, there would be absolutely nothing dishonest or dishonoring in the sporting world today. They were athletes for the love of it, and they patronize athletics now because of the resultant benefits to athletes."
I don't know how hypocritical that statement would have been 120 years ago, but it's obviously laughable these days. So, here's to Dibert. In one small way, you've made sports what they are today. And for that, millionaire athletes all over the NFL thank you very much.
Follow Josh Katzowitz on Google+
Show Comments
Hide Comments
Don't blame Norman -- he's 10 inches shorter than the Knicks' Kyle O'Quinn

The Cowboys owner offers an interesting take on what's bringing future fans to the game

The Seahawks cornerback told a student last year that he'd pay for a scholarship if she raised...
Romo is set to call games for CBS Sports this fall, but the Cowboys are keeping the door o...

Can Roberto Aguayo, the Bucs' maligned second-round pick, beat out Nick Folk?

John Mara says Colin Kaepernick's protest led to a ton of letters from emotional fans