Report: Antonio Brown 'not looking good' to play vs. Broncos
Antonio Brown went down like a rag doll after Vontaze Burfict's hit late in Saturday's Steelers-Bengals wild-card matchup, and now he's in the league's concussion protocol.
Antonio Brown went down like a rag doll after Vontaze Burfict's hit late in Saturday's Steelers-Bengals wild-card matchup. Burfict was flagged on the play, though teammate Adam Jones said that Brown was faking (and, as Jones explained it, Brown deserved a "Grammy" for his performance).
This is just brutal pic.twitter.com/hBsIAJIBwO

— The Cauldron (@TheCauldron) January 10, 2016
The NFL isn't buying that Brown is faking -- they've suspended Burfict for three games.
And Steelers coach Mike Tomlin said after Saturday's game that Brown had entered the league's concussion protocol, which means he will have to pass several tests administered by an independent neurologist before he will be allowed to suit up for the Steelers' divisional matchup against the Broncos this Sunday.
And according to ESPN's Bob Holtzman, it's "not looking good" for Brown to play.
There's still a long way to go, but in today's NFL, where head injuries are taken more seriously than they were even a few years ago, Brown won't be rushed back.
There is some good news, however. Quarterback Ben Roethlisberger, who suffered a shoulder strain late in the third quarter against the Bengals and left the game for several series before returning for the final drive, is "very likely" to play, according to Holtzman.
How far he'll be able to throw the ball is another matter. Roethlisberger admitted afterward  that deep passes were off the table on that final drive, and he struggled to get the ball more than 10 or 15 yards downfield. But with a week of rest, the hope is that he'll return to the form that made the Steelers one of the NFL's most dangerous offenses.
And if Brown can't go, Roethlisberger may need to have another "Come to Jesus" conversation with Martavis Bryant, who had one of the most spectacular catches of the season on Saturday.
There's a reason Martavis Bryant's nickname is "Alien." This somersault TD catch is pure insanity. #PITvsCIN https://t.co/nswMny6nxq

— NFL (@NFL) January 10, 2016
The Steelers will also need a big game for Markus Wheaton, who exploded for nine catches and 201 yards against the Seahawks in Week 12 but hasn't had more than 72 receiving yards in any other game this season.
A Steelers offense without Brown will be welcome news for the Broncos defense and cornerback Chris Harris in particular. When these two teams met in December, Brown torched Harris for 16 receptions, 189 yards and two touchdowns. Prior to that, Harris hadn't allowed a touchdown in two years.
That said, the Broncos are preparing as if they'll face both Roethlisberger and Brown.
"Ben will be there. AB [Brown] will be there," cornerback Aqib Talib said, via the team's website.
"You've just got to game plan to go play ball, and if he doesn't throw it 40, 50 yards downfield, then he just doesn't throw it 40 or 50 yards downfield. But we're just going to game plan for 100 percent Big Ben and 100 percent AB. ...
"If we didn't want them to be there, that means I would want AB to be messed up. That's a good dude. A good family dude, man. We don't want him to be messed up," Talib continued. "As long as he's good, he'll be there."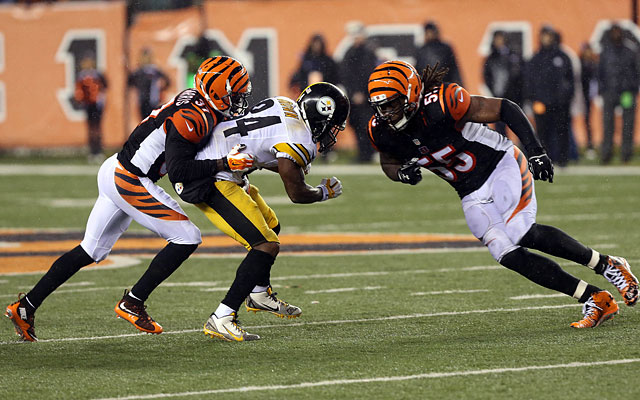 Show Comments
Hide Comments
Our Latest Stories
The whole thing was pretty hilarious

This should not be a surprise by now

This was a touchdown and it should have been a touchdown
The Redskins' fake punt worked to perfection

Beckham only has four catches but his most recent two were pretty incredible

Before he was an NFL wide receiver, Terrelle Pryor was an NFL quarterback