Report: Bears DT Henry Melton lost for the season with torn ACL
The news is bad for Bears defensive tackle Henry Melton. He reportedly has suffered a torn ACL.
• 1 min read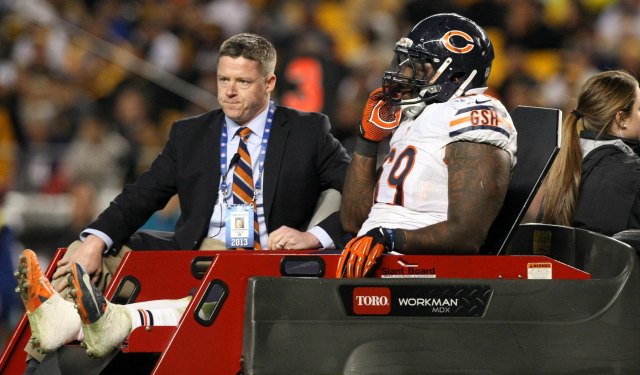 When Bears defensive tackle Henry Melton went down with what appeared to be a bad knee injury in the fourth quarter Sunday night vs. the Steelers, it certainly looked like a serious blow to Chicago's defensive line.
And reportedly, it will be a hardship that will last the rest of the season, as ESPN reports that Melton has suffered a torn ACL that will keep him out the rest of 2013.
Obviously, that's awful news for Melton and his teammates. But what's even worse for Melton's future prospects is that he was playing under the $8.9 million franchise tag.
After this year, then, nothing is guaranteed for Melton, and though he's had plenty of success in the past few years, a torn ACL isn't the greatest injury to suffer when you're looking at trying to sign a long-term free agent deal.
"I don't know what to say," said Stephen Paea, who (via the Chicago Tribune) likely will see more playing time at Melton's spot along with Nate Collins. "Injuries will come and we just have to deal with it. It is huge for us that we lose him. I feel like we have to think positive. The next guy has to step up. The season will keep going.
"This is going to be interesting because me and Nate both play the nose but we can play three [technique]."
Follow Josh Katzowitz on Google+
Show Comments
Hide Comments
Marshawn Lynch will probably appreciate this shout out by his new quarterback

The legal battle in the Aaron Hernandez case is still ongoing, despite the former tight end's...

The Eagles quarterback was recently hanging with Josh Duhamel and Fergie
The Raiders quarterback has one problem: Oakland doesn't have the thing he wants to splurge...

What happens in Mexico City doesn't stay in Mexico City

Cord-cutters are probably going to like what the Patriots owner has to say