Report: Bears players not completely behind QB Jay Cutler
Not everyone in the Bears locker room agreed with coach Marc Trestman's decision to start Jay Cutler against Cleveland on Sunday.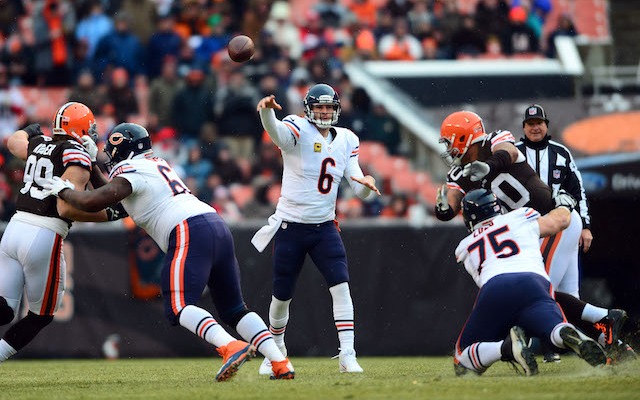 Bears quarterback Jay Cutler got the start against Cleveland on Sunday, but not everyone in Chicago was on board with that decision, according to ESPN.com.
The team supported coach Marc Trestman's decision publicly, but behind closed doors that wasn't the case. A Bears player told ESPN that Cutler threw multiple interceptions in practice leading up to Sunday's game and that the defense grew increasingly frustrated with each pick. The Bears player also mentioned that Josh McCown had not thrown a practice pick in weeks. 
If Cutler doesn't play well against Cleveland, several defensive players are expected to say something to Trestman this week if he decides to stick with Cutler. According to the report, Cutler is aware of the division in the locker room, which could make things awkward for the team if he struggles against Cleveland. 
Through one half against the Browns, Cutler has't looked horrible though. The Bears quarterback made one glaring mistake in the second quarter when he threw an interception that Browns defensive back Tashaun Gipson returned for a touchdown. Cutler also threw a pick in the first quarter, but it was on a tipped pass and the interception didn't look to be his fault. 
Besides the two interceptions, Cutler also threw for 168 yards and a touchdown in the first half against Cleveland. 
Show Comments
Hide Comments
Remember when the Falcons blew a 28-3 lead in the Super Bowl? The Bucs do

Wearing a No. 1 jersey, Jackson was unmistakable when running deep routes one-on-one on Tu...

The quarterback missed the 2016 season because of a torn ACL and dislocated left knee
It's reportedly a five-year deal that has a clause to turn it into an eight-year deal

Though Gronk has dealt with injuries, he's the Patriots' most important weapon when health...

The Bengals coach says he doesn't understand why the NFL wants to give in to individual ce...