Report: Bears will use franchise tag on injury-plagued WR Alshon Jeffery
The Bears are about to give some serious money to Alshon Jeffery.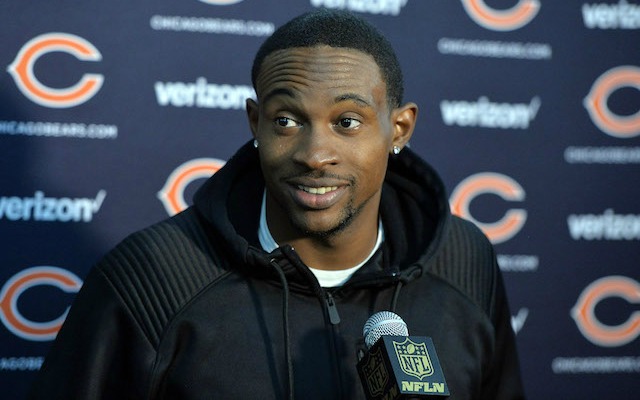 When Alshon Jeffery was on the field during the 2015 season, the wide receiver was almost unstoppable. The problem for the Bears is that Jeffery wasn't on the field that often.
Jeffery missed seven games in 2015 as he battled a series of calf, hamstring and groin injuries. Despite those injuries, the Bears have complete faith in Jeffery's health and they proved it on Friday by hitting him with the franchise tag, according to ESPN.com.
The tag will guarantee Jeffery a one-year deal that's expected to be worth more than $14.5 million. However, the exact dollar amount won't be known until the 2016 salary cap number is finalized by the NFL.
Whatever the new dollar amount is, that will be the baseline for a long-term contract, which is a deal that Bears general manager Ryan Pace is currently working on with Jeffery's agent.
"We're actively and aggressively negotiating right now," Pace said at the NFL combine this week, via the Chicago Tribune.
The two sides have until July 15 to workout a long-term deal. If that doesn't happen, then Jeffery will play the 2016 season under the tag.
As for Jeffery's injury history, coach John Fox acknowledged that there is some "risk" involved with giving the wide receiver a big contract.
"We've seen enough of him, albeit that we'd like to have seen him more, but that's part of football and we're willing to take that risk," Fox said at the combine. "When he's been healthy we've liked his production and what he brings to our team."
Pace echoed that sentiment and added that he expects big things from Jeffery, who will be going into his second season under Fox.
"I think being in Year 2 with a player helps a lot in just understanding his body and his body mechanics," Pace said. "I know (Alshon) and his agent are doing some things, too, to improve on that. So when he gets back, we'll have a plan in place. It's important."
Jeffery finished the 2015 season with 54 catches for 807 yards, which projects to 96 catches for 1,434 over a 16-game season. Those numbers would've ranked eighth and sixth in the NFL in 2015.
Show Comments
Hide Comments
Four defensive backs are picked in the final five spots of the first round in Rob Rang's final...

The last version of Will Brinson's 2017 NFL Mock Draft sees the Chiefs land their new franchise...

Character has become such a concern for draft prospects that scouts spend a majority of their...
Also, expect Haason Reddick to go higher than expected and Reuben Foster to be taken on Th...

Plus the Cowboys and Steelers find new cornerbacks late in the first round in Dane Brugler's...

The league appears fully prepared if the Browns decide to pull off a few unexpected trades